What is Simultaneous Ring?
Simultaneous ringing enables multiple phones to ring at the same time when a call comes in. Once the call gets answered, the ringing will stop on the other lines. Simultaneous ring is an irreplaceable tool for business as it enables you to take calls from any of your designated lines, and it can help your staff avoid missing any inbound calls.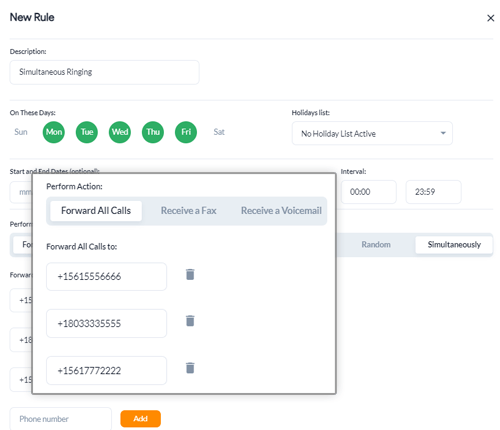 How Does Simultaneous Ringing Work?
This VoIP feature is typically set up to ring multiple phones with one number. Typically, the user's office phone and cell phone will ring at the same time. However, the needs may differ from one company/individual to the next. And based on your requirements, you can route incoming calls to certain employees, a receptionist, or another manager for screening, if needed. Additionally, you can set calls to ring at computers and tablets, enabling further options if necessary.
Advantages of Simultaneous Ring:
Forward calls to every line you designate
Handle calls automatic at all times, allowing you to retain greater mobility and flexibility without missing important calls
Enable your entire team to handle calls as they come in and accommodate varying schedules and time-frames
Essential for Businesses
For businesses of every level, from startups to small businesses to growing larger companies and enterprise corporations, communication is everything and an absolutely vital aspect of ensuring your business is easy to connect with. Missing important business calls can negatively affect a business's profitability. Whether it's sales calls, B2B connections, or customer inquiries, having a constant and reliable line of communication is essential.
For many companies, having an option that assists with ensuring someone is always able to take a call is a necessity and with the many digital services that are now available through virtual calling, business communications have never been more easily managed. One such service that accomplishes this is simultaneous ringing.
Simultaneous ringing is valuable for businesses and has several different uses as a feature. It is very effective in call centers and can maximize the utility of your toll free number. Simultaneous ringing allows you to make two or more phones ring at the same time. This is an included advanced feature with your toll free number from Global Call Forwarding. All enabled phones will ring at the same time, but the call will only connect to the first person that picks up the phone.
How to Ring Multiple Phones with One Number
The most common use for simultaneous ringing is to have the user's mobile phone and desk extension ring simultaneously. This allows users to take calls while they are away from the office and ensures that your business will never miss out on another potential sales call. Whenever a caller dials your toll free number, all selected numbers (multiple cell phones, landline, etc.) will ring simultaneously and you can immediately answer the call from any phone. A representative will always be able to hear the phone ring.
Another common use is to have your VoIP number ring at the same time as your cell and office phone. This will make your business more versatile and enables you to answers calls from any location. Simultaneous ring has configurations that add value to a variety of scenarios. Configured this feature to work along with the rest of our advanced features and allows you to customize your toll free number to meet the specific needs of your business. You can even use simultaneous ring with sequential ringing to make the most out of your business phone system.
Simultaneous ringing is an extremely useful addition to your numbers. It ensures that someone answers your incoming calls and that calls reach your staff at every available line. Configure calls to route to your office lines, employee lines, your home line, and mobile phones to ensure they don't go unanswered. Because each call will ring on all of the designated numbers as they come in.