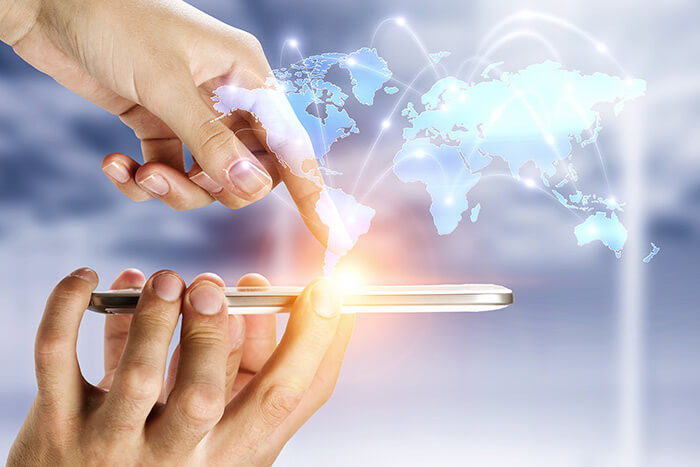 To support a global customer base, you need to offer communication channels to your clients around the world. For this purpose, you can buy international toll free numbers that let you support international callers without needing multiple physical offices.
Let's look at what international toll free numbers are and how your business can get toll free numbers to grow internationally.
Expand Your Market With International Toll Free Numbers
First, what are international toll free numbers? These numbers allow callers to reach your company without being charged for the call.
The way toll free numbers work is that they charge the receiver and not the caller, making it free for your customers to reach you. And you, the business, is charged only for using the toll free number by your provider.
No international calling fees are applied when customers call your international toll free number. ITFS numbers exist in different forms but can be identified by a dialing prefix attributed to a geographic area code or a specified location.
It is no surprise, customers are more trusting of businesses with legitimate and convenient means of communication. And most users know that a toll free number costs nothing for them to dial, which is why they are more likely to contact businesses with such numbers. An international toll free number places you as an accessible enterprise in your industry. And these numbers let you connect with markets most important to your survival. You've got more options than your local neighborhood.
How to Get International Toll Free Numbers
You can quickly and easily buy international toll free numbers from Global Call Forwarding and have an easier, less expensive means to attracting clients overseas. Follow these steps to buy international toll free numbers:
To get an ITFN, go to our prices page and begin the sign-up process.
Follow the prompts to enter your information. You will need to decide what country you want the ITFN for and where you want calls forwarded to. So, keep this information ready before you get started. You can also add more international toll free numbers for other countries within this sign-up process.
Once you have entered the information, select any additional advanced features or services you want.
Enter your information and complete the purchase.
Global Call Forwarding is an international telecommunications provider offering global businesses access. We have all types of international toll free numbers. We can help your businesses support and develop a local presence by providing them with international toll free numbers that customers are comfortable calling.
Related: How Much Does an International Toll Free Number Cost?
Benefits of Using an ITFN
Getting an international toll free number can expand your business globally by helping your overseas clients or customers keep in touch. Here are some ways your business can benefit from getting an international toll free number:
1. Global Expansion
By making it easy for international customers call your business, you increase your global sales. Furthermore, these calls can be answered in any location or on any device. For instance, calls from customers in China can be answered on your mobile, Us-based office landline, BPO, or by fax. Through international toll free calling, your global business appears local to your target market wherever they are in the world.
2. Advertising Campaigns
In your international advertising campaigns, it is also recommended that you track calls to your international toll free numbers to improve your chances of having a higher response rate. Recently, research has shown that advertisements featuring a toll free number receive about 30% higher responses than those without it. A good international toll free number actualizes instant prestige by boosting your brand. It also provides a professional and reliable image.
3. Customer Recognition
Because your business will be more accessible, you can also gain customer recognition by increasing your online referral marketing as well as repeat customers. Global consumers will be more relaxed knowing they can pick up the phone and talk to someone conveniently. Stronger customer awareness increases your company's revenue.
4. Revenue Boost
International toll free numbers can boost your revenue by minimizing missed leads and providing additional channels to reach out to more customers and close more sales. Providing better customer service by hearing what your customers have to say about your company products and services with a toll free call can improve sales for your business and retain customers.
5. Cost-Savings
A major benefit of using international toll free numbers is that you own it, and it remains yours to keep. This means that you are not restricted to a single provider, your number is mobile. You can take it with you wherever you go. You can even evade setting up offices all over the world. Depending upon the nature of your business, you might not even need an office to work! And you can merely create a virtual online presence to do your business.
Go Global with International Toll Free Numbers
You can make more connections around the globe in a way that meets your company's budget. We assist clients in numerous businesses by extending their reach to new global locations, helping them to raise their level of customer service, and increasing their revenue.
With all the benefits that come with our advanced call forwarding service, small businesses are able to reach major cities in the world with the dignity of a prestigious business. Whether it is to tap into one specific market or to experiment with 4-5 different ones, Global Call Forwarding can help you.
You can buy international toll free numbers that can provide high-quality calls for more than 160 countries. If you want to learn more, talk to one of our account managers today.