Global Call Forwarding provides toll free phone numbers from more than 160 countries and a variety of auxiliary services to complement your business communication needs.
Once you buy a toll free number you will be able to use the service in minutes!
Prominent international businesses have used toll free numbers to successfully increase their profits because a toll free service is a cost-effective way to expand. With Global Call Forwarding, you don't need to buy expensive equipment or sign a contract to activate the service. Simply choose a number and it will be activated instantly so that you can start receiving calls. Toll free numbers are one of the most efficient ways to grow your business.
Get a Toll Free Number and Build Business Credibility
When people see a toll free number, they automatically assume the phone number belongs to a large and professional enterprise. Branding is important for small businesses because customers are more likely to do business with an established company. Your company can project a professional appearance that draws in new customers when you buy a toll free number from Global Call Forwarding. The minor expense of call forwarding will definitely pay off in the form of increased brand equity.
Toll free numbers can be configured to work as effectively as the most complex and expensive business phone systems, but at a much lower cost. Large businesses often have customized greetings that can direct incoming calls to multiple extensions (i.e. Press 1 for sales, Press 2 for customer support, etc.). With our toll free service, your business can have the prestige and practicality of a custom greeting and many different extensions. In addition, our toll free number service lets you record incoming calls for quality assurance and training purposes. Toll free numbers can serve as a complex phone system to create limitless opportunities for your business.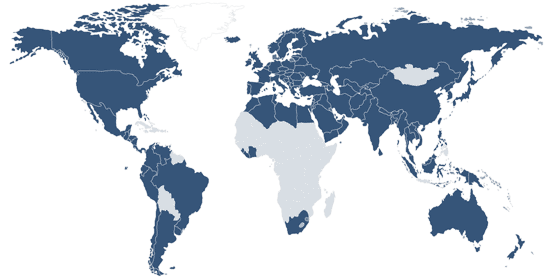 World-Wide Coverage of Toll Free Numbers
Why Should I Get a Toll Free Number for My Small Business?
Toll free numbers provide callers with a free call. A toll free number charges the business (the receiver) instead of the person making the call. This leads to a rise in customer calls for product inquiries or customer support as callers do not have to worry about paying for their call.
Toll free numbers help your small business not only enhance brand recognition and credibility but also increase your sales and boost your ROI. Along these lines, here are the top 5 benefits of getting a toll free number for a small business.
1. Increasing Caller Experience and Customer Satisfaction
When consumers were surveyed, they pointed out that one of the most annoying aspects of a company was discovering no easy way to contact them. Customers generally call a business to inquire about products and services or to receive immediate assistance and support.
A business number that is hard to find or expensive to call can lead to frustration. A toll free number is free for callers to call within target countries. In fact, you can even get international toll free numbers (ITFNs) for different countries and offer free calling to those customers. Their calls (even though international or long-distance) get forwarded to your business wherever you are located while still remaining free for them.
You can display this number on your website, social media outlets, advertising campaigns, and more. This way, callers can quickly connect with you for free, no matter where your business is located, improving caller experience and satisfaction.
2. Make Your Number and Brand Memorable
Another great thing about a toll free number is that they are really easy to remember. You can capitalize on this by making your number more creative and memorable by using a vanity number. Vanity phone numbers use patterns, letters, or brand names to grab more attention. For example, you can use patterns such as 1-800-444-4242 or 1-800-505-5050 or introduce letters or your brand name like 1-800-CONTACTS, 1-800-MATTRESS, or 1-800-FLOWERS.
Over time, businesses have used this tool to create numbers that catch the eye and stick with the audience longer. If they can remember your number, they will call you. This is a very good way to not only generate sales but also to increase brand awareness.
3. Boost Your Credibility and Visibility
While initially toll free numbers were primarily used by call centers, large corporations, and multinational companies, this is no longer the case. You can use a toll free business number to add credibility and enhance your company's professional image and brand awareness. This is especially useful for new, small business owners.
4. Maintain Portability by Going Virtual
The best part about getting a virtual toll free number is that your physical location doesn't matter. Here are a few scenarios where a toll free number can help your business virtually:
Need to relocate but do not want to lose access to your customers or change your number
Expand to new regions or countries with international numbers
Bring remote workers on board without needing new numbers
Forward calls to any location, line, or device as desired
Easily port your number if you decide to switch providers.
All of these reasons give your small business the flexibility and room it needs to grow and flourish.
5. Use it as a Marketing Tool
Lastly, you can use toll free numbers as a marketing tool. For instance, toll free and vanity numbers can both be used to help you keep track of your marketing campaigns. Use one number for your website and social media campaigns and another for print or billboard ads. Additionally, you can have different toll free numbers for different geographical locations.
This way, when calls come in, you can identify which ads brought you these new customers. Based on this information, you can streamline your marketing and sales operations to get the most out of them.
Get a Toll Free Number to Keep Up With the Competition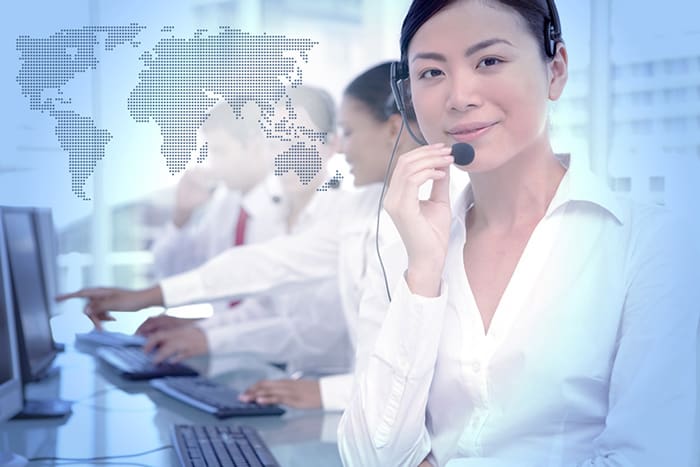 A lot of companies these days already use toll free numbers to provide callers with a free point of contact. No matter the industry, your competitors are probably using 800 numbers. A prospective client is more likely to reach out to the company that offers an 800 number when they are considering making a purchase or entering a business relationship. You can't afford to lose out on sales because your competitors are more accessible. The FCC has more information about this type of service.
Included with our service is a suite of advanced features that can be configured to make your business more accessible. We offer a number of features so that callers can interact with your business 24/7! For example, enable sequential forwarding to deliver a call down a list of numbers or simultaneous ring so that several different phones ring at once. You can even choose to forward calls to different phone numbers depending on the time of day. Basic features like voicemail and fax to email ensure that customers' messages are delivered. Configure your new number to make your business the most accessible company in the industry.
It's easy to buy a toll free number online. There are many toll free service providers in the industry today. Global Call Forwarding provides toll free numbers with excellent call quality and reliability. Sign up above to get a toll free number online or call us and talk to an expert. We are a trusted service provider to businesses and organizations of all sizes.
Take Advantage of Every Sales Opportunity
The process of dialing an international phone number can be confusing and discouraging to callers. They need to input their country's exit code plus the destination number's country and area code, followed by the phone number. Some customers don't want to deal with the hassle and won't call your business. No business likes to lose sales opportunities.
Toll free numbers eliminate this complicated process because they are easy to dial. Callers only have to dial a ten-digit phone number to reach your business. With a process, this easy, customers are much more inclined to call your business. More inbound calls can certainly lead to more sales and higher revenue. Successful international businesses use toll free numbers to eliminate complex dialing processes and attract new prospects.
Global Call Forwarding: An Industry Leader
Having been in the telecommunications business for more than 20 years, we understand how important it is to have a reliable and high-quality connection. Global Call Forwarding only forwards calls through the most reputable carriers' routes. We have a 100% satisfaction guarantee and we will never sacrifice quality for the sole purpose of cutting costs. The numbers we provide are some of the best 800 numbers in the business. We're proud of our lasting relationships with SanDisk, SR Technics, Mercer and many other prominent companies, and look forward to helping your company maximize its potential.