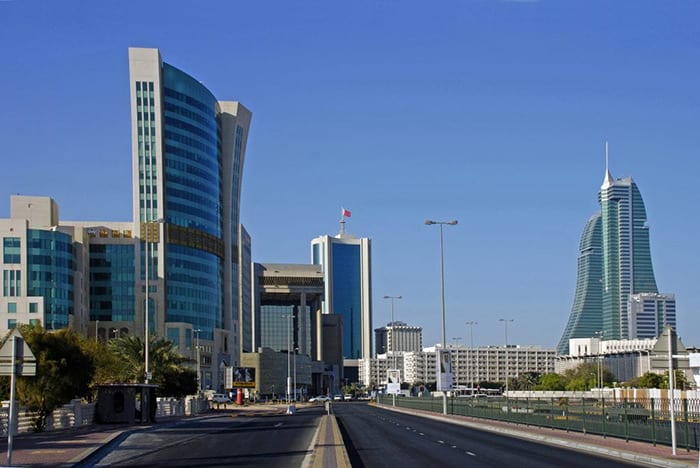 Boasting a GDP of 31 billion dollars, the economy in Bahrain is growing with rapid speed while remaining liberal in its approach to business and foreign interactions. Oil is one of the primary resources that fuel the Bahraini economy, but the industries that do well in Bahrain extend far beyond oil.
Real estate, manufacturing, communications, and infrastructure are also some of the top industries in Bahrain. The infrastructure sector is highly advanced in Bahrain. While oil and gas accounted for 20% of Bahrain's GDP in 2014, 73% of the economy is powered by exports. Bahrain's hefty investments into infrastructure make international trading faster and more convenient.
Because of the added convenience of efficient commuting and trading in Bahrain, using Bahrain phone numbers will make your company more attractive to investors.
If you are importing or exporting from Bahrain, Bahrain phone numbers are critical for business relations. Your business partners need to be informed of the skills and procedures that must be recognized when working with your company. This requires frequent communication to ensure that everyone understands their duties and are comfortable with the terms.
Bahrain Welcomes Entrepreneurs and Foreign Businesses
Bahrain is one of the top countries noted for its ease of doing business by the World Bank organization. As you position your business to legally operate in Bahrain, Bahrain phone numbers will allow you to be in contact with the proper business organizations and associates that will assist you as you license your business.
The nation of Bahrain is known to be accepting of foreign entrepreneurs looking to enter the Bahraini market. Still, there are a few industries reserved exclusively for residents of Bahrain that you should know about before attempting to establish a presence in the country.
Bahrain places a strong emphasis on honesty and ethical practices. Furthermore, the government and resident business owners believe in launching businesses without cutting any corners. These principles help the economy of Bahrain to steadily rise while protecting local and foreign business owners. In Bahrain, you should expect to undergo a comprehensive registration process before legally conducting business in the country.
Businesses Avoid Heavy Taxation in Bahrain
Bahrain is a well-respected member of the World Trade Organization (WTO), which is the organization that legally regulates trade on a global scale. With the help of the WTO, international trading comes with less hassle and members avoid additional taxes and fees.
Bahrain is in the top 20 of the freest economies in the world, often collaborating with businesses from the United States, the United Kingdom, and various other countries. Foreign companies working in Bahrain are allowed 100% foreign ownership of all assets and real estate associated with and acquired through their business.
With no sales, personal, or corporate tax in Bahrain, many small businesses are given the monetary flexibility that is needed to expand their companies. Without taxes, the additional funds can be put towards internal business operations. Because there are no financial burdens placed on business owners from taxes in Bahrain, investing there using Bahrain virtual numbers is a wise and affordable option that will help your business to extend its reach.
Education in Bahrain Leads to A Skilled Workforce
In Bahrain, the public schooling system exceeds expectations. Educating the youth is a primary foundation of the nation, and numerous programs are dedicated to technology, health, and creative endeavors enrich their learning. The government funding towards educational programs provides students with the means to continue on to higher education while building their skills to be more productive workers in high paying fields.
Beginning at a young age, education in Bahrain comes with the training that teaches social skills and analytical thinking to turn students into productive workers. There's also a high level of collaboration with universities and vocational institutions to provide specialized and advanced training.
In Conclusion
With so many thriving Industries in Bahrain, business owners should always be reachable to remain relevant. While the population of Bahrain is close to 1.5 million, residents value a personal connection with those around them. With Bahrain phone numbers, you can save money while providing great service to your potential customers and business partners. You also establish your business as a local and trusted enterprise that can meet the demands of your target market, regardless of your location.
Virtual businesses can further increase sales with the use of Bahrain phone numbers. Healthy competition powers the majority of businesses in most industries. Whether you're running a traditional business or an online company, Bahrain phone numbers will give your business a unique edge by letting potential customers contact you without additional fees.
Doing business from Bahrain is one of the best ways to connect with residents of the country and consumers of surrounding Arab nations. Companies that relocate to Bahrain are easily reached by locals. Still, there's no need to be physically based in Bahrain to use Bahrain phone numbers. The use of innovative technology gives entrepreneurs the freedom to operate virtually by setting up Bahrain phone numbers as a point of contact.