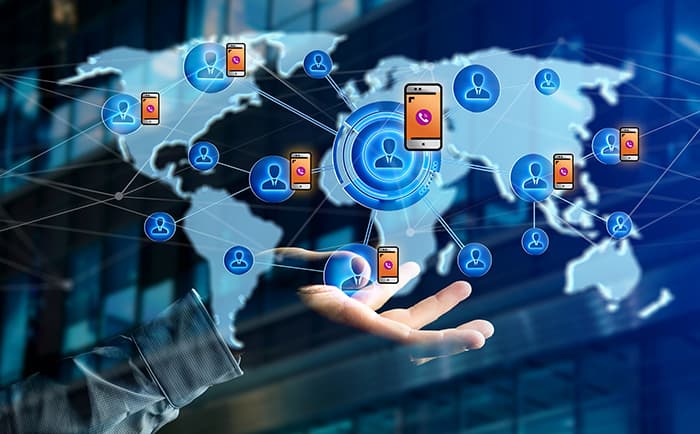 An international call forwarding service will forward phone calls internationally from a virtual phone number or DID to a 'destination' phone number or PBX anywhere in the world. International call forwarding is one of the most effective and inexpensive ways to improve your business' system of communication. Call forwarding is a very important tool for individuals, small businesses, large corporations, etc. looking to become more connected over the phone.
Getting a toll free number has a huge impact on your accessibility. One common use of call forwarding is owning a local or international toll-free number in a foreign country and forwarding calls back to your own landline or cell phone.
The biggest advantage: your landline/cell phone can be located anywhere in the world, allowing you to have a virtual presence in any market you choose.
The Benefits of an International Call Forwarding Service
International call forwarding services provide significant benefits for businesses. Users can configure their local or toll-free numbers based on their objectives. Global Call Forwarding offers a variety of plans to choose from depending on the user's monthly minute consumption.
The rewards for businesses with Global Call Forwarding can be immense. First, international call forwarding can greatly increase your sales potential in foreign markets. Remote call forwarding helps your business establish communication between potential customers in a specific region and your sales personnel. Once a direct channel of communication exists, representatives are much more likely to close sales.
In addition to increasing your sales potential, a forwarding service is sure to bolster your company's marketing strategy. A local or toll-free phone number gives customers the impression that your business is close by or easy to reach. Customers are more likely to dial a local phone number and do business with a local firm, thereby increasing your chances of gaining their business. You are more likely to receive incoming calls, in turn, boosting revenue with international call forwarding.
How Call Forwarding Works Internationally
Suppose your business is physically located in the United States, but you are targeting customers in a foreign country. You should purchase a local or toll-free number in that foreign country and reap the benefits of call forwarding internationally. For example, when customers in the UK dial your U.K. phone number, they get connected to Global Call Forwarding's network. Our phone forwarding service automatically routes the calls to your mobile or home phone in the United States, according to your settings. Customers in a foreign country are more likely to contact your business when the call is free and the number is easy to dial.
Related: How to Set Up an International Call Forwarding Service
Advanced Features
Included with your call forwarding service is a suite of advanced features that allows you to customize your phone number. A local ringback tone or customized greeting make callers feel comfortable when dialing your business due to the familiarity. Voicemail and voicemail to fax ensure that your business will never miss communications, while also storing for later retrieval. Additional advanced features like sequential forwarding and simultaneous ringing are used to make sure every call to your business gets answered. We offer more than 10 advanced features that are included with your phone forwarding service.
Global Call Forwarding also provides additional features at a small cost, like rollover minutes and call recording. The rollover minutes feature lets you accumulate unused minutes from one month to the next, which reduces business expenses. Hosted call recording is a great feature for call centers because you can record conversations between customers and representatives. Many successful corporations utilize call recording for training and sales purposes. By customizing your phone number, you can get your call forwarding service to fit your specific needs and forward calls where, when, and how you want, anywhere in the world.
Industry Leading Quality and Rates
Since 1996, Global Call Forwarding has worked hard to provide the best call forwarding service in the industry. We offer competitive rates and provide top-notch call connection and quality. Our business is rated A+ by BBB and we pride ourselves on unmatched customer experience. Global Call Forwarding has a 100% satisfaction guarantee and we are confident that your business will see great results from our service.