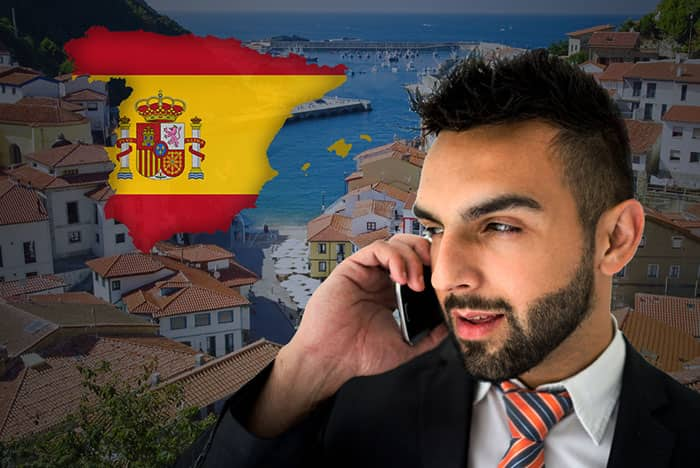 A Spain toll free number starts with (900) and is free to call from within the country. Get a Spain toll free number and forward incoming calls from Spain to anywhere in the world.
Spain's boisterous past and history has created some of the most attractive monuments in history. It is also a fantastic place to visit and do business.
Setting up virtual office or branch in Spain is easy. A toll free number can help a business presence by offering customers in Spain a free number to call. Business contacts are more likely to call a toll free number.
Global Call Forwarding provides toll free numbers in Spain. The toll free forwarding service is provided through top underlying carriers and supported 24/7 by customer service agents. A top advantage of using this internet based service is that it allows entrepreneurs to run their businesses from anywhere.
Spain toll free numbers from Global Call Forwarding come equipped with advanced service features for business like interactive voice response, virtual PBX, time-of-day routing and call recording.
The Economy of Spain: Overview
Spain's leading industries are machinery, beverages and food and pharmaceuticals. The main import is fuels and its main export is machinery. The fifth-largest economy in the European Union is Spain. The economy of Spain is the fourth-largest in the Eurozone, founded on nominal GDP figures. Spain in 2012, was the twelfth major exporter on the planet and the sixteenth chief trader.
The Best Toll Free Numbers in Spain
Global Call Forwarding offers some of the best toll free numbers. Users can choose from a traditional toll free number or one that is mobile accessible. The toll free forwarding service goes a step further to provide a cutting-edge experience to users. Account management is super simple and it is easy to forward toll free calls from Spain.
Spain numbers offer excellent quality at rates that are reasonably priced. You can customize the toll free forward service however you want. Add the ring tones you want and just make it your brand. You can change your system to ring specific phone numbers, groups, extensions or sections successively or instantaneously pending the call is responded. Our toll free forwarding is calculated to ensure that the incoming call is responded to as quickly as possible.
Don't wait another minute come and get a Spain virtual toll free number with the smart features you will fall in love with.