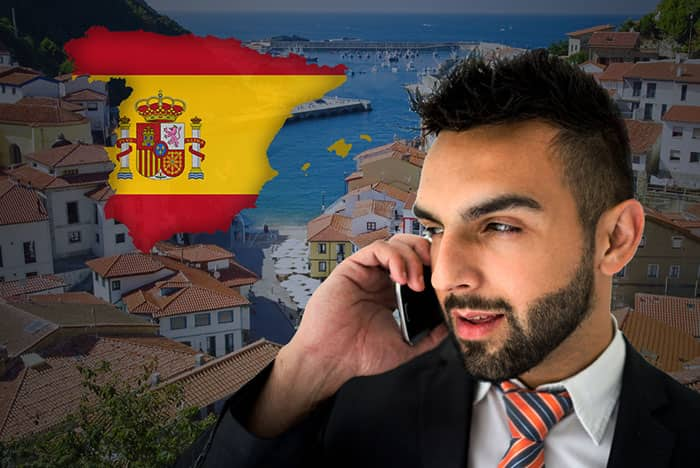 The basic benefit of call forwarding is that any call made from abroad to a toll free number, local number to a landline, mobile phone, laptop or PBX gets transferred to the person concerned, whether or not they are physically present in that particular country. For making calls in Spain, Spain call forwarding numbers are no exception to the rule.
Many businesses, which do not physically have offices in Spain use these forwarding numbers by way of either a local or toll free number from anywhere in the world in order to enable existing and prospective customers in remote markets to communicate with them, either at local rates or for free. Additionally, call forwarding allows business owners to work in conjunction with virtual team members who may be abroad or are working remotely.
Economy of Spain
In terms of nominal GDP, the Spanish economy is the world's 14th largest economy.
It also occupies a place of position among the world's topmost economies by PPP or purchasing power parity and is a member country of the European Union, the OECD, and WTO.
It's also Europe's 5th largest economy and the 4th largest in Eurozone by way of nominal GDP. The country also boasts the tenth-highest quality of living in the world, which says a lot. Though the financial crisis of 2007–08 caused Spain's economy to dive into a recession, leading to nearly 25% of the Spanish workforce being unemployed, they have since rebounded. The Spanish economy took a turn for recovery in 2013-2014 and achieved a trade surplus in 2013. In 2015, Spain's GDP growth was 3.2% and by 2014-2015, the country's economy recovered nearly 85% of the lost GDP during the period, 2009-2013. In 2016, further notable GDP growth was also recorded, which was twice the average of the Eurozone.
Features of Spain Call Forwarding
The advanced features of Spain call forwarding are many. One such is call routing at any time of the day. For organizations operating call centers or offices in several countries, all inbound calls can be transferrable back and forth so that customers always connect with an agent.
For instance, when a business day closes in Chicago, any inbound calls are routable to the business's Spanish satellite office. Similarly, during the close of the work day in Spain, calls may be reverted back to Chicago by a process called 'Follow the Sun' routing. Inbound calls are also instantly re-routable during extremely busy call volume periods.
The second feature of Spain call forwarding is call routing based on the day of the week. Here, calls are routable on the basis of days of the week. If a US-based office is closed on weekends as the case often is, calls are transferred to international offices and vice versa. Spain call forwarding numbers may be routed to any phone the user wants. These are not only confined to mobile phones, but even tablets and computers that are loaded with the appropriate software.
With Spain call forwarding numbers, you get the ability to operate in a barrier-free world. Any company is at liberty to have any number of international phone numbers it needs. All features for international call forwarding may be combined to allow a business to customize its workflow and inbound calls to its specific needs.
There is moreover, no requirement for minimum usage; no added taxes or cancellation fees and month-to-month accounts ensure no fixed term commitment either. Calls are billed as per six-second increments after the initial period of 30 seconds and not in minutes. You have readily available account access online and can also make any number of changes to your number for call forwarding.
You also get the privileges of roll-over minutes, a customized greeting, advanced call forwarding, voicemail to email and voicemail; live customer/ technical support; local ringtone; simultaneous and multiple call forwarding, and fax capabilities.
How does the system work?
It goes without saying that the basic function of any call forwarding service is to transfer calls the world over, and it's no different with Spain call forwarding. The process moreover, is simple, too. Anyone with an internet connection can login into the service provider's portal and subsequently change the numbers to which their local number or toll free number forwards.
Spain call forwarding also makes sense for business travelers to buy an inexpensive mobile phone and then go online to have their calls forwarded to that temporary cell phone. Once you have chosen a service provider, select a local or toll-free Spain number and feed it into the service provider's databank. Once your number is registered, every customer who calls you thereafter is not charged. The VoIP service provider shall forward the customer's call either to your cell phone, laptop, or desktop telephone anywhere in the world.
Thus, if you want to be a part of one of the fastest and most dynamic European economies, get yourself a Spain call forwarding number. Stay connected the world over and prosper.