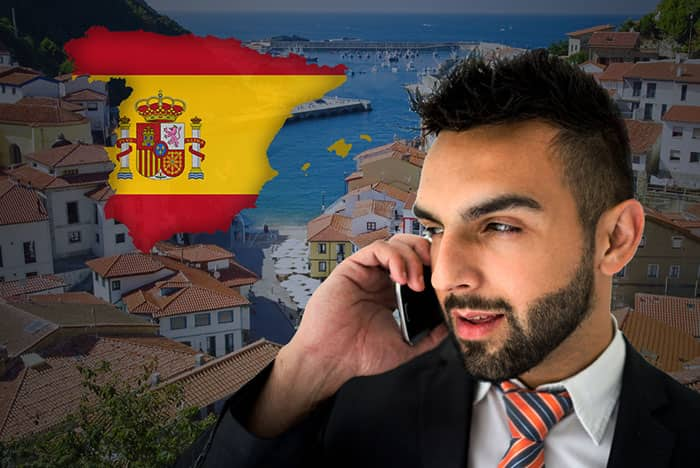 The digital explosion not only created new technologies but also helped improve the existing ones. Email, live chat, and video calling are some of the newer communication means in recent times, but that doesn't mean the telephone system has become extinct.
In fact, digital technology has also benefited telecom and made it more functional and accessible for small businesses. The direct and personal nature of phone calls appeal to people and help businesses form a bond of trust with customers, partners, and affiliates.
Get Spain Virtual Phone Numbers for Business
Regardless of where your business is located, Spain is a major international market. This pleasant and scenic country has always been on the bucket list of tourists, but these days, it is also a dream market for businesses. With a diverse and vibrant culture and a growing economy, Spain has slowly made a name for itself as one of the best places for business. Spain virtual phone numbers can help you break into the Spanish market without a hassle.
Spanish economy
The time between years 2008 and 2012 was one of the worst times for Spain. Also known as the Great Spanish Depression, the economic meltdown began with the collapse of Spain's housing market, along with the employment crisis and weak GDP growth.
All of this led to Spain's economy going bust, affecting industries and businesses across the nation. Many economists predicted that Spain was doomed and would never be able to rise again. But Spain has broken records with its impressive economic growth in the last few years.
This year itself, Spain's gross domestic product grew by 0.8 percent. Exports, industries, and investment have led to this robust economic recovery, with unemployment rates falling fast as thousands of new jobs are created every day. In 2017, the Spanish economy is set to grow further by 31 percent, making it one of the fastest-growing economies in the European Union.
Such strong economic conditions make Spain perfect for small and medium-sized businesses. If you haven't yet forayed into the Spanish market, it's time to test the waters by choosing Spain virtual phone numbers to stay in touch with local customers easily.
What are Spain virtual phone numbers?
The digital boom has globalized businesses, and none of them are restricted to one region anymore. Even without physical offices in different regions, it is now possible to have customers in various parts of the world, owing to technological convenience. Any business owner knows the importance of customers and their satisfaction.
When you are located overseas but have customers in Spain that you need to communicate with on a regular basis, Spain virtual phone numbers come in handy. These virtual numbers give customers a direct line of communication they can use to reach support at anytime. Without the need for an office or call center in the country, you can easily maintain your customer base there, simply by providing them with a local number that is forwarded to your office phone anywhere in the world.
Using Spain virtual phone numbers is the most convenient way to connect a local Spanish number to your office or call center based anywhere in the world. International call forwarding is used by millions of people around the world because of the convenience it provides. Spain virtual phone numbers are used by businesses with customers in Spain, and if you have a customer base in Spain or want to test the foreign shores for business prospects, you can get started with Spain virtual phone numbers.
Having a local Spanish number will give your business a tangible presence in the country, and establish credibility among existing and potential customers. People always prefer local businesses who know about their region and culture, and Spain virtual phone numbers lend that touch of professionalism and credibility to your enterprise. Spain virtual phone numbers work anywhere in the world and come cheap because they are charged at local rates.
How it works
Spain virtual phone numbers are entirely online, and they work with the help of a PBX system and VoIP software. When you subscribe to call forwarding services, the calls are set to route through a PBX system to your office number or call center. Affordable, simple to use, and easy to maintain, Spain virtual phone numbers are also affordable for callers since they are charged at local call rates. You can get started with Spain virtual phone numbers within a few minutes of setup.
Digital call forwarding services are perfect for small and medium businesses making use of this capability, and many are using it more than ever. There are a lot of factors to consider when choosing the service, and it is best if you have telecom experts guiding you. Contact Global Call
Forwarding and get started with Spain virtual phone numbers today!