Hong Kong toll free numbers enable businesses to create virtual local offices almost anywhere in the world. If you are interested in communicating effectively with clients, contacts, or prospects in the region, toll free numbers may be a convenient and affordable way to develop a presence quickly. Residents and businesses in Hong Kong can dial this Hong Kong phone number free of charge, and communicate with your business easily.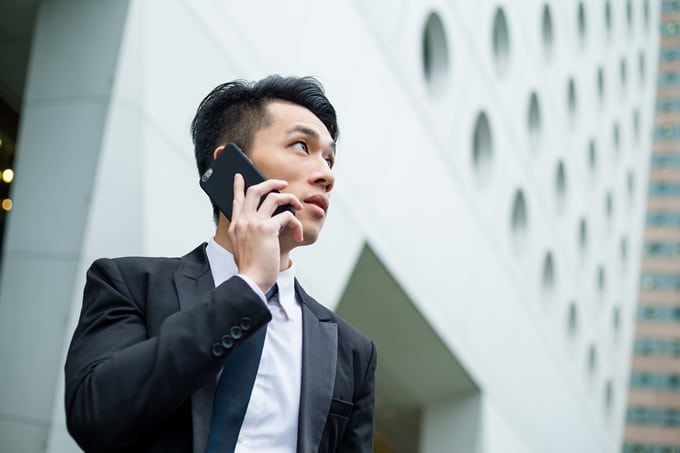 Get Hong Kong Toll Free Numbers
A toll free Hong Kong number can be used by businesses to allow callers in Hong Kong to make calls free of charge. These virtual numbers are identical in appearance and function to all other toll free phone numbers for Hong Kong. Incoming calls are forwarded to the business' location anywhere in the world through an international call forwarding service (more on that below).
How Do Hong Kong Toll Free Numbers Work?
Toll free Hong Kong numbers work like local toll free numbers. For the caller, calls are made no differently than any number they are accustomed to calling. These numbers work within Hong Kong, allowing for free calling. The subscriber or owner of the number covers all costs associated with the number. Because these numbers are virtual, they can be located almost anywhere in the world and still maintain a connection with their number. They allow callers in Hong Kong to make "local" calls, while the business gains tremendous mobility.
How Much Do Toll Free Hong Kong Numbers Cost?
We offer five different Hong Kong toll free number plans with no hidden fees or long-term contracts. Our plans start at $12.95 per month and come with included minutes and an additional per-minute rate.
Hong Kong Phone Number Format
Hong Kong toll free phone numbers are typically 9-digits long. The format includes the dialing code (+852), the toll free code (800), and a 6-digit subscriber number: +852 (800) (xxx xxx).
How International Call Forwarding Works
Call forwarding is used with virtual numbers and routes calls via the internet. In Hong Kong, residents and businesses can make international calls using a Hong Kong phone number provided by Global Call Forwarding. Using this virtual phone number, phone calls initiated in Hong Kong can be forwarded by Global Call Forwarding to the offices/ specific numbers of the company that owns the toll free number. Calls can even be forwarded to multiple locations in several countries, if it makes sense for the business. All the while, the call will be free without expensive call charges for the caller.
The protocols used to forward the phone calls are as follows. First, calls made on the Hong Kong toll free number are connected to a gateway at Global Call Forwarding. Then, the calls are automatically forwarded via Tier1 carriers to the specified destination number, which may be located anywhere in the world. The international call forwarding process is very fast, and the calls have excellent audio quality.
Advanced call features offered by Global Call Forwarding for Hong Kong toll free numbers include the following:
Customized Ringback Tones and Local Ring Tones
Forwarding to Multiple Phone Numbers
Outbound Calling
Call Recording
Voicemail to Email
Rollover Minutes
Customized Greetings
Advanced Interactive Voice Response
Private Branch Exchange
Black and White Lists
Why a Hong Kong Business Number May be a Good Option
Buying a Hong Kong number significantly increases an enterprise's footprint in Hong Kong. Hong Kong is a bustling, thriving locale with excellent business opportunities across many industries. Hong Kong caters to businesses of all sizes and types, and if your business is considering developing a presence in Asia, it may be the perfect place to begin. Furthermore, if your business already exists in Asia, and you would like to expand further, Hong Kong is an ideal location.
Benefits of Toll Free Hong Kong Numbers for Your Business
Among the many benefits of having a Hong Kong toll free business number include:
Gaining the ability to communicate with your Hong Kong clientele with ease
Using a specific Hong Kong phone number for your business
Adding credibility to your business, as they are distinctly different from standard landline numbers and personal mobile numbers
Extending your business to Hong Kong customers easily
Marketing to Hong Kong customers, to test the market if you are considering it as a potential location for your business
Why Hong Kong is an Attractive Market
An agreement between China and the UK established a "one country, two systems" formula for Hong Kong, which is a Special Administrative Region of the People's Republic of China. Hong Kong's government is a Presidential Limited Democracy. Hong Kong has a Free Market Economy with no customs tariffs and limited excise duties. Imports include raw materials, semi-manufactured, consumer, and capital goods, food, and fuel.
Get Toll Free Hong Kong Numbers
If you would like to purchase Hong Kong toll free numbers, head to our website to browse through our inventory and ordering process. Sign up online — it is a simple process to order, and upon purchase, your number(s) will be available for use shortly. Expand your business into Hong Kong today! To learn more, call us or chat with us online!