International investors have been keeping a keen eye on Argentina as it grows and develops on the global stage. One way to determine whether Argentina may be a good place for to expand your business is using Argentina toll free numbers to establish a local presence, survey the market, conduct market research. Broaden your global coverage by making it easy for locals to connect with your business and eliminating long-distance calling fees.
Get an Argentina Toll Free Number
Global Call Forwarding provides Argentina toll free numbers for businesses that want to make it free for Argentinian customers to call their business. Our toll free Argentina numbers are mobile-accessible and have the following formats: 0800-666-four digits or 0800-999-four digits. Locals in Argentina can call your Argentina toll free number for free. And you can answer these calls from any location, in and out of the country. Simply using call forwarding to route incoming calls to a preferred destination.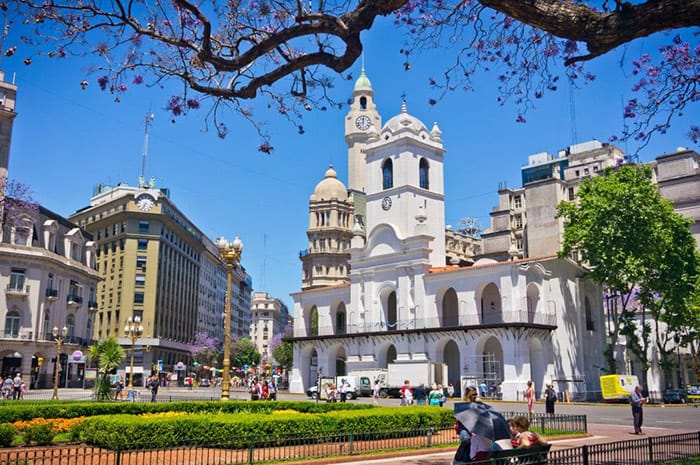 Argentina Toll Free Number Cost
Our Argentina virtual number plans start as low as $17.95 and come with monthly minutes and an additional per-minute rate. Choose between our 5 plans to find one that suits your business needs best. Higher-priced plans offer greater calling minutes and discounts.
Argentina Toll Free Number Format
The Argentina phone number format includes the dialing code (+54), followed by trunk code (0), the toll free code, and then the subscriber number. Here is an example: +54 (0) (toll free code) (xxx-xxxx).
Who Regulates Argentina Toll Free Numbers?
The National Communications Commission in Argentina regulates and assigns Argentina phone numbers including toll free numbers.
Doing Business with Argentina Toll Free Numbers
Argentina toll free numbers help your local or foreign business enter the Argentina market and connect with locals in a cost-effective way. Whether you are located in the country or plan to expand from another part of the world, you can use toll free numbers to make it free and convenient for locals in the country to call your business for product inquiries and support. You can also use these numbers to advertise and market your product within Latin America, increasing brand visibility and awareness. Then, as customers engage with your business, your marketing and sales teams can gradually move them down the funnel to become paying customers. If you are just starting out, then you can use toll free Argentina numbers to build a local network and connect with business contacts who can spur your company's growth. Lastly, companies can use an Argentina toll free number to outsource customer service and sales efforts to a local BPO.
Argentina Business Scene
Currently, Argentina has a thriving technology scene — home to some of Latin America's biggest tech companies including MercadoLibre, OLX, Despegar, and Globant. With the new Entrepreneur's Law, new businesses can be set up within a day, and other resources programs such as Startup Buenos Aires and IncuBAte have made it easy for local and foreign entrepreneurs to grow their business.
Besides its growth in technology, Argentina has also become a hub for outsourcing. With a time zone that matches the US, businesses from around find outsourcing business processes and customer support to Argentina can boost customer engagement.
Lastly, Argentina also has a growing start-up scene. With a supportive entrepreneurial community and a strategic location for global business, Argentina is well-placed to boost new start-ups and help them enter the international marketplace. Furthermore, companies can benefit from the country's high-skilled tech talent and outsourcing hub to provide excellent customer care and support.
Get Argentina Toll Free Numbers with Global Call Forwarding
Global Call Forwarding provides businesses with toll free numbers from more than 160 countries around the world. You can browse through our inventory to find a number for your needs and sign up. Once activated, your number will be ready to use and you can start building connections and marketing your business! Call us today to learn more.