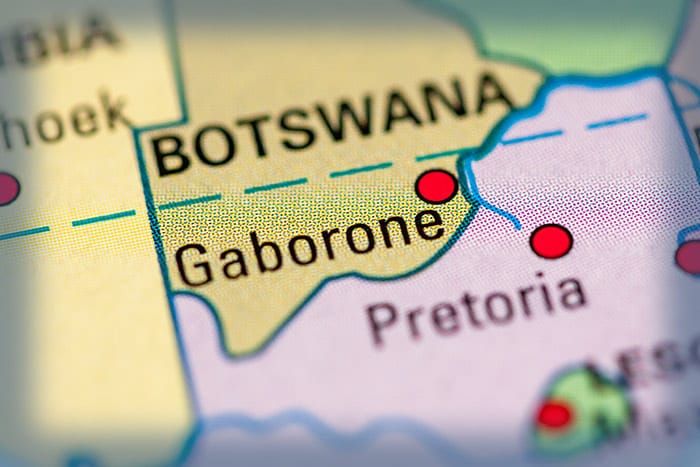 Increase your business' presence in South Africa by using Botswana toll free numbers to communicate with local customers and businesses. You can forward incoming calls to your company's main office located elsewhere.
Get a Botswana Toll Free Number
One way to improve a company's presence in a foreign country is by making it easy for customers to reach the company. In other words, increase your local presence by using a number that customers can call for free, like a toll free Botswana number.
How Much Do Botswana Toll Free Numbers Cost?
Our pricing is straightforward, with no hidden fees or long-term contracts. Botswana toll free numbers start at $48.95 per month. You can choose any of our five plans that come with included minutes and an additional per-minute rate.
Botswana Toll Free Number Format
The Botswana toll free number format includes the international call prefix (+267), the toll free code (800), and the 4-digit subscriber number:
+267 (800) (xxxx)
How to Get a Botswana Toll Free Number?
You can buy a Botswana toll free number from Global Call Forwarding in two ways:
To purchase your numbers online, follow these steps:
Visit our Pricing page.
Select your new number from the left dialog box.
Choose Botswana, Toll Free, and the number available.
Then, enter the necessary information in the right dialog box to have your calls forwarded.
Note: You can forward calls to any location or VoIP/SIP system.
Click on View Rates and choose from our five different plans.
Add premium services, if desired. We offer Call Recording, Outbound Calling, Rollover Minutes, and an Inbound SMS plan.
Submit your order and wait for your service to be activated.
8 Reason to Do Business in Botswana
Globally expanding your business can have countless benefits for companies that want to sell to a new customer base or take advantage of better trade programs. Here's why you should consider doing business in Botswana:
The highly-skilled workforce for industries ranging from mining, construction, tourism, to financial sectors.
A strong network of local and international universities, colleges, and certification programs.
Civil and stable labor relations.
Policies and practices in place for investor protection.
Nationwide and well-connected infrastructure comprised of roads, electricity, ICT installations, and telecommunications.
Proximity to regional giants in South Africa.
A local presence can help you build a local sales network with customers, leads, suppliers, and vendors.
Sell to a broader and more diverse customer base.
Where Can I Get a Toll Free Botswana Number?
You can quickly sign up for a Botswana toll free number with Global Call Forwarding. All you need to do is select your new toll free number and indicate where you want your calls forwarded (destination number). Sign up today or work with our experts to find a plan customized for your business needs.
Contact Global Call Forwarding at 1 (888) 908 6171 to learn more or get started!