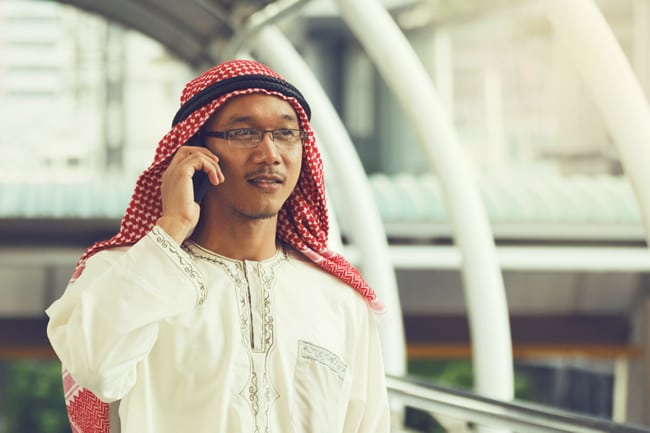 One of the first goals any company has when starting a business in a new country is to set up lines of communication. Global Call Forwarding provides Saudi Arabia toll free numbers so international businesses can gain accessibility to callers in Saudi Arabia.
Launching a business anywhere is challenging. Starting a business in a foreign country like Saudi Arabia comes with its own distinct set of challenges. Toll free numbers increase the likelihood that a business will succeed in a new country. Read on to learn more.
What Are Toll Free Saudi Arabia Phone Numbers?
Toll free numbers for Saudi Arabia allow callers in Saudi Arabia to make calls for free. This means that you as the owner of the number enable callers to reach your company free of cost to them. This offers not just cost-savings to your clientele, but also the indication that your company is established. Successful businesses understand the importance of remaining accessible to customers and providing great customer service. Toll free numbers enable customers to contact a business at a local calling cost, greatly improving customer satisfaction.
Saudi Arabia Toll Free Numbers with Advanced Features
Global Call Forwarding has toll free Saudi Arabia virtual numbers with a wide array of advanced features that come included with the service. Features such as voicemail, local greetings, and failover forwarding can ensure businesses never miss a call. Additional premium features, such as call recording and outbound calling allow even further customization of the service, with a small additional cost.
How do Saudi Arabia Toll Free Numbers Work?
Toll free Saudi Arabia phone numbers allow businesses to purchase a single toll free telephone number to communicate with associates in Saudi Arabia. These numbers look like any other toll free number for Saudi Arabia. And for those in Saudi Arabia, they work exactly the same as well. However, because the numbers are virtual, they are powered over the internet, and when calls are received, they are instantly forwarded to the subscriber's "destination number." In other words, a business can buy a Saudi Arabia virtual number for the purpose of redirecting incoming calls to their headquarters or call center. Virtual numbers are managed online, and a call forwarding service will redirect the phone calls internationally.
For example, a business in the United States can communicate with contacts and customers in Saudi Arabia much more easily with area-specific toll free numbers. Each of these numbers can be forwarded to mobile phones, landlines, and VoIP systems depending on a business's needs. Saudi Arabia toll free numbers are free to dial from within Saudi Arabia and they are dialed just like all other phone numbers, including a local number.
How Can a Saudi Arabia Toll Free Number Benefit My Business?
The primary benefit of getting a toll free number for business is the convenience it provides to customers and contacts.
Customers in Saudi Arabia expect foreign businesses to have simple points of contact.
Foreign calling codes are an immediate detriment to establishing a business, making it difficult to properly market services and products. Toll free numbers, on the other hand, enable businesses to promote themselves professionally and as a local business, even if their home base is thousands of miles away.
Another benefit of toll free numbers is affordability. Getting a Saudi Arabia toll free number is a very cost-effective option for businesses that communicate frequently in Saudi Arabia.
Many businesses purchase toll free numbers as part of their marketing budget, knowing the power of toll free numbers and what they can do for business growth.
How to Get a Saudi Arabia Phone Number for Your Business
If you would like to purchase a toll free number for Saudi Arabia, head to www.GlobalCallForwarding.com. On our homepage, you will find several drop-down menus, and this is where you will enter the specific information for the number you want to buy. Enter "Saudi Arabia" for the country, and "Toll Free" for the number type. Next, you will enter the destination number, where you want calls forwarded to. Click on the link for "View Rates & Try For Free" to proceed to the next stage. Then, you can view available plans and rates; choose the one that best fits your needs. Proceed to checkout. Your number will then be available for use upon activation.
Consider a Saudi Arabia Virtual Office
Once businesses have a greater understanding of how the Saudi Arabian government works, the next step is to determine a direct and affordable means of communication. Toll free numbers are an excellent solution.
Opening a virtual office in Saudi Arabia takes time and dedication. Toll free Saudi Arabia virtual numbers help businesses experience a free flow of communication with customers in Saudi Arabia. The nation stands as one of the most prosperous countries in the Middle East and it holds a wealth of economic opportunities for businesses of all varieties.
Get Toll Free Saudi Arabian Virtual Phone Numbers Today
To purchase virtual toll free numbers for Saudi Arabia, head to Global Call Forwarding. We offer Saudi Arabia phone numbers for businesses at exceptional prices, with a range of advanced features included. To learn more or to buy a toll free Saudi Arabian number, contact our team today.