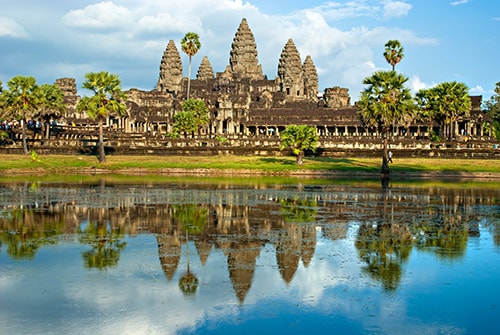 Since switching from a planned economy to a free-market economy, Cambodia has been one of Asia's fastest-growing economies. Cambodia's investor-focused policies and competitive tax rates have attracted foreign investors from all over the world. Enter your business in the Cambodian market by using a Cambodia toll free number.
Get a Cambodia Toll Free Number
A Cambodia toll free number enables you to offer locals in Cambodia a cost-free way to connect with your business, irrespective of the location. You can route incoming calls from Cambodia to your companies' headquarters or sales teams anywhere in the world. Virtual communications and international call forwarding help businesses stay connected with their global customers cost-effectively.
How Much Does it Cost?
Choose the right plan from our five different toll free number plans. Our toll free Cambodia numbers start at $148.95 per month. Our plans come with included minutes and an additional rate-per-minute.
Cambodia Toll Free Phone Number Format
Cambodia phone numbers are typically 10-digits long. The format includes the dialing code (+855), the toll free code (1800), and the 6-digit subscriber number:
+855 (1800) (xxx-xxx)
How to Use Your Toll Free Cambodia Number
Local and international companies can use a toll free Cambodia number to offer locals a cost-free calling option. Toll free numbers have been used for years to attract new customers as they are free to call. Some ways your business can use a Cambodia toll free number include:
Establishing a local presence in the regional time zone and languages.
Advertise locally and participate in local events.
Offer sales and customer service to interested prospects and returning customers.
Connect with significant business contacts and networks.
Benefits of Doing Business in Cambodia
There are many reasons why businesses from across the world are considering Cambodia as an investment opportunity. Whether it is to sell to customers in Cambodia or to take advantage of its skilled labor, Cambodia may prove to be a useful addition to your business.
Take advantage of foreign-investment-friendly business policies. Cambodia's tax rate for companies is 20%, which is the lowest in the area. Furthermore, Cambodia sits in the center of Southeast Asia. This location gives Cambodia easy access and connections to Thailand, Laos, Vietnam, Myanmar, Malaysia, Singapore, and China.
Call us or sign up on our homepage and get your new Cambodia toll free number today!