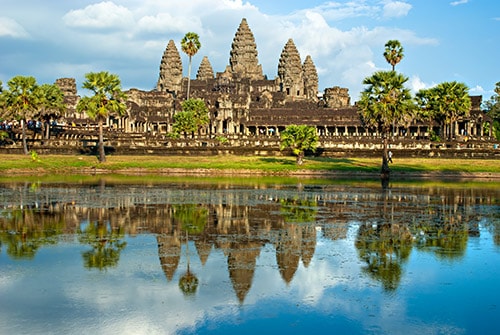 Bringing your business to Cambodia is easier than ever with virtual Cambodia phone numbers. Establish a local presence and make your business reachable by extending sales and customer support.
Get a Virtual Phone Number in Cambodia
A Cambodian phone number lets you gain access to Cambodian locals. That includes business contacts, local vendors, prospects, and more. You can answer sales queries and offer quick customer support. We offer the following Cambodian number types:
Cambodia Geographic Numbers are local numbers that incur local calling charges.
Cambodia Toll Free Numbers are free and reachable from anywhere within the country.
How Much Does it Cost?
Our Cambodian virtual phone numbers start at $98.95 per month. With these numbers, your company can accept local calls by providing an inexpensive way to reach you.
Telephone Numbers in Cambodia
Cambodia telecommunication services provide residents and businesses with communication services like Cambodia phone numbers. Here's information about the telecom scene in Cambodia:
Cambodia telecom regulator — Telecommunications Regulator of Cambodia (TRC).
Telecom services offered in Cambodia — Landline, mobile, and internet services.
Major Cambodia telecom operators — Cellcard, Smart Axiata, Metfone, Seatel, Cootel, and qb.
Cambodia Phone Number Format
The Cambodia number format includes the dialing code (+855), followed by an 8-digit subscriber number:
+855 + xxxx-xxxx
Geographic Area Codes
Cambodia local numbers have a 3-digit area code and a 6-7-digit subscriber number. The format for local Cambodia phone numbers is generally:
+855 (area code) xxxx-xxxx.
Get Cambodia Virtual Phone Numbers
Global Call Forwarding can help get you set up with Cambodia virtual phone numbers for your business. You can use these numbers to connect with locals and extend sales and customer support to these customers. Call us at 1 (888) 908 6171 to sign up!