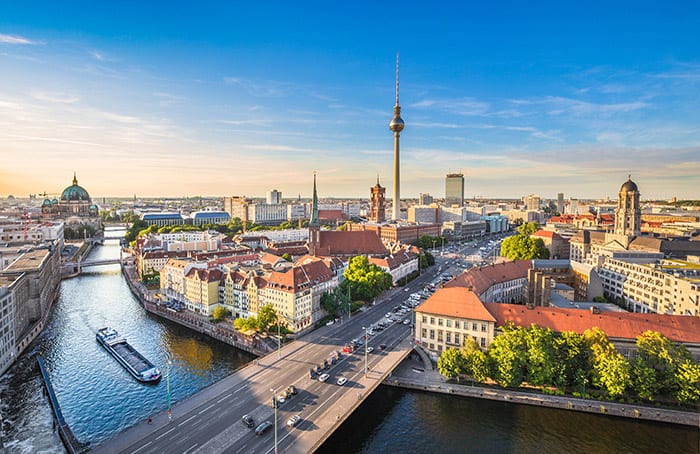 Global Call Forwarding (GCF) offers subscribers four types of German toll free numbers: National, Geographic, Toll Free 800 Numbers, and Mobile Accessible Toll Free 800 Numbers. The National Numbers look like normal German phone numbers. The Geographic Toll Free Numbers give subscribers a virtual presence in the various localities in Germany. Callers with landlines, mobile phones, pay phones, fax transmissions, and those in other countries can reach the National and Geographic toll free numbers. The German toll free numbers and 800 numbers allow German callers on landlines and fax transmissions (but not mobile phones, pay phones or other countries) to reach your company without tolls. Mobile phones, landlines, pay phones, and fax transmissions (but not other countries) can use the Mobile Access Toll Free 800 Numbers.
Global Call Forwarding has over 20 years of experience in providing toll free numbers to clients in over 150 countries. If you are interested in purchasing German toll free numbers, it can be done conveniently and quickly. It is easy to get a free trial using the following procedure:
On the "View Rates" page, select "Germany."

Select the number type.

Select the destination country.

Enter the desired destination number.

Click "Try for Free."

Provide basic contact information.

Select the desired plan and any optional features.

Add to Cart.

Checkout ($0.00)
The call forwarding process for German toll free numbers works as follows.
A caller dials the German toll free number.

GCF forwards the call to your chosen destination number.

Your company receives the call.
Representative Worldwide Rates for German Toll Free Numbers
The following table gives rates for German toll free numbers for six destination numbers around the world. Global Call Forwarding offers five rate plans (Basic, Value, Power, Premium, and Enterprise) depending upon your expected usage in monthly minutes. The table shows the number of monthly minutes, the cost for additional minutes, and the monthly cost of plans with the lowest and highest monthly minutes.
Rate Comparison for German Toll Free Numbers from Various World Locations
Type of German Toll Free Number
Rate Category
Beijing, China
Chicago, IL, USA & Sydney, Australia
Johannesburg, South Africa
Sao Paulo, Brazil
Tokyo, Japan

National or Geographic

Monthly Minutes

186 to 9,020

200 to 11,015

20 to 406

50 to 1,408

149 to 4,645

Additional Minutes

6.0¢ to 4.0¢

5.2¢ to 3.2¢

42.0¢ to 40.0¢

22.0¢ to 20.0¢

8.0¢ to 6.0¢

Monthly Cost

$12.95 to $248.95

$12.95 to 248.95

$12.95 to $248.95

$12.95 to $248.95

$12.95 to $248.95

Toll Free Number

Monthly Minutes

189 to 9,136

200 to 9,999

27 to 821

63 to 2,554

161 to 6,305

Additional Minutes

9.3¢ to 7.8¢

8.5¢ to 7.0¢

45.3¢ to 43.8¢

25.3¢ to 23.8¢

11.3¢ to 9.8¢

Monthly Cost

$17.95 to $528.95

$17.95 to 528.95

$17.95 to $528.95

$17.95 to $528.95

$17.95 to $528.95

Mobile Accessible Toll Free Number

Monthly Minutes

99 to 3,874

100 to 4,001

46 to 819

72 to 1,987

96 to 3,324

Additional Minutes

20.8¢ to 18.3¢

20.0¢ to 17.5¢

56.8¢ to 54.3¢

36.8¢ to 34.3¢

22.8¢ to 20.3¢

Monthly Cost

$48.95 to $608.95

$48.95 to 608.95

$48.95 to $608.95

$48.95 to $608.95

$48.95 to $608.95
German Population and Telecommunications
In 2017, the population was 80,594,017 making Germany the most populous country in Europe. Median age was 47.1 years, and the fraction of urban population was 75.7%. There were 94,432,800 mobile cellular phones, 44.31 million landline subscriptions, and 72,365,643 internet users.
Germany has a technologically-advanced telecommunications system and excellent international service. German toll free numbers give you the ability to ease into this market to take advantage of the many opportunities it presents. The country has an extensive system of automatic telephone exchanges whose connections utilize modern networks of coaxial cable, fiber-optic cable, microwave radio relay, and a domestic satellite system.
Most Populous German Cities
The four most populous German cities are the capital, Berlin (3.563 million), Hamburg (1.831 million), Munich (1.438 million), and Cologne (1.037 million). Companies desiring geographic toll free numbers may want to consider these heavily populated localities.
Berlin
The basis of Berlin's economy is high-tech industry (biomedical engineering, biotechnology, clean tech, construction, electronics, IT, and pharmaceuticals) and a vibrant service sector including convention venues, creative industries, media corporations, and research facilities. It is also a popular tourist destination. The Berlin website is https://www.berlin.de/en/.
Hamburg
The Hamburg metropolitan area has greater than five million residents. It is a center for world economics and international law with consular and diplomatic missions including the International Tribunal for the Law of the Sea, the EU-LAC Foundation, and the UNESCO Institute for Lifelong Learning.
Hamburg is also a tourist destination with two UNESCO World Heritage Sites: the Speicherstadt Warehouse District and the Kontorhaus District, which houses the Chilehaus, a 10-story angular office building built in the 1920s Brick Expressionism style of architecture. The official English language website for Hamburg is https://www.hamburg.com/.
Munich
Munich is the capital of the German state of Bavaria and a center of art, business, culture, education, finance, innovation, publishing, and technology. Munich has many universities, museums, and theaters, and its annual Oktoberfest attracts both locals and tourists. The Munich website is https://www.muenchen.de/int/en.html.
Cologne
The Rhine River runs through Cologne, which is the major Rhineland cultural center with over 30 museums and hundreds of galleries. Cologne's economy relies on insurance and media industries, and the city is home to several corporate headquarters. The Cologne website is https://www.stadt-koeln.de/. This site is in German, but many browsers can translate the content.