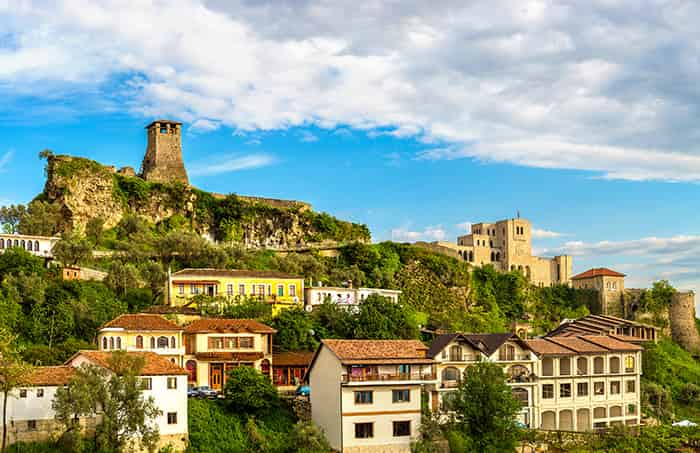 Take advantage of Albania's developing economy by entering your company in this emerging market. The main industries here include construction, tourism, and agriculture. To do business in Albania, get an Albania toll free number to begin building communications and business relations.
Get an Albania Toll Free Number
Part of running a business includes developing and maintaining strong relationships with your customers. And to do this, customers should be able to reach your business easily when they need to. International toll free numbers such as an Albania toll free number can help you offer locals a free way to call your business, even if you are located outside the country.
How Much Does It Cost?
We offer 5 different virtual phone number plans to suit businesses of every type and need. Our pricing is straightforward with no hidden fees or long term contracts. Albania toll free numbers start at $28.95 per month plus an additional per-minute rate.
Albania TFN Format
Albania toll free phone numbers are typically 10-digits long. The format includes the dialing code (+355), the toll free code (0800), and a 7-digit subscriber number:
+64 0800xxxx.
Why Your Business Needs a Toll Free Albania Number
With an international toll free service, your business can be located anywhere in the world and still offer sales and customer support to target countries. Similarly, your business can work closely with Albania locals by routing incoming calls to your main office located elsewhere. This helps you build and maintain strong relationships as you will be available for your customers through a reliable phone service.
How Albania Toll Free Numbers Can Attract Customers
A country's toll free numbers are free to call from within the country. This is because the receiver (the business) pays for these calls. By doing so, customers are encouraged to call a business to make purchases, network, or receive assistance. This is helpful when doing business in Albania. Your business can gain more customers and convert them into recurring and loyal customers.
Get Albania toll free numbers with Global Call Forwarding for your business. Call us today to learn more and build an effective communication system.