Israel Toll Free Numbers for Your Business
Businesses in Israel or those that have customers or associates there can benefit from having a toll free number. Here are some of the advantages of having a toll free Israel virtual number:
Toll free numbers are an indication that your business is well-established.
If your business is expanding internationally, a toll free number in Israel makes it known that your business does, in fact, have a local presence.
Clients and customers in Israel won't incur any charges when calling your business.
Customers often prefer to use local toll free numbers to contact businesses.
As a business number, toll free numbers are ideal, rather than local or personal numbers.
How to Get an Israel Toll Free Number
If you would like to purchase a toll free Israel phone number, head to Global Call Forwarding today.
Step 1: On the homepage, you will find several drop-down menus, and there you can select the exact specifications for the number you wish to purchase. Enter "Israel" for the nation, toll free number for the number type.
Step 2: Enter the number you would like calls forwarded to.
Step 3: From that point, you can click on "View Rates & Try For Free" where you can select a plan, additional features, and proceed to purchase.
Included Features for Your Israel Toll Free Phone Numbers
Numerous features can be used in conjunction with your toll free Israel virtual number. Among these are call recording, sequential forwarding, black and white lists, and voicemail to email. Another of these features that may be used with our call forwarding service is advanced IVR setup. This enables callers to reach different departments through voice navigation or by dialing a different number extension. These extensions may include (but are not limited to) customer service, billing support, technical support disputes, sales, complaints, and marketing inquiries.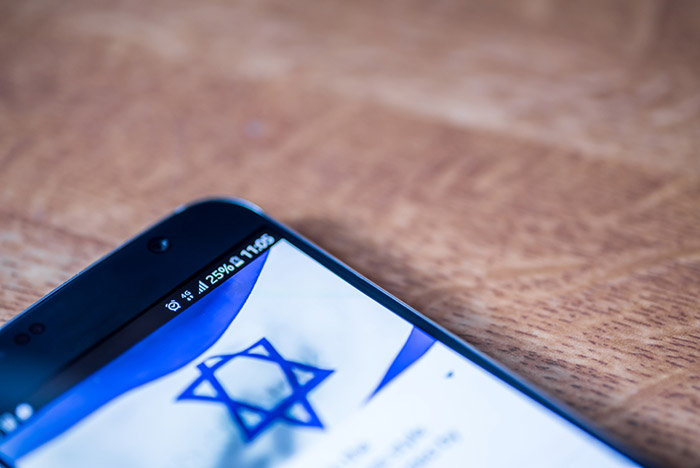 Expanding Your Business in Israel
Expanding your business can be a daunting endeavor, even for the most established and successful companies. There are dozens of methods a business owner may opt for when expanding their businesses, whether across the country or the globe. Degrees of investment range from outsourcing, licensing and franchising, to joint ventures and foreign direct investment. Unfortunately, there is no universal key to successful expansion, but with the right tools such as Israel toll free numbers and allocation of resources, any business is capable of creating its own plan and setting achievable goals. Fortunately for businesses today, telecommunications can be an invaluable asset to marketing, expansion, sales, communication, and more.
Israel is Entrepreneurial by Nature
With a high per capita ratio for startup businesses, Israel is one of the most entrepreneurial nations in the world. Israeli citizens undergo extensive education and training during their years with the Israeli Defense Force (the IDF) where they learn a range of skills. For applied studies such as tech engineering or intelligence, the IDF arguably provides among the world's best education. For example, Unit 8200 is the largest Israeli military intelligence unit and specializes in cyber-security, mobile communications, data storage, and analytic algorithms.
The unit has trained and produced more technology millionaires than many other business schools in the world. Furthermore, Unit 8200 has launched programs to educate and encourage Israeli startup businesses and was the main feature of the book Start-up Nation.
After their years of service, IDF grads are prepared for the risks of entrepreneurship, but before this, many choose to continue their education at Israeli Universities. In fact, IDF officers receive five to six years of free education. When entering the Israeli workforce, there are plenty of opportunities in the tech industry as companies like Microsoft, Intel, Google, Apple, Facebook, IBM, Cisco Systems, Oracle, and more have opened research and development centers in Israel.
Bringing the Business to You in Israel
Starting and managing a company is a difficult feat, but luckily business communications do not have to be. Modern developments in telecommunications allow even the smallest businesses to operate at the corporate level. Advanced features like call forwarding, voicemail, call recording, interactive voice response, and more allow companies to effectively manage many fundamental aspects of the business. When it comes to business growth specifically, these features can turn a complex and risky expansion into a very successful and profitable one.
In today's globalized economy, businesses need not make the physical move to new markets. Instead of taking that dangerous risk, businesses can make a bold presence in a new market through the use of telecommunications and online marketing with an Israel toll free number.
Israel Toll Free Numbers and the Virtual Office
Businesses located in Israel can expand operations to new markets, domestic or foreign, by purchasing an Israel local or toll free number and utilizing call forwarding. The Israel toll free numbers you own, regardless of which country or city you are located in, will have a local Israel area code. This gives callers the impression that your business is local and well-established in their area. The incoming calls to your call forwarding number will be redirected to your offices in Israel or any other global location. The process and features are very simple to set up so it is simple to start receiving calls from your customers in Israel.
Conversely, if the company's expansion is a success and the business is profitable in the foreign market, new opportunities may be presented. For example, the company can explore new expansion methods such as opening a physical branch and solidifying its presence there.
Whether you are a multinational corporation or a startup web business, you can grow your business with an Israel 800 number. The services we offer are designed to give your business a competitive edge in Israel. With our suite of advanced features, you can deliver a customized experience to callers in Israel and you will be much more likely to align with their businesses.
Get Toll Free Numbers for Israel from Global Call Forwarding
If you want to purchase an Israel virtual toll free number, head to Global Call Forwarding today. We only use carriers with the best reputations and top call quality. We understand how important it is for a business to have a clear and reliable telephone service, and we offer great communication with outstanding customer support.
For any inquiries or to sign up, please do not hesitate to contact our customer service team at any time.
Israel Toll Free Numbers for Business Use
Because the toll free subscriber, or owner of the toll free phone number, pays for the phone calls, customers prefer to use local toll free numbers to contact businesses. The customers in Israel won't incur any charges when calling your business.
Israel toll free numbers are therefore valuable business tools as they allow company employees and customers located in Israel to call the company conveniently, no matter where the business is located.
Included with our call forwarding service is advanced IVR setup – callers can reach different departments through voice navigation or by dialing a different single number extension. These single numbers include, but are not limited to, customer service, billing support, technical support disputes sales, complaints, product, and marketing inquiry.
How Israel Toll Free Numbers Can Attract Customers?
The instant attraction for "toll free numbers" to potential customers has more power than you know. People know that they can call these numbers at no cost to them, which is an added plus. Therefore, people are more inclined to call and enquire about a business or service, which gives you the opportunity to convert them into customers and promote your brand.
Another benefit of Israel toll free numbers is that since you are paying for the calls instead of the caller, it gives the admirable impression that you are a company who cares about its potential customers by making the process a no-risk proposition. Getting toll-free numbers for your business is a great way to tell your customers you care.