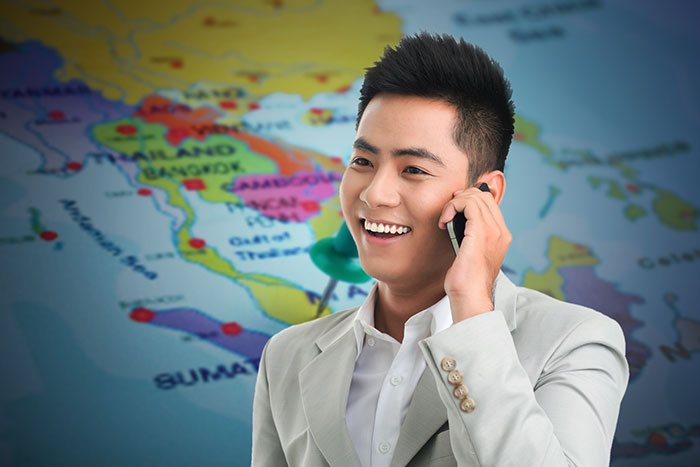 Business in Singapore is booming. This is primarily due to Singapore's open market with a range of exports that include electronics and services. Singapore is a great place to do business for both established companies and startups. Furthermore, Singapore is a growing country that is often described as being highly 'technology-ready'.
As such, businesses and individuals in this nation are prepared for new methods of working and operating. Using toll free numbers can help businesses expand into this prosperous business location and take advantage of the many opportunities available.
What Are Toll Free Singapore Phone Numbers?
Toll free numbers for Singapore are virtual numbers that work within Singapore, enabling locals to place calls free of cost to them. As they are virtual, they are cloud-based, meaning they exist virtually and operate over an internet connection. Singapore virtual numbers can be used by companies wanting to develop their customer base and expand into Singapore. These numbers are often used to establish a local presence without the need for a physical office, allowing businesses to grow without making huge investments. Companies wanting to expand into new countries such as Singapore can use toll free numbers for marketing purposes to obtain new customers. Singapore toll free numbers can also be used to help create longer-term relationships with existing customers, demonstrating they have an established, national presence in Singapore.
How do Toll Free Numbers For Singapore Work?
Virtual toll free numbers for Singapore work exactly like any other phone number, toll free or otherwise, for customers in Singapore. When they wish to contact your business, they will simply dial the number to get connected. However, for the subscriber, they gain tremendous flexibility, as they may be located anywhere in the world and have access to their clientele in Singapore. These numbers can work with a range of different features that benefit the business, allowing for seamless automation, while enhancing productivity and functionality.
Benefits of Singapore Toll Free Numbers
There are numerous benefits of toll free numbers for your business. Among these include:
Enabling international business without having to physically move to a new location. International toll free numbers increase accessibility, allowing customers within Singapore to contact your company whenever they need to.
Singapore toll free numbers increase the trustworthiness and reliability of a company, demonstrating a professional appeal within Singapore.
They can help increase the likelihood of getting more customers within a foreign land because a toll free number demonstrates professionalism and a commitment to customers.
How to Get a Toll Free Singapore Virtual Number for Your Business
If you'd like to get a Singapore phone number for your business, the process of purchasing and activation is quite simple. Simply head to www.GlobalCallForwarding.com and have a look at the drop-down menus on the homepage. There, you will select the details for the number you wish to purchase. For the country, select 'Singapore.' For the number type, select 'Toll Free.' Then, enter the number you'd like calls to get forward to, known as the destination number. Click on the button for "View Rates & Try For Free" to view the different rates and plans. Select the plan that works for your needs and follow through to checking out. From that point, your number will be available for use shortly upon activation.
A Clear Line of Communication
Having a clear line of communication between a business and its customers is one of the most important ways for a company to ensure its success when doing business within a foreign land. One way that international organizations can ensure optimal communication when the business is not physically located within the country is with a toll free number. This service ensures that customers can contact the business with questions, concerns, or to purchase their goods or services. By having a toll free phone number, customers are more likely to consider a business as being reliable and safe, since these are generally known as professional business numbers.
Moving to Singapore: Not Always the Best Solution for Success
For international companies, moving to Singapore could be a good idea as it brings with it the opportunity for corporate growth and development. However for many companies moving to a new country can be stressful, bringing much hassle and many risks. Singapore toll free numbers can give companies an alternative option if they are keen to do businesses in this area but do not want all of the stress of physically moving to Asia. Toll free numbers allow companies to work and do business in Singapore without being physically located within Singapore. These numbers allow companies to develop a local presence within Singapore and enable customers to contact them with ease, all without having to set up shop in the country itself.
Get Singapore Toll Free Numbers for Your Business
In conclusion, if your business is interested in expanding into the prosperous nation of Singapore, having toll free numbers can help you expand virtually. As an affordable solution that allows for lean expansion and testing markets, a Singapore virtual number can add tremendous value to your business. To purchase a toll free Singapore number, head to Global Call Forwarding today.