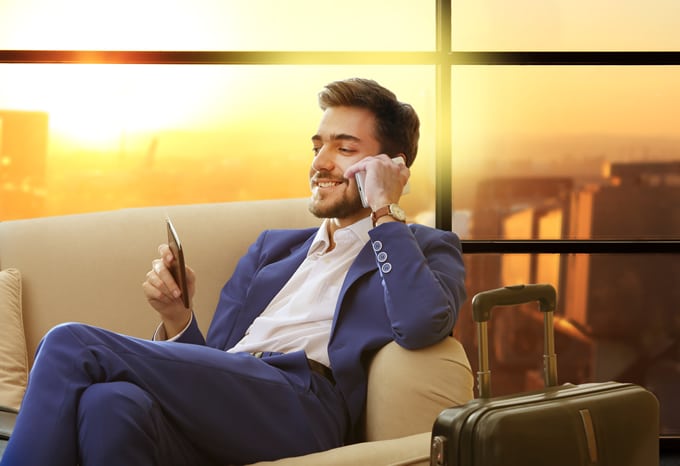 Australia toll free phone numbers enable your company to communicate with ease if you do business in Australia. They allow you to maintain a presence throughout Australia, while giving your customers the peace of mind in knowing that your business is established and easy to reach. Learn how using a toll free Australia number can help boost customer communication.
What are Australia Toll Free Numbers?
Virtual toll free numbers are an economical alternative to opening a new office in Australia and employing additional staff. An Australia toll free number is a 10-digit telephone number that starts with 1 800. Australia 1800 numbers are perfect for a business with an existing or prospective customer base in Australia, and the service is easy to activate. These numbers are also quite cost-effective, which makes them great for startups and small businesses.
How Australia Toll Free Phone Numbers Work
Australia phone numbers allow your company to promote a telephone number that is accessible to clients in Australia. Australia toll free numbers allow customers to reach your business at no cost. Incoming calls to your Australia phone number can be directed to any mobile phone, landline, or IP address.
Australia Toll Free Number Cost
Our Australia phone number plans come with included monthly minutes and an additional per-minute rate. Other than that, there are no hidden fees or set-up fees, and we don't ask for long-term contracts. We offer five different Australia toll free number plans starting at $23.95 per month.
Australia Phone Number Format
Australia toll free phone numbers are typically 10-digits long. The format for Australia toll free numbers includes the dialing code (+61), the toll free code (1800), and a 6-digit subscriber number:
+61 (1800) (xxx xxx).
Related: 1800 Australia Toll Free Numbers vs 1300 Australia Phone Numbers
Why Australia Phone Numbers Are Excellent for Business Communication
Toll free numbers automatically indicate that your business is large, established, and thriving. Another major benefit your business receives when you buy an Australia toll free number is that customers can call you for free. Our service will forward calls dialed to your phone number anywhere in the world. Call forwarding services ensure that no leads get ignored. In addition:
Your business phone number becomes easier to dial for customers in Australia.
Your business has a global reach – you can reside anywhere in the world and still answer incoming calls from Australia.
No complicated contracts are required, meaning you are at liberty to cancel the number at any time.
How Australia 1800 Numbers Can Help Develop your Business
In today's competitive market, it is very important that you allow prospective callers to reach your business at little or no cost to the caller. Australia phone numbers allow your customers to call your company for free or at a local call cost.
The prevalence of online searches makes it possible for customers from all parts of the world to discover your business. Research shows that prospective customers will do business with the company that is most accessible. Australia phone numbers make your business more accessible to callers in Australia. These numbers indicate that your company is local to Australian markets and doing business there.
Small and medium enterprises continue to grow. Although email works as a readily-available, often-used method of communication, a growing portion of the population prefers to talk on the phone. Australia phone numbers offer customers an option to speak to a representative and discuss business matters in detail over the phone.
Global Call Forwarding's Australia phone numbers are among the most effective inbound promotion tools because they are accessible from landlines in any part of Australia.
Accessibility of Australia 1800 Numbers
The benefit of owning an Australia phone number is your business becomes instantly more accessible to callers in Australia. Australia virtual phone numbers can be dialed from any landline, mobile phone, VoIP phone, and even payphones. However, mobile accessibility depends on the caller's network.
Australia toll free numbers are generally accessible while roaming, and Australia International Toll Free Service comprises Tasmania and the Australian states including Christmas Island and the Coco Islands.
How to Get an Australia Toll Free Number from Global Call Forwarding
Rather than setting up an expensive physical office, you can create a virtual office in Australia with our affordable toll free numbers. A virtual office delivers the communication services of a physical office without requiring a brick-and-mortar building. Australia toll free numbers are ideal for businesses looking to expand into Australia. Signing up with us means no hidden fees, no additional equipment necessary, and no contracts required. Simply purchase an Australia phone number from our extensive online inventory and it will activate shortly.
We offer a variety of local and toll free numbers in Australia. Call forwarding services will allow your clients in Sydney, Melbourne, Canberra, and nearly any other city to get in touch with you at any time for little to no cost. Australian forwarding numbers are a smart selling strategy to new clients, and existing customers will appreciate the reliability of being able to reach your business. Sign up today or call us to learn more!
Related: Australia Toll Free Numbers: Comparing the 3 Top Providers