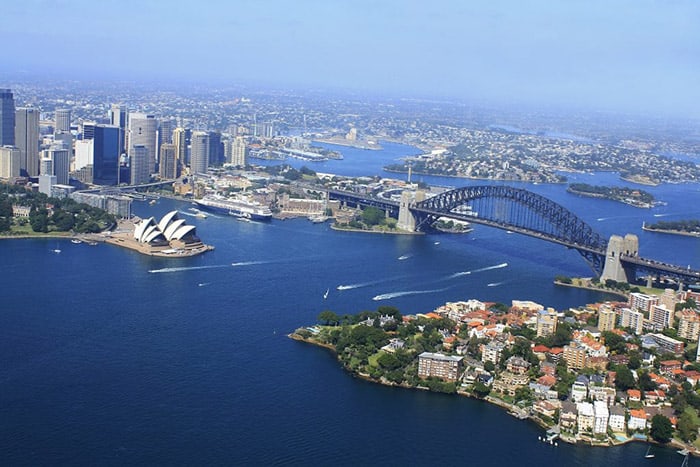 Setting up a business in a new market can be tricky. At Global Call Forwarding, we provide virtual phone numbers with international call forwarding services that make it easier to get your business off the ground in Australia, no matter where your home base is located.
Australia presents opportunities for multinational businesses as one of the globe's leading countries for tourism, trade, and economic strength. The first step to opening a business in Australia is to get acquainted with the economy and general interests of the population.
Global Call Forwarding sets businesses up with Australia virtual phone numbers to get your business the virtual presence it needs. Our affordable virtual numbers put international businesses in a direct position to receive calls from contacts in Australia.
Let's take a look at what it is like to do business in Australia and talk about a few things you need to know before expanding your operations to Australia.
What You Need to Know Before Doing Business in Australia
Australia's economy is one of the largest and most diverse market economies on the face of the planet. Its GDP is $1.62 trillion which makes it the 12th largest national economy by GDP standards. It is also the 19th largest importer and 19th largest exporter of global economies.
Dominated primarily by the service industry, the Australian economy is as strong as it has ever been. 68% of the economy consists of service sector work, but the Australian economy also greatly benefits from the mining sector and agricultural industry. Most of their products are exported to the East Asian market. Australia's economy continues to thrive despite a slight downturn in demand for their mining sector.
In addition to maintaining a healthy economy, it also provides some of the most beautiful landscapes, beaches, and coral reefs in the world. It's well known throughout the globe for its diverse wildlife including whales, kangaroos, koala bears, and crocodiles. The health and beauty of its forests, deserts, oceans, and coastal regions make it a highly popular spot for travelers from around the world. There is no single seasonal 'downtime' for tourism, which contributes greatly to Australia's service-based economy.
Australia is also very friendly and open to international businesses and routinely welcomes new businesses through its borders. Whether you own a new business or head up a multinational business looking to expand, entering this market can result in a greater customer base and increased business success.
Get Virtual Phone Numbers to Do Business in Australia
When you buy Australia virtual phone numbers, you might be wondering who can reach you. Australia virtual phone numbers can be dialed by anybody in Australia at a local calling cost. Our international call forwarding service will automatically redirect calls from your Australia virtual phone number to any phone number of your choice.
The dialing process associated with calling an international phone number can be complicated. First, the calling party needs to dial an exit code, followed by the destination's country code, area code and local phone number. Second, the calling party will typically incur fees. Customers prefer to avoid this and are thus more likely to dial a local or toll free number. The complicated international dialing process can be avoided when your business offers an Australia virtual phone number.
No matter where your business is located, people in Australia can contact you at a local calling cost. Callers only need to dial your Australia virtual phone number. Our intelligent network will redirect calls from the Australia virtual phone number to the 'destination' phone number which can be anywhere in the world. Callers won't even know the difference!
Suppose you own a US business with customers in Australia. Buy an Australia virtual number and advertise that point of contact on your website. When callers in Australia want to reach you, they only need to dial the Australia phone number and they connect with your business! Our service even includes local ringback tones at no additional cost so that the dial tone during the call to replicate Australia's local dialing tone.
We have offered one of the best international call forwarding services and alternative telecom solutions for more than 20 years. We understand the importance of excellent call quality and reliability. The Australia virtual phone numbers that we provide are some of the most reliable within our industry.
Are Australia Virtual Numbers Right for Your Business?
Australia contains several cities where business is booming. Cities like Melbourne, Sydney and Perth are home to numerous potential customers. Australia virtual phone numbers enable you to offer a direct point of contact to customers in these cities.
In addition, virtual numbers are a great marketing tool and serve as an excellent selling point in new markets. A company that advertises a virtual number is oftentimes perceived as more professional than its counterparts. The familiarity with dialing an Australian phone number resonates with customers more effectively than a complicated international dialing process. Customers will remember a positive experience and might even recommend your business to their mates.
Help your customers call a trusted phone number they recognize instead of an international number with high fees.
Buy Australia Virtual Phone Numbers For Your Business
Australia virtual phone numbers are one of the most cost-effective and efficient ways to make your business more accessible to customers in Australia. Calls to your virtual number are free for people in Australia, and it is easier to dial a virtual number than a complicated international phone number. The cost of owning an Australia call forwarding number is minor compared to the huge revenue potential that a virtual number creates.
Businesses looking to expand their operations into Australia should consider Australia virtual numbers with international call forwarding. The virtual phone numbers and reputable call forwarding service we provide will open the Australian marketplace to your business and increase your company's presence in Australia. Let us help you connect with Australian customers with Australia virtual phone numbers.