The COVID-19 pandemic has dramatically changed the way companies conduct business as well as the way customers interact and purchase from these companies. As such, customer service expectations have changed for 2023 with more customers expecting high-quality support, personalized care, multiple communication channels, and more.
Customer Service Expectations in 2023
Customers switched to online shopping in 2020. However, this is not limited to just purchasing but also in terms of having conversations with businesses through video conferencing and emails. Many businesses had to transform their sales pitches and customer support to fit video screens, social media posts, and email marketing. And these businesses had to try harder to improve overall customer experience: from finding the business website online to offering easy customer support options.
So, how have customer service expectations changed since 2020, and what are the most common customer service expectations in 2023? Let's have a look.
1. Offer Higher-Quality Support
The pandemic led to businesses and their customer support teams finding new ways to connect with customers. However, customer service expectations rose to new heights. According to a 2020 Hiver survey focused on customer support expectations in 2020, 80% of consumers expect better and more empathetic support.
More and more customers are shopping online and expect to continue to do so. This means businesses need to develop their websites and e-commerce platforms to prepare for higher volumes of online traffic and movement. Customers will expect quick responses, easy navigation, and high-quality products. Some ways to improve your customer service include:
Updating website content to be more relevant and informative.
Create mobile-friendly webpages that load quickly.
Convenient online purchasing and order-placing abilities.
Better business phone system with advanced features such as call forwarding, routing, cloud IVR systems, call recording, and so on. These features can help with better call management and improve quality assurance.
Offering multiple channels of communication such as live chat, email, video conferencing, etc. You may even consider a chatbot for common FAQs and troubleshooting where customers don't need to get in touch with a rep.
2. More Personalized Care
Customers are also looking for personalized care. Here is where a customer-centric strategy comes into place. Customer experience (CX) is highly significant with respect to business growth. If your customers are unhappy and don't feel valued, they won't hesitate to leave.
Personalization or customization means tailoring customer experiences to make them more relevant and useful to their particular situations. This means:
Paying attention to their profile and their past purchases and interactions
Offering recommendations based on past purchases
Understanding their needs and goals
Visualizing their goals through customer journey mapping
Offering customized solutions
Improving customer service and providing personalized care is as simple as knowing your customer and understanding what they need. Then, making your products and their interaction with it more relevant and personal.
3. More Modes of Contact
Since in-person contact was reduced during the pandemic, businesses had to get creative and find new ways to stay connected with their customers. For many businesses, this meant:
Updating website content
Creating support and knowledge bases for self-support
Staying active on email, chat, and social media channels
Considering automation tools such as chatbots and automated IVR phone systems
And so, customers expect to contact a business through the channel they prefer. The Hiver survey suggests that:
Gen Z customers and millennials prefer email and chat options more than phone conversations.
Baby boomer customers prefer phone conversations over others.
If your business supports all generations of customers, then you need to cater to their preferences and behaviors.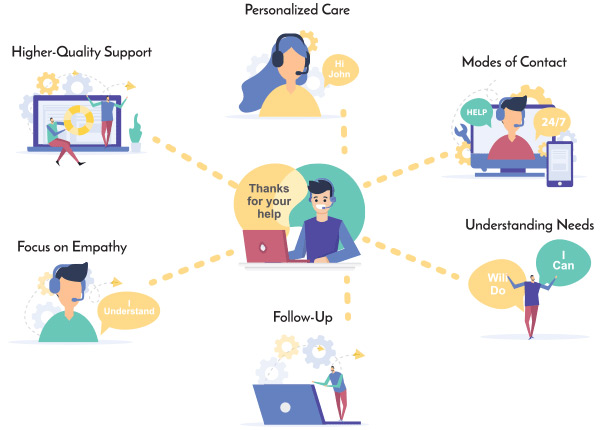 4. Focus on Empathy
According to a survey conducted by Hiver, 34% of customers state that customer support needs to be more responsive and empathetic. And this does not mean during the pandemic exclusively. Customers expect more empathetic and quick responses as everyone is dealing with a global issue. In fact, research has found that millennials and Gen Z customers are more likely to connect with businesses that offer empathic support.
So what does a more empathetic customer service approach look like? Here are a few examples:
Try to see the problem from their perspective.
Allow them to express themselves and their concerns and frustrations without interrupting.
Pay attention to your own biases and actively work on them.
Maintain positivity.
Respect your customer and don't treat them like another number.
Gather and learn from feedback (peers, customers, mentors).
Striving to be more empathetic in your customer interactions can help you develop strong relationships and find better ways to help them. This, in turn, leads to greater customer satisfaction.
5. Pay Attention and Understand Them Better
Similar to the need for empathy, customers expect to be paid attention to, listened to, and cared for. Customers know what all businesses do to track their preferences and capitalize on them — such as targeted ads, personal recommendations, and so on. As such, they expect that businesses have the information to know what they like, prefer, and need. And so, when businesses don't, customers are typically left disappointed and frustrated.
So, what can you do to work better with your customer? Listen to them carefully and do not make their issue seem small or irrelevant. The Hiver survey found out that 23% of customers will claim good customer support if they don't have to explain their issue over and over again. Don't make them repeat their concerns and issues or transfer them to multiple reps and employees.
Paying attention to them and repeating their concerns to confirm them can go a long way in reducing customers' frustrations and increasing appreciation.
6. Be Clear and Follow-Up
Lastly, be clear in your communication and avoid vague and confusing phrases. Customers appreciate clear communication without any hidden agendas. This is one of the top customer service expectations. They expect honesty and clarity. If, as a customer service rep, you do not know the answer to a query, tell them that you will follow-up. And make sure you follow-up soon.
Meet Customer Service Expectations with Virtual Communication
We, at Global Call Forwarding, can get you set up with a robust virtual phone system that can help you become more accessible to customers, no matter the location. Call us today at 1 (888) 908 6171 to find out more about international call forwarding and other communication tools.