Call centers are everywhere and if you want to up your game and become a reliable call center, then you need to make some changes. Here we outline 20 proven tips and call center best practices to help you grow positively.
Call Center Best Practices: Proven Tips for 2023
The following list of best practices for call centers is meant to help you enhance the way agents interact with customers as well as improve overall call center productivity.
1. Focus on Customer Experience
Customer satisfaction is of utmost importance when considering call center best practices. This includes good product development, offering satisfactory customer service, and improving customer experience. Customers interact with your business through different mediums: website, chat, phone, email, etc. Ensure that their experience on all these channels is acceptable and excellent. Some ways to do so include:
Solving issues quickly
Offering multi-channel support
Responding quickly and effectively
2. Track Call Center KPIs
In order to make sure that your call center is performing as per your standards, it is important to track progress through metrics or call center KPIs such as:
Average Time in the Queue
Average Handle Time
Average Response Time
Customer Satisfaction
Average Number of Calls
Abandonment Rates
Occupancy Rates
Watching these metrics can help you identify areas of strengths and weaknesses within your call center. Then based on this information, you can train employees to better meet the company's standards and mission.
3. Train Agents Effectively
This one goes without saying. Training agents is a must. Do not just assume that newcomers who have worked in other call centers will do their jobs as you desire. Train them for your company's specific needs and goals. Furthermore, they may not be familiar with your management systems, technology, or software. Use webinars, guides, workshops, etc., to help employees understand how processes work and how to achieve goals set by the company.
4. Reduce Agent Turnover Rates
Agent turnover rate refers to the percent of agents quitting a call center. This is an important KPI to track because it is better to retain your agents than constantly hire new agents. Understand that working in a call center can be monotonous with little to no reward. At times, agents may even feel overburdened or unable to achieve goals set for them. Taking care of your employees is extremely crucial to reducing agent turnover rates and increasing the chances of good customer satisfaction rates. After all, happy employees lead to happy customers.
5. Consider Work-from-Home
Work-from-home as an employment option is growing more popular. And with advancements in VoIP technology, it is now possible to work from a call center from the comfort of one's home. Being able to offer this option can help employees save on commuting costs while providing them with flexibility. This in turn helps reduce agent turnover rates. Plus, it helps your call center offer jobs beyond your immediate location. This way, you can hire agents in different states and even different countries, making your call center more geographically accessible.
6. Invest in the Right Virtual Call Center Software
Virtual call center software supports on-premise as well as virtual call centers. It comes with a variety of features that help your employees manage calls better and produce desirable results. Common virtual call center software features include:
Call forwarding and routing options based on location, time, skills, agent history, customer history, etc.
Inbound/outbound call recording
Interactive voice response
Extensions and call transfer abilities
Access to virtual phone numbers (toll free, local, international, universal toll free numbers)
Outbound calling with web dialers and dynamic caller IDs
Black and white lists
SIP trunking to enable voice and video transmission over the internet
Simultaneous ringing, and much more
7. Consider Workforce Optimization Solutions
Workforce optimization (WFO) software can ensure workforce satisfaction and productivity. With workforce optimization solutions, you can track quality and performance. All of this helps you manage your workforce better in ways that are beneficial to you as well as your employees.
8. Record Business Calls
Recording and reviewing business calls can assist managers in studying how their agents are performing. You may choose to review failed calls to see what went wrong or successful calls to see what went right. Managers can even review early recordings of a newly hired employee to help them with ways to improve their interactions. Recording VoIP calls also gives agents an incentive to do well as they know they are being recorded.
9. Use an Outbound Calling Service
An outbound calling service supports your outbound call strategies by making it inexpensive and easy to connect with local, long-distance, and international customers. Such a virtual communication service comes with a customizable caller ID. With this feature, you can choose which of your purchased numbers to display as the outgoing caller ID. Display toll free or local numbers when calling different states or countries and present your company as a local one.
10. Regularly Check in with Agents
One of the top and most commonly practiced call center best practices is to regularly monitor the performance of your agents. How are they performing? Are they overburdened or taking on too many or too few calls? How long are they taking to complete post-call activities? Are they struggling with the software or technology used? And so on. Checking in with them will help you get a better idea of how your call center is running and what, if any, changes need to be made.
11. Choose Easy-to-Use Software
Agents and employees at a call center will find themselves using a variety of software to track and store information and more. For this reason, ensure that the software you've selected is easy to use and learn. Agents should not have to spend days and weeks learning how to use these systems.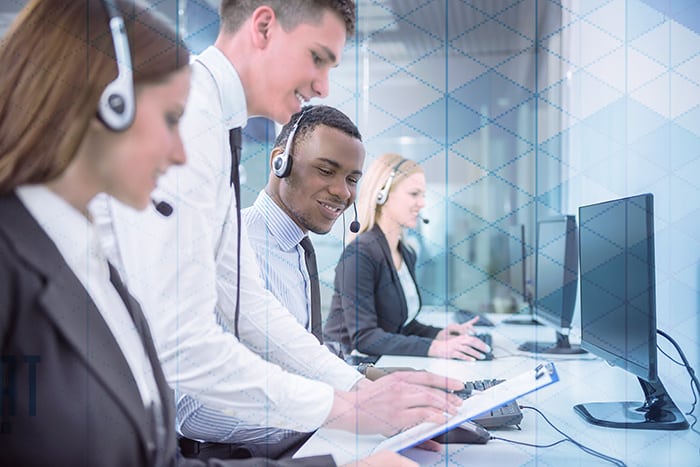 12. Use Automation Appropriately
Consider using automated IVR systems to appropriately distribute incoming calls. This ensures callers receive help from the right department or agent. It can also be used to equally distribute calls among agents so that no one employee is over- or under-burdened. Calls can be routed under different rules such as:
Location-based routing — based on where the call is coming from
Time-based routing — based on the time of day of the call
Skill-based routing — based on agent skills needed
Least occupied routing — routes calls to agents who have answered the least amount of calls
Regular routing — routes calls down a predetermined list of agents
Simultaneous routing — ring multiple phones with one number
13. Get the Right Project Management & CRM Systems
Project management and CRMs are necessary to store, track, and share important customer information in any call center. Find systems that work well for your needs. You may even consider free trials at the beginning to see which ones are most suited and easy to use.
14. Offer Real-Time and Multi-Channel Support
More recently, call centers are offering real-time support through multiple channels such as phone, email, live chat, trouble tickets, and more. In order to step up your customer service game, it is highly recommended to offer more channels of communication. You may even consider chatbots, online knowledge bases with guides to common issues, an IVR system, and more to offer callers and users quicker ways to resolve their queries.
15. Provide 24/7 Customer Service
Most customers also expect 24/7 customer service from a company they are doing business with. Being able to offer customer service whenever a customer needs it can greatly impact customer satisfaction and retention. Here is where multi-channel support comes into play. Chatbots and IVR systems can provide solutions to common issues or FAQs. Guides or knowledge bases only can help users resolve their queries on their own; it is best to offer a range of options to fulfill as many needs as possible. This way, even if an agent is not immediately available, they can get help another way.
16. Improve First Call Resolution Rates
First call resolution rate refers to the percent of calls resolved on the first try. As a call center manager, this is an important KPI to track and maintain. A good FCR rate implies quick and effective customer service. And this can directly impact customer satisfaction rates. To resolve calls on the first try, agents need to be well-versed in their knowledge of the product or service and possible issues that come up. Provide agents with easy access to necessary information so they can offer help quickly.
17. Use VoIP to Expand Your Team
A VoIP phone system or cloud phone system can revolutionize your call center's communication. Such a system enables agents to work and stay connected from any location. It also gives you access to virtual communication features and software as well as access to a multitude of virtual phone numbers. All of this is possible while keeping your monthly bill low.
18. Collect Customer Feedback and Conduct Satisfaction Surveys
One of the most important call center best practices includes collecting customer feedback to improve your service. You can gather feedback through surveys via email, phone, IVR systems, SMS, chat, etc. Customer feedback is essential to understanding the customer experience. Oftentimes, even if you think your call center is doing well, there may be certain aspects you are overlooking and surveys can help highlight these areas. Develop your surveys based on specific areas you want to get feedback on and then use the feedback to make necessary changes.
19. Prepare Guides and Knowledge Bases
Create easy-to-understand guides and knowledge bases that can be used by agents as well as customers. You may choose to create two versions; one for agents and one for customers. The point of such guides or content that provides quick solutions and support is so that when the need arises, agents can help customers and at times, customers can help themselves. Being able to resolve concerns quickly is instrumental in retaining valuable customers.
20. Stay Open to Change
Finally, be open to change. Any call center manager worth their salt is open to feedback, criticism, and change. Change implies growth and you should always look for ways to grow and expand your business.
Put These Call Center Best Practices to Use
Now it's time to apply these call center best practices and give your agents the support they need. While these tips may not prove useful to your specific business, choose the ones that are most applicable. For information about virtual phone systems and call center software, contact us at 1 (888) 908 6171 today!