It's easy for important calls to get lost in the shuffle or for customers to get frustrated when trying to reach the right person. This is especially true if you don't have the right call management solution in place.
Enter: VoIP phone extensions.
With this solution, you provide callers with a direct line to their desired destination. And this helps to enhance the customer's experience and streamline internal communication.
In this article, we'll discuss how a small combination of numbers can make a big impact on your organization's communication strategy. So let's get started!
What is a Phone Extension?
A phone extension is a feature that identifies a specific phone line or device within your business phone system. It typically consists of 3-5 digits and allows callers to directly connect to a destination without interacting with a receptionist.
You can assign a unique VoIP extension to individual users, teams, and departments. This feature makes it easy for employees to quickly get in touch with other internal teams. And, it saves your customers time, as they don't have to bounce between departments to find the right destination.
How Do Phone Line Extensions Work?
The way phone extensions work is very straightforward.
After callers dial your main phone number, they can enter the extension digits for the desired department or agent. Once the extension is dialed, your system identifies the associated line or user. Then, the call is routed to the destination assigned to that extension. And if the recipients do not answer, the call may be forwarded to voicemail.
While callers can bypass your automated system by entering the extension, it's important to note that you can also incorporate this feature within your cloud IVR. So when callers select a specific menu option, the call is routed to the assigned extension.
Here are 2 examples of a phone extension in action:
Let's say you assign extension #011 to your support team.
If a caller wants to contact your support staff directly, they would first dial your main business phone number. When the call connects, the caller then types in the phone extension number is routed straight to the support department.
Now if one of your sales agents wants to get in touch with the support staff, the process looks a little different. Instead of dialing the entire main phone number, internal employees and teams simply have to dial the extension.
Cloud Phone Numbers vs Phone Extensions
Internet-based numbers and phone extensions share similarities. For instance, they both forward calls to an endpoint and can be managed remotely.
But, there are some key differences between them.
Here are the major differences between cloud numbers and phone extensions:
IP numbers function independently, whereas extensions are essentially an addition to your main phone line and rely on it to work.
While cloud-based numbers have an associated IP address, extensions do not as they operate within your business network.
VoIP providers charge for cloud phone numbers with prices varying from service to service. However, extensions are usually free with an IP-based number.
Why Do Businesses Need a Phone Extension Feature? [Benefits]
Phone extensions are not only beneficial for your teams, but also for customers and prospects looking to get in touch with your business. And this is because it gives callers, whether internal or external, a simple and direct way to reach the right destination.
Let's take a look at the benefits of getting an extension for your departments, teams, and employees:
Allow internal teams to quickly and easily connect with each other
Route calls efficiently to correct destination without needing a receptionist
Establish a professional business image
Save costs since extensions are less expensive than individual phone lines
Lower call handling costs
Offer callers quick access to their desired destination
Reduce wait times and caller frustration
Help businesses manage high call volumes
Improve customer experience as quick access means faster resolutions
Provide callers with a consistent communication experience
How Can Your Business Use VoIP Extensions? [Use Cases]
You can use a phone extension in a variety of ways within your business communication system. Here are some use cases:
• Internal communication: Phone extensions allow employees to easily connect and collaborate with each other, making it a great solution for internal communication.
• Customer service: With extensions, you can ensure that customers get the help they need quickly and efficiently by giving them a direct method of communication with your employees and departments.
• Sales: Sales teams can use this feature to handle incoming calls from leads, prospects, and customers. And they can add their personal extension to pitches and emails to encourage prospects to reach out.
• Departmental organization: Using phone extensions, you can organize departments within your business phone system by giving each department its own extension to manage incoming calls.
• Remote work: This feature helps you connect remote workers to the main office phone system, allowing them to make and receive calls as if they were in the office.
How to Set Up a Phone Extension
The VoIP phone extension setup process will vary depending on your specific communication service. So, make sure to ask your chosen provider what the setup process looks like.
For Global Call Forwarding users, you'll first need to contact our team with a list of all the users you want to set up phone extensions for. Then, our team will create 9-digit SIP pins for each requested user.
Once our dedicated reps finish, you can continue the setup process through our online control panel and IVR manager using the following steps:
Log in to your Control Panel.
Click on Phone Numbers.
Choose a phone service line and click on Settings.
Select Call Forwarding from the horizontal menu and click IVR.
Then, click on the orange Manage IVR Applications button.
Choose Create New Application.
Select User Input. Here you can add a prompt, toggle the interruptible feature, and select the max wait and repeat times.
Scroll to the bottom of the User Input window and click on the New Code option.
Create and enter a 3-5 digit phone extension and hit Apply.
Then, select Phone Call from the application window.
In the Destination field, select the 9-digit SIP pin of the user you want to associate with the entered extension. You can also enter a landline or mobile phone number.
Hit Close.
Repeat steps 8-12 for every extension you want to configure.
When you're done, name the application and hit Save Application at the top.
Now when customers call your business, they can enter the phone extension of their desired destination and your system will direct them accordingly.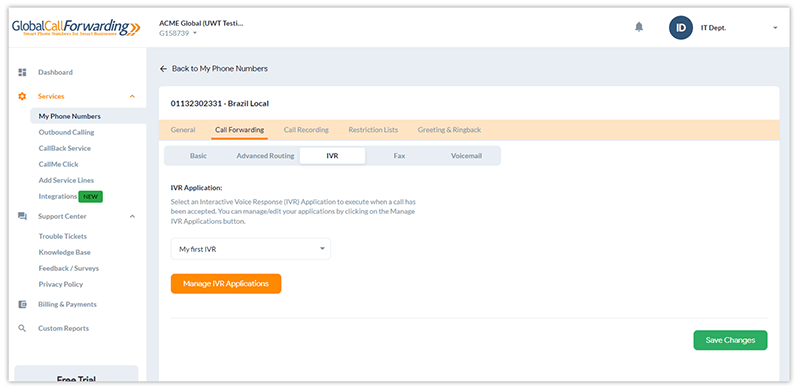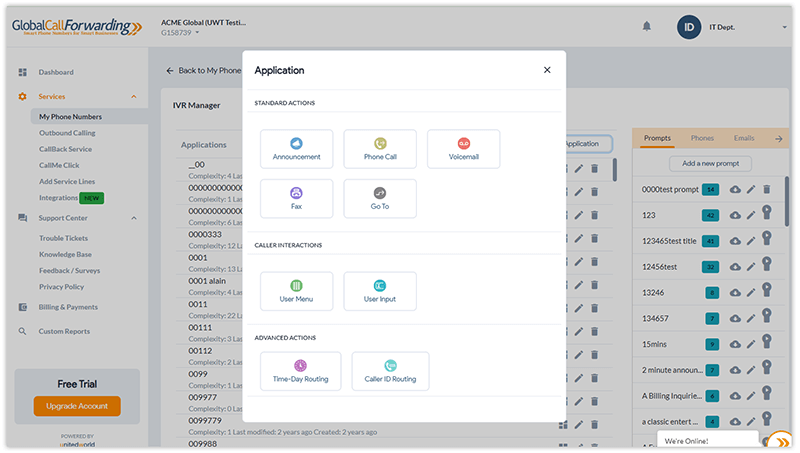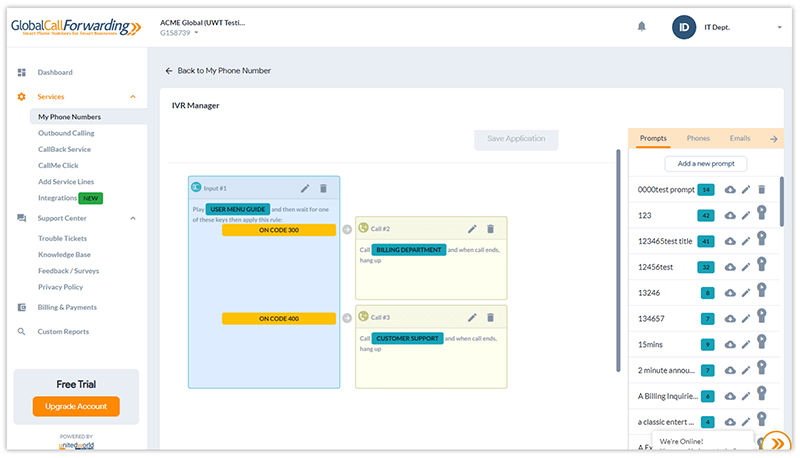 Get Unlimited Phone Extensions for Your Business
Ready to get phone extensions for your business? Global Call Forwarding offers unlimited extensions with any of our 5 business plans. We provide local, international, national, and toll-free numbers from over 160+ countries worldwide.
In addition, you also get:
Access to 20+ advanced call management features
Dedicated account managers and 24/7 support options
A 99.999% uptime guarantee and a highly redundant network
Fast activation times, provisioning, and setup
Over 25 years of telecom experience and more!
Get started today by signing up online. Or learn more about our unlimited VoIP phone extension solution by either speaking with our team of experts at (561) 908-6171 or chatting with us online!