Are your sales and customer support teams struggling with high call volume? Do they need to manage incoming calls from different locations? Is bad call handling leading to a dip in sales?
These are a few situations where effective call management can improve the productivity of your teams while also enhancing caller experience.
Call Management: Definition, Features, Benefits
What is call management? Call management is the process of managing inbound and outbound calls with the help of technology and systems.
By managing calls effectively, your business reduces the time spent on waiting in a call queue, dealing with the wrong department, or overburdening agents in a particular location.
Businesses can use call management software and technology to improve the way callers interact with their teams and improve efficiency and productivity. How? In this article, we will go over:
What is Call Management?
Call management refers to handling incoming calls using technology and call center solutions to route them effectively. You can use call management software to intentionally decide how incoming calls will be handled in your business.
For example, your business might offer customer support for different regions and therefore have regional support centers. Call handling can determine the best way to handle these calls either by advanced routing or by using an automated call distributor.
Why is Call Management Important?
Most customers will hang up and cut off a call after just 0-5 minutes. One of the most common customer complaints is waiting in a call queue for long periods and dealing with a confusing automated voice system.

Customers who struggle to get support will find a new company with better customer service options. And your business will lose a valuable sale and customer. Part of building strong customer relationships is to make your business' support team accessible and responsive. Customers need to know that your business and employees are reliable; this will make them comfortable doing business with you.
How Does Call Management Software Work?
Call management software comes with various tools and features to help you organize your call flows and manage the way callers interact with your business. You can get such software and features from a cloud phone service provider like Global Call Forwarding. These features are customizable and can be personalized to meet your business communication needs. And since they work over the cloud (using VoIP technology), you can use and manage them from any location.
Call Management Features and Tools
So, what to look for in a call management system? Each provider offers different features and tools within their call management solution. Here are the top features to look for:
International Call Forwarding — Forward incoming calls to any location anywhere in the world.
Advanced Call Routing — Route calls using predetermined rules and routing strategies.

Time-based Routing — Route calls based on the time of day the call comes in.
Geographic Call Routing — Route calls based on the caller's location.
Sequential Forwarding — Send incoming calls down a line group, starting with the first person in line each time.
Round Robin Call Routing — Send incoming calls to a hunt group and the next person in line.
Holiday Call Routing — Use holiday schedules to route calls to different locations during holidays.
Simultaneous Ringing — Ring multiple phones with one number
Call Transfer — Manual call transfer.

Automatic Call Distribution (ACD) — Automated call distributor that routes calls to the right department based on predetermined rules.
Call Flow Builder — Create custom call flows to handle inbound call volumes.
Advanced Interactive Voice Response (IVR) — Automated voice response system to interact with callers and help them reach the right department.
Hosted Call Recording — Record inbound and outbound calls and store them
Call Tracking — Track where your calls are coming from (locations, campaigns, etc.)
Call Detail Records and Monitoring — Information of all inbound and outbound calls to help calculate KPIs and metrics.
CRM and Helpdesk Integrations — Integrate and connect different systems and applications to create one centralized business communication system.
Softphones — Web-based phone application to let users place calls from any location and device.
Check out all the features offered by Global Call Forwarding.
8 Benefits of Using a Call Management Software
So, what can call management software do for your business?
Better management and handling of incoming calls
Improved caller experience with efficient call flows
Access to call handling features and tools
Reduced number of lost or abandoned calls
Access to analytics and reports
Improved employee performance
Low costs and increased productivity
Better customer service overall
How to Improve Call Management for Business
Whether your business experiences consistent high call traffic or fluctuating call volumes, you can use various call features and tools to manage your traffic better and improve caller experience. Here are some key tips to improving call handling for your business:
Integrate call features (routing, IVR, etc.) into your existing phone system
Use call tracking and call records to understand when and where your calls come from
Identify key high call volume periods (certain hours of the day, holidays, seasons, etc.)
Build custom call flows and map out how calls should optimally move within your system (check out our call flow templates for ideas)
Use advanced call routing to handle incoming call volumes.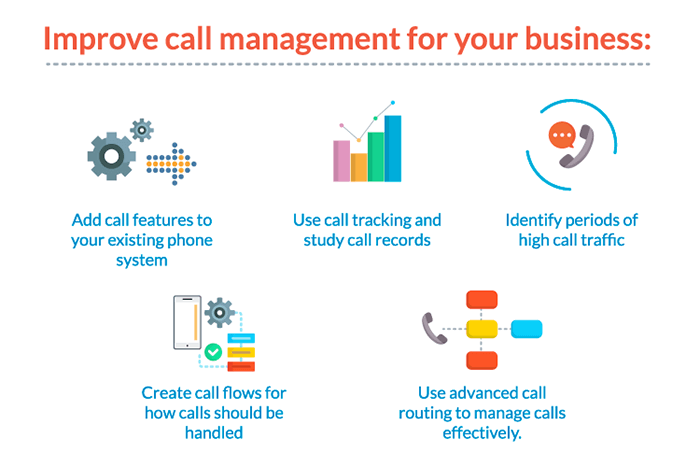 Choosing a Good Service Provider
How to choose the right phone service provider for your call management needs? Research and compare. Look at what different cloud phone service providers have to offer and reach out to their representatives to learn more. Look for:
Variety of features to meet your needs
Easy to use service (request a demo)
Reasonable and competitive prices
Accessible and responsive customer support.
Want to learn more about call management features offered by Global Call Forwarding? Chat with our experts online or request a demo today!