SIP trunking gives your business the opportunity to bring advanced cloud communication functionality to your phone system in a cost-effective and easy-to-use manner. But how do you choose the right SIP trunk provider for your specific needs? Here we list down the top 10 US SIP trunk providers with information on features and pricing.
Choose the Best US SIP Trunk Service
You will find many US SIP trunk providers out there, but picking the right SIP provider for your business communications is crucial to ensure you have access to uninterrupted and high-quality voice service. To choose the best US SIP trunk service, you need to first determine your communication needs and budget. Then, research and compare different providers to find one that meets your requirements.
What to Look for in SIP Trunk Providers?
When researching for a new SIP trunking service, look for:
Availability of cloud phone numbers and voice solutions in target regions
Range of features included within the plan as well as premium features and services
Different pricing and payment options (look for volume discounts and competitive pricing)
Long-term contract requirements and hidden fees (set up, one-time, cancellation, minimum, etc.)
Easy-to-use online control panel or dashboard
24/7 responsive customer support
List of US SIP Trunk Providers
Here's a list of USA SIP trunk providers that offer SIP and voice solutions to businesses in the US and the rest of the world. We've listed down the features offered and pricing information.
*Note: Costs mentioned in this article are current at the time of publishing and may be subject to changes.
1. Global Call Forwarding
Global Call Forwarding is a leading provider of local, toll-free, and international phone numbers. We offer cloud communication solutions to global businesses, with voice solutions for more than 160 countries. Our SIP trunk service comes with outbound calling and can be plugged into your existing PBX system—no need for extra equipment or installation.
Features Offered:
Global DID coverage
Local, toll-free, and international phone numbers
Advanced call routing solutions
International call forwarding
Call recording
Call detail records
Outbound calling with local caller ID management
Call masking
IVR and call flow builder
Price: Global Call Forwarding offers SIP trunking for different countries around the world. Our pricing includes the cost of a country phone number + a $25 outbound calling credit. So, our US SIP trunks start at $32.95/month, where the cost of a US number is $7.95/month. Each of our SIP trunks has 10 channels for concurrent calling.
2. SIP.US
SIP.US's service works through the internet and supports any SIP-compliant device, such as PBX systems and softphones. Their SIP trunks are provisioned quickly, and they offer a free trial of 60 calling minutes. This way, you can test their service and determine if it suits your needs. They have an online control panel where users can make adjustments to the service as necessary. They pride themselves on having a fully automated and self-service environment.
Features Offered:
DID coverage
Call records
Control panel
Bring your own bandwidth
Outbound dialer
International toll fraud protection
Nomadic e911
Tier-1 redundant network, and more.
Price: Their pricing structure is pretty straightforward. They offer SIP channels for $24.95/month with no set-up fees. Additionally, they have varying rates for inbound DID phone numbers, ranging from $1-$2.95/month per number, depending on your requirements.
3. Fusion Connect
Fusion Connect offers Fusion SIP, their SIP trunk solution that can be added to your existing PBX system. This scalable solution grows with your business by adding cloud functionality to a legacy phone system.
Features Offered:
Business phone numbers
SIP trunking portal
Advanced routing
Call logs
Call waiting
Directory assistance and listing
Inbound calling
Outbound calling
DID numbers for inbound and outbound, and more.
Price: Their SIP trunking plan starts at $9.95.month and comes with free installation and equipment. They also offer a 30-day money-back guarantee.
4. UniTel Voice SIP
UniTel Voice offers high-quality SIP trunking for a low cost. They provide this service for call centers and small businesses. Additionally, they offer free US-based customer support and guarantee 24/7 system monitoring. With UniTel Voice, you get quick setup and dedicated account management.
Features Offered:
Virtual auto attendant
Business phone numbers
Call announcement
Unlimited call handling
Follow-me find-me
Call scheduling
Call logs
Outbound calling
Caller ID, and more.
Price: They offer two types of SIP trunk plans: Pay-As-You-Go (for toll-free and local numbers) and Committed-Use-Discount. With the Pay-As-You-Go plan, you pay what you use every month. Toll-free numbers start at $0.0180 per minute, while local numbers start at $0.0045 per minute for origination and $0.0069 per minute for termination. On the other hand, their Committed-Use-Discount gives you a special volume-based deal. Additionally, there are no setup, porting, or cancellation fees.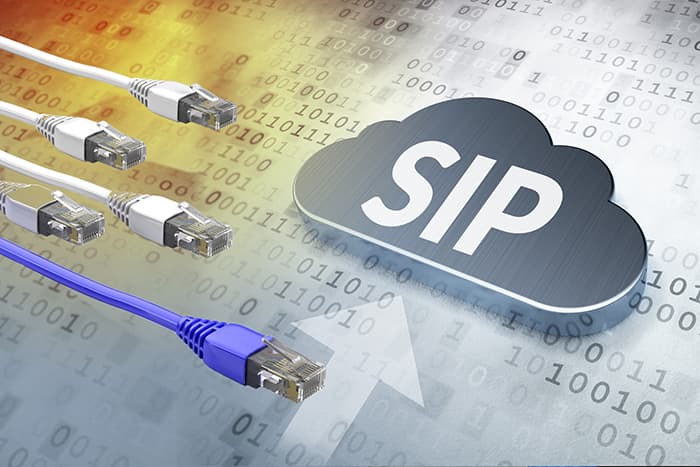 5. SkySwitch
Founded by VoIP industry veterans, SkySwitch brings next-gen communication solutions. Their SIP trunking service is scalable and prepared for disaster recovery. And you can manage your service using their call management system.
Features Offered:
CCaaS and UCaaS
Hosted PBX
DID numbers
Voice API
Fax solutions
Business SMS
QoS monitor
Softphones, and more.
Price: SkySwitch SIP trunking price is based on the number of channels and numbers you purchase:
SIP Channel Setup Fee – $1.00
SIP Channel Price MRC – $1.00
US DID Setup Fee – $5.00
US DID Price MRC – $1.00
US DID Price Minute Inbound – $1.00
US DID Price Minute Outbound – $1.00
International C DID Price MRC – $1.00
6. Telin
Telin is an international telecom provider located in Canada, and they offer SIP trunking to businesses throughout North America and 100 countries worldwide. Telin has a network of Tier-1 carriers.
Features Offered:
UCaaS solutions
Centralized platform
Telecom hardware
Global coverage
Virtual fax
Custom integrations, and more.
Price: You will need to contact Telin's sales team to get a quote for their SIP trunking service. Note that they offer metered and unlimited packages that are tailored by the country and customer's requirements.
7. Voxtelesys
Voxtelesys offers a PBX SIP trunking service with a network of reliable carriers to ensure high voice quality and reliability. Voxtelesys provides its customers with voice, data, SMS, and compliance services.
Features Offered:
Toll-free and local phone numbers
Disaster recovery
Call recording
IVR
Fax
Failover routing, and more.
Price: Voxtelesys offers two different PBX SIP trunking pricing plans: metered (usage-based) and unlimited (predictable monthly cost irrespective of usage).
Metered rates
PBX Line – $1.00/line
Local DID – $1.00/each
Local & Long Distance – $0.01/min
Toll Free Number – $1.00/each
Toll Free Calls – $0.025/min
Unlimited rates
PBX Line – $19.95/line
Local DID – $1.00/each
Local & Long Distance – included
Toll Free Number – $1.00/each
Toll Free Calls – $0.025/min
8. CenturyLink
CenturyLink offers SIP trunking along with other business phone and internet services. They require no annual contracts or cancellation fees, and their packages are flexible, allowing you to only pay for what you need.
Features Offered:
Premium calling features
Call waiting ID
Remote office features
Business communicator app
Instant messaging
Click to dial from a desktop phone, and more.
Price: You will need to contact CenturyLink's sales team to get a quote for their SIP trunking service.
9. Momentum
Momentum provides SIP trunking along with other unified communications services. Their service is compatible with tier-1, PRI, and legacy PBX interfaces, and they guarantee simple and fast deployment.
Features Offered:
Local and toll-free number portability
Hosted IP-PBX service
Mobility features
Shared concurrent call paths
Reliable and geo-redundant network
Inbound/outbound service, and more.
Price: You will need to contact Momentum's sales team to get a quote for their SIP trunking service.
10. Skyetel
Skyetel is a nationwide SIP trunk provider that aims to provide high-availability and high-quality voice service. They have data centers spread across different geographical locations. Their service is powered by renewable energy and a carbon-negative commitment.
Features Offered:
Intuitive interface
Call recording and transcription
Voicemail transcription
Fax to email
SMS and MMS support
Price: Skyetel offers monthly and usage-based plans, and they have packages for SMS and MMS services. Their monthly plans start at $1 for local numbers and $1.20 for toll-free numbers. The usage-based packages have different rates for inbound and outbound calling for different numbers, and these start at $0.01/minute. Additionally, they have a few one-time charges:
Phone Number Activation – $1.00 / activation
Toll Free Activation – $1.00 / activation
Port In Request – $10.00 / number
SIP Trunking from Global Call Forwarding
Keep an open mind when browsing through different USA SIP trunk providers and don't rush into a decision. After all, this service determines how well your business communicates with its clientele.
Want to learn more about our service? Global Call Forwarding is a US SIP trunk provider offering cloud telephony solutions to businesses across the globe. Find out more by chatting with our experts or requesting a demo! Call us at +1 (561) 908-6171 or chat with us online!