It is easy to get lost in a growing sea of IVR number providers. While there are many out there, the good quality and easy-to-use ones are still rare. You want an IVR provider who offers you a quality product with responsive support.
Choosing the Right IVR Number Provider
Your IVR provider will determine how callers interact with your business phone system. An efficient automated system will cut down on wait times and assist callers without frustration or confusion. The right IVR number provider will help your business:
Prioritize call management and efficient handling
Enhance customer and caller experience
Improve call resolution rates and increase responsiveness
Use automation to increase office productivity
IVR Number Providers: Top Features to Look for
So, what makes a good IVR number provider? Here are a few factors and features to look for in your new IVR provider:
Easy-to-use IVR manager or call flow designer
Customizable and adjustable platform
Low- to no-code IVR manager
Access to IVR features:

Call transfer
Failover forwarding
Advanced call routing
Automation options

Low cloud IVR cost
6 Best IVR Number Providers
Here we list the top 6 IVR number providers with information about features and pricing so that you can make an informed decision:
Global Call Forwarding
Twilio
Nextiva
RingCentral
Five9
8×8
*Note: Costs mentioned in this article are current at the time of publishing and may be subject to changes.
1. Global Call Forwarding
Global Call Forwarding offers a fully customizable, no-code cloud IVR system along with their virtual phone number plan. You can use their IVR manager within the control panel to set up simple to complex call flows. They offer tutorials and support materials during the onboarding process to help acquaint your team with the manager.
Global Call Forwarding IVR cost:
Global Call Forwarding offers cloud IVR for free with a virtual phone number plan. So, the cost of IVR is the price of a business phone number. For example, US numbers start at 7.95/month with access to our full IVR manager.
2. Twilio
Twilio is a cloud contact center that provides advanced and customizable business phone solutions from voice to video. They offer IVR and other voice features along with their programmable voice service. You can create IVR workflows within their IVR studio; no coding required.
Twilio IVR cost:
The price of their IVR system is the price of their voice service. They offer three different pricing options: Pay-as-you-go, volume discounts, and committed-discounts, which are based on the type of call or amount of minutes you will use. For example, local calls with the pay-as-you-go pricing start at $0.0130/ minute.
3. Nextiva
Nextiva offers voice and call center software to businesses of all sizes and industries. You will need an account with them to use their call flow builder to design your IVR system. They also use natural language processing (NLP) to bring conversational AI to your IVR system.
Nextiva IVR cost:
Nextiva offers advanced IVR (auto-attendant) with a Nextiva VoIP service. Their voice solutions start at $17.95 /user/month.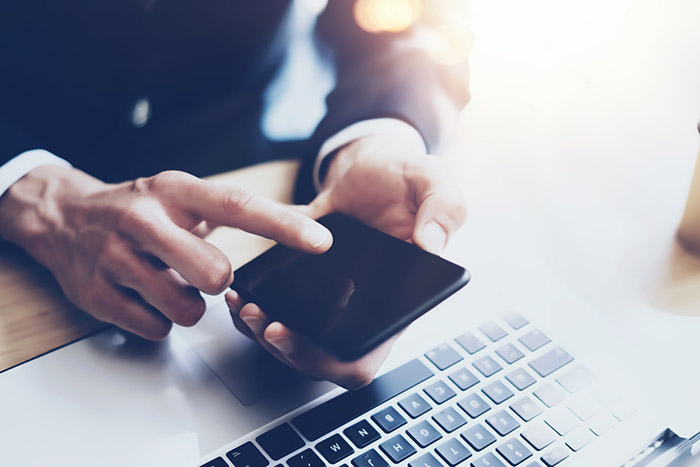 4. RingCentral
Like others listed in this article, RingCentral also offers IVR and auto-attendant services within their voice phone service plans. You can use their Visual IVR Editor along with other features from their dashboard.
RingCentral IVR cost:
RingCentral offers multi-level auto-attendant and multi-level IVR is a premium feature within their Message, Video, and Phone (MVP) package. Their plans with auto-attendant (and other features) start at $30.39/user/month.
5. Five9
Five9 offers IVR as part of their inbound contact center solution. This solution brings you various business phone service features from IVR to advanced routing and more. Their IVR service comes with omnichannel routing and screen pop.
Five9 IVR cost:
Five9 has three different pricing models: Monthly On-Demand, Per-Minute Fees, and Annual Contracts. You will need to contact their sales team to get a quote for their service.
6. 8×8
8×8 offers a basic IVR solution that lets users create menus and self-service options. Like others mentioned above, these are designed for users to use on their own, without the need for code or expert support. They also feature a visual editor to help users map out their IVR paths.
8×8 IVR cost:
8×8 offers IVR within any of their X series plans, which start at $12/user/month.
Global Call Forwarding: An IVR Number Provider
Part of reviewing different IVR number providers is reaching out to them and understanding what your business communication system would look like with their service. To learn more about the advanced IVR solution offered by Global Call Forwarding, speak with our experts today! Call us at +1 (561) 908-6171 or chat with us online.