Tired of dropped calls and bad call quality? Need to get out of a long-term phone service contract? Want to add more call management features to your phone system? One way to upgrade your business phone system is to port your number to a VoIP service provider.
In short, VoIP number porting is the process of switching phone service providers while keeping the same number. No more worrying about updating everyone with your new phone number or staying stuck in contracts with low-quality service.
Here's an in-depth guide to VoIP number porting with a focus on the process, requirements, and benefits of porting your number to a new phone service provider. We will also discuss how you can port a toll free number to a new VoIP service.
Porting Your Number In & Out of a VoIP System
Porting your 800 number to a new VoIP phone service is a simple and quick process. Whether you need a new service for business or personal use, number porting can help you switch to a new provider and improve your phone service's reliability and efficiency. In this VoIP number porting guide, we will go over:
What is VoIP Number Porting?
VoIP number porting is a telephony solution that lets users or owners of a number move or port their number from an old service to a new service. This means that you can switch phone service providers while still keeping your phone number intact.
How Does Number Porting Work with VoIP Numbers?
To port your phone number from one service to another, you first need to reach out to your new VoIP service provider. Most VoIP providers offer VoIP number porting and will ask you to fill in a porting request. Then, your new and old providers work together to ensure porting without any service interruptions.
It is important to wait for a successful transition to your new service provider before canceling your old service (ending your existing contract).
Benefits of Porting Your Number to VoIP
For many customers, VoIP and toll free number porting allows them to get out of long-term contracts and find better phone service providers. Here's an opportunity to improve your business phone system, add call management features, and make your phone system more efficient and reliable.
So, why and when should you port your 800 number to VoIP?
Here are some benefits of number porting and situations where you may need to switch to a new service provider:
Moving or relocating to a new city or region
Low voice and audio quality
High monthly bills
Network connectivity issues leading to a high number of dropped calls
Transition to cloud communication and VoIP for a reliable, flexible, and scalable phone solution
Lack of reliable and responsive customer and technical support
Need for advanced VoIP forwarding features to support growing business communication needs
Stuck in long-term commitments with low value
Consolidation of services to centralize business communication.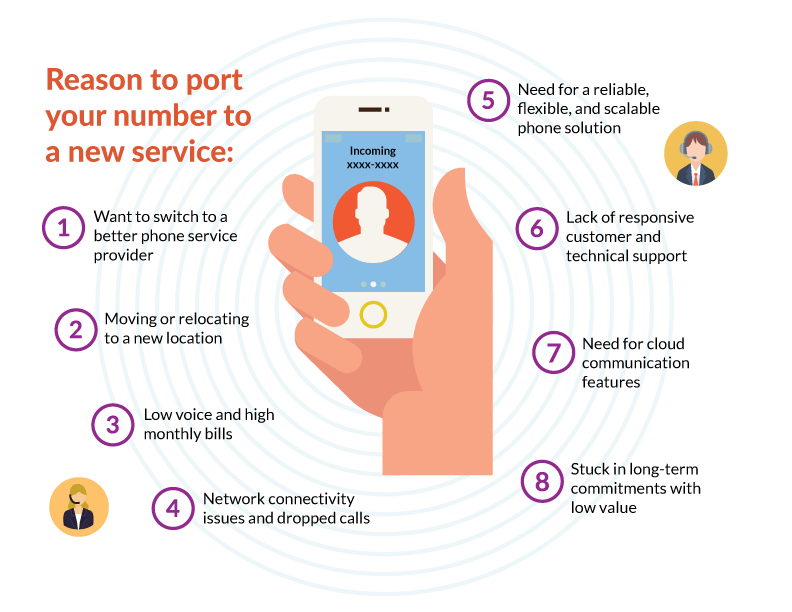 Stuck in any of these situations? Your business phone system needs to function well and reliably so that your teams can offer uninterrupted service and support to your customers. It may be time to walk away from a service that costs a lot but does very little.
How Long Does it Take to Port a Number?
VoIP number porting is a simple process that takes about 2–4 weeks to complete. Your new VoIP phone provider will keep you posted on the next steps and give you a timeline.
While your number is being ported, you will still maintain access to your phones and phone service. This means inbound and outbound calls won't be interrupted.
Note that porting international VoIP numbers may take slightly longer but still should not interrupt your service.
VoIP Number Porting Requirements
There is a bit of a process involved with number porting to ensure everything works effectively. When submitting your porting request, you will also need to provide the following information to your new VoIP phone service provider:
A list of all your phone numbers – Includes all phone numbers and extensions in use and that you would like to port over.
Letter of Authorization (LOA) – Gives your new VoIP provider permission to act on your behalf when communicating with your old provider. A LOA usually contains crucial information about who can make decisions about your number(s) listed above.
Old service provider and account number – To let the two providers communicate and work together to complete the process.
Copy of current phone bill – Includes necessary information (name and address registered with the current provider) about your existing phone plan and offers the new provider additional proof of number ownership.
Here's a number porting checklist offered by the Federal Communications Commission (FCC) to help you further understand and prepare for the process.
VoIP Number Porting Rules
Before you begin the porting process, it is good to familiarize yourself with porting rules followed by most VoIP providers. According to the FCC rules, carriers and providers:
Must port a number upon receiving a valid request.
May not refuse to port a number.
Can charge for porting services.
Can charge an early termination fee, especially for long-term customers.
May refuse to port if the customer has not paid for porting.
How to Port Your Toll Free Number to VoIP?
Once you have identified your provider and are ready to port your number to VoIP, you and your new provider can begin porting the number to your new service.
Here's a brief overview of the number porting process:
You submit a porting request to your new VoIP service provider with the requirements and documentation.
The new provider reaches out to the old service provider.
The old service provider confirms the user's identity and notifies the new provider.
The new provider notifies the Number Portability Administration Center (NPAC).
NPAC creates a pending port and notifies the old provider to concur.
The new provider asks NPAC to activate the port.
Upon activation, the port is broadcasted to the telecom industry network.
Your new service will be activated.
Potential Issues with Number Porting
Here are some instances where number porting may be declined or may take longer to complete.
1. Number isn't portable
Even though the FCC requires that numbers be portable, there are a few issues that may interrupt the process:
The number is no longer in service — If your phone number isn't in service or the service was terminated, the new provider cannot port it.
Incomplete rate center / no coverage — Your new VoIP provider doesn't have coverage in your area; therefore, they cannot port numbers there now.
No interconnect agreement — Your new VoIP provider must have an agreement with the old carrier that holds the phone number.
These issues are hard to resolve and usually mean that you need to find an alternative to porting. Speak with your VoIP provider to find a solution that fits your needs.
2. Other issues and errors
These issues are fixable but may delay the porting process:
Incorrect name and address — Contact information provided is incorrect, making it harder to prove ownership of the number.
Phone number was not found — Might occur due to user error when inputting the phone number (i.e., phone number entered incorrectly).
Porting a toll-free number — Toll-free numbers take a longer time to port.
Limited porting options — Porting numbers is easier in some countries over others. Check geographical limitations with your local provider before porting.
These issues are relatively minor and can be resolved; porting is not impossible here but might take a little longer.
Related: 5 Phone Number Porting Myths Debunked
VoIP Number Porting with Global Call Forwarding
To port your number to Global Call Forwarding, simply fill and submit this porting request form. Our representatives will get in touch with you to start the process as soon as possible. To learn more, speak with our representatives today. Call us at +1 (561) 908-6171 or chat with us online!