When choosing a business phone number for your company, you will come across a few different phone number options — local, toll-free, mobile, and national number. Picking the right type of phone number determines how easy it will be for local and global customers to connect and interact with your business.
Here we will discuss what national numbers are, how they work, and their benefits.
Understanding National Phone Numbers
National phone numbers are a type of international virtual phone number that lets businesses connect with people in different countries. You can get a national number for a target country and allow locals to communicate with you at low and reasonable rates, instead of high long-distance charges.
Other names for national numbers: non-geographic numbers or shared cost numbers.
What is a National Number?
A national phone number is a premium international phone number from specific countries around the world. These numbers are assigned to the country as a whole instead of specific local cities or states. Because of this, a country's national number is associated with the country and reachable from any part of the world.
How Do National Numbers Work?
National numbers are called shared cost numbers because the cost of a call is shared between the caller (customer) and the receiver (business). This means that customers within the target country can call your company for low local calling rates, even if your business is outside the country.
While the cost of these numbers is higher than regular numbers, the overcall call rates are lower since the costs are shared.
Additionally, your business or teams do not have to be present in the country to use its national number. You can forward incoming calls to your main office or satellite offices located elsewhere.
Who Uses National Numbers?
Any business preparing to expand to new countries or regions can use a national number to make it easy to communicate with customers. But how? Customers in that country recognize the number as a local number and know that the cost to call is low. This encourages them to reach out to your business for sales or support reasons.
You can display your national number as the local caller ID when making calls to customers in the country. Since they recognize the number as a local one, they are more likely to answer your call.
And so, if you have customers and interested prospects in a neighboring country, then you will find national numbers useful.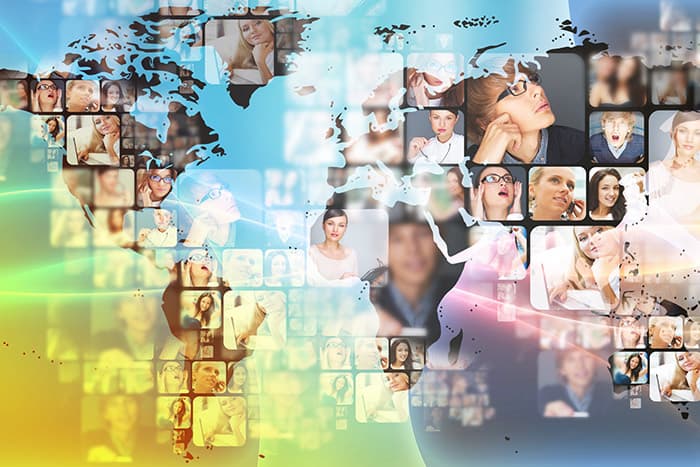 National Phone Number Format
Different countries have different formats for their national numbers. However, generally, the national number format includes the country code, trunk prefix (0 – if applicable), city or state area code, and the subscriber number:
(+ country code) + (0) + (national code) + SN.
*Note: Not all formats require a trunk prefix. To learn more, check out our list of international call prefixes.
Here's an example of UK national numbers:
United Kingdom country code: +44
Trunk prefix: 0
National code: 843
Subscriber number: 7 digits
So, a UK national number format would be (+44) (0843) xxx-xxxx.
Benefits of Using National Numbers
There are many benefits to using national phone numbers to communicate with local customers and vendors. Here are some reasons to buy these numbers:
Opportunity to expand to new countries and diversify your customer base
Reliable in-country coverage from most networks
National and local presence
Easier documentation required to acquire the numbers
Easy for global customers to contact your company
Wide variety of call management features.

How to Buy National Phone Numbers
Global Call Forwarding offers national numbers from a wide range of countries. You can browse through our inventory on our Pricing page and buy national numbers as needed.
You can also buy national numbers in bulk for multiple target countries. Start by purchasing the first number and setting up your account. Once you are connected with a dedicated account manager, you can let them know about your additional needs, and they'll get you set up!
Buy National Numbers
Ready to buy new numbers today or want to simply learn more? Chat with experts online or call us at +1 (561) 908-6171 to get custom voice solutions for your business.