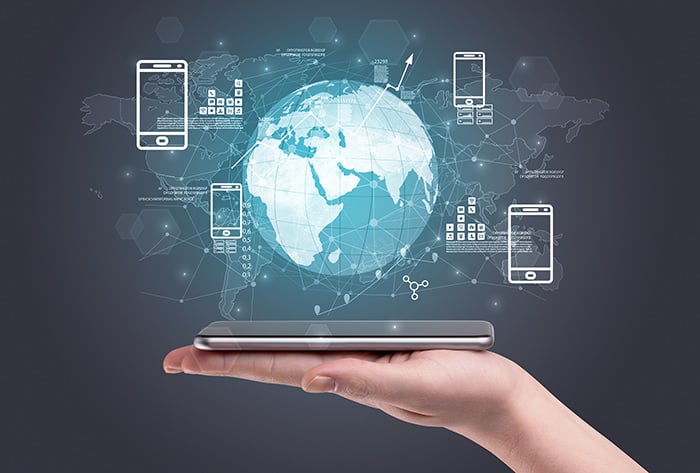 International virtual phone numbers enable the most affordable international communication. They enable businesses to provide communication with overseas markets and make for a versatile tool for international expansion.
What is an International Virtual Phone Number?
A virtual phone number works without a physical phone line associated with it. This means that you can forward calls made to the virtual number to any phone anywhere. You can forward calls made to an international virtual phone number to any region, country, phone line, or device — all through an international call forwarding service.
Who Uses International Virtual Numbers?
Virtual phone numbers and virtual international numbers are not only used by businesses. Individuals also use virtual phone numbers to keep in touch with loved ones, business associates, and others located elsewhere. For example, if you have contacts located in Japan, you can purchase a Japanese local number. Your Japanese contacts can use this number exactly like any other local number to call you. For your benefit, all calls will forward to the number of your choice, allowing you to answer most conveniently.
International Numbers Use Case
Here's another example to consider. Someone who travels between Brazil and the US can use one phone number to connect with people in both locations. What they need is a Brazilian virtual phone number. They can then coordinate the destination number as their US phone number. When their Brazilian contacts dial the number, it will seem like a local Brazil number. Thanks to the power of virtual phone number technology, the call will get automatically routed to their US destination number. Callers will never know they are actually reaching a US number. Likewise, when contacts in the US dial the US number they will not know the line has a dual purpose.
How International Virtual Phone Numbers Work
Businesses use international virtual calling to affordably and easily maintain communication with clients and associates globally. International virtual calls are made using virtual phone numbers, which can be purchased in over 160 locations worldwide. All you need is a virtual number for the specific location you want to communicate with. When callers in that location call your number, they will have no knowledge that it is a virtual number. In fact, your number won't be discernible from any other local number, and it'll work exactly the same.
A business located in France wanting to expand into Spain can purchase a phone number with a Spain area code. That number can be forwarded to their main office in France. This allows its customers in Spain to avoid making a long-distance call to contact the business. It may also provide a higher chance that customers in Spain will reach out to the company.
Related: List of International Call Prefixes
International Virtual Numbers and Virtual Offices
International virtual numbers are an incredibly versatile tool thousands of businesses are taking advantage of throughout the world. Virtual offices are very popular in today's high-tech world. International phone numbers are essential to running a virtual office. You can give clients one phone number to contact the virtual office, precisely for the location you're appealing to.
Why Your Business Needs an International Virtual Number
Many cost-saving features of international virtual numbers make them a very affordable solution. Businesses that have toll free numbers in a country they want to appear more reputable in adds confidence for prospects. If you travel often between states and countries, international call forwarding can help keep things simple. Giving your contacts one phone number makes it more convenient for your contacts to stay in touch with you.
For more information about the benefits, features, and services associated with international virtual phone numbers, please contact us!