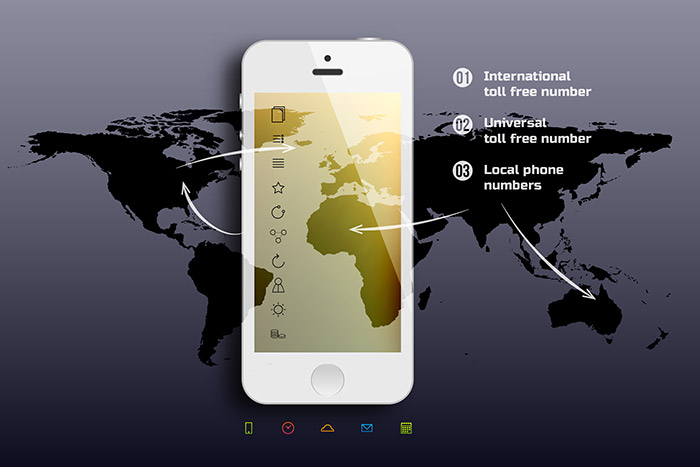 International virtual phone numbers enable the most affordable international communication. They enable businesses to provide communication with overseas markets and make for a versatile tool for international expansion.
What is an International Virtual Phone Number?
International virtual phone numbers are business numbers that help companies connect with customers globally and vice versa. These phone numbers use international call forwarding to forward incoming calls from one destination to another.
You can get different types of international phone numbers for business — more on that below!
How International Virtual Phone Numbers Work
A virtual phone number (hosted phone number) works without a physical phone line associated with it. This means that you can forward calls made to the virtual number to any phone anywhere. You can forward calls made to virtual phone numbers to any region, country, phone line, or device — all through an international call forwarding service.
For example, suppose your US-based company wants to expand to Singapore and Malaysia. You can get Singapore and Malaysia international phone numbers such as a local number or a toll-free number. Your customers from these countries can call the toll-free or local number for free or local calling rates. Those calls are then routed internationally through the call forwarding service to your main office in the US.
Using international business phone numbers can ensure that your business remains reachable even if you do not have physical locations in all your target countries. You can save costs for opening new offices and employing remote teams by simply forwarding calls to your sales team in your main office. Multinational and global businesses can use an international phone number to maintain good relationships with their global customers from around the world.
Download: Free International Phone Number Guide
International Phone Number Format
An international business number is comprised of a few different components. This is the general format for an international virtual phone number:
A (+) sign
International country calling code
Local area code or toll-free prefix
Local phone number or subscriber number
Let's look at the format of a US toll-free number and then a New York City local phone number. For this, we need:
US country calling code (1)
A US toll-free prefix (800, 888, 877, 866, 855, 844, 833)
New York City local area code (212, 718, 917)
'X' stands for the subscriber number, which for US phone numbers is 7-digits long
The format for a US toll-free number will be: +1-800-xxx-xxxx
The format for a New York City local phone number will be: +1-212-xxx-xxxx
Need help finding the right country code? Check out our international call prefix list!
Types of International Phone Numbers
There are a few different types of international phone numbers that you can get for your business. Here we outline the different types and their purposes.
1. International toll-free number
Each country has toll-free numbers that allow callers from within that country to call for free. For instance, the US has the following toll-free prefixes: 800, 888, 877, 866, 855, and 844. When a US resident calls a US toll-free number, they are not charged for the call. Instead, the business using the toll-free number as their business number (or the receiver of the call) is charged.
Toll-free numbers have been used by large enterprises and established companies for many years to attract customers to the business by providing them with a free calling option. This is because customers are less likely to hesitate when calling a toll-free number.
You can get an international toll-free number or ITFN for any country you want to target and simply forward incoming calls to your home office in another location. By providing your clients with a toll-free number, you make it easy for them to contact your international business, irrespective of its location.
2. Universal toll-free number
A universal toll-free number — also known as Universal International Freephone Number or UIFN — is a single phone number that is accessible from approximately 45 countries that participate in the UIFN program. These countries include (and are not limited to) Australia, France, Germany, UK, New Zealand, and more.
With a UIFN, you can handle international calls from target countries through a single phone number. Keep in mind that the cost for a UIFN is much higher than an ITFN or local phone number because of the immense convenience it offers.
3. Local phone numbers
Local phone numbers or geographic numbers are telephone numbers assigned to different regions, cities, and states within a country. For example, the US has a variety of area codes for different states and even cities within each state. The area code is usually the first 2-3 digits of a local phone number. Individuals and businesses recognize these area codes and can determine which part of the country the call is coming from. Furthermore, if it is a local call (i.e. from within the same city or state), then the caller and receiver are charged local calling rates instead of long-distance rates.
Your business can enter local markets and create a virtual local presence by using multiple local phone numbers for target countries around the world. By doing so, you give your customers a local calling option, which they will prefer over dialing an international number and paying international rates.
How to Get an International Virtual Number for My Business?
You can buy an international phone number by browsing through our extensive inventory and selecting the number you want. We offer business phone numbers for more than 160 countries around the world. Choose between local, toll-free, mobile, national numbers, and UIFN.
Here are the steps to get an international phone number from Global Call Forwarding:
Navigate to our Prices page.
From the left dropdown box, select the country you want your new number for and the number type (toll-free, geographic, etc.).
Next, pick your new number.
On the right, select the country and enter the number where you want calls to be forwarded. This could be your main office, satellite office, remote teams, etc.
Then, view rates and select a plan.
Add additional services such as outbound calling and call recording.
Finally, enter your contact and payment details and complete your purchase. Our customer service rep will contact you for further action.
Who Uses International Virtual Numbers?
Hosted phone numbers and virtual international numbers are not only used by businesses. Individuals also use virtual phone numbers to keep in touch with loved ones, business associates, and others located elsewhere. For example, if you have contacts located in Japan, you can purchase a Japanese local number. Your Japanese contacts can use this number exactly like any other local number to call you. For your benefit, all calls will forward to the number of your choice, allowing you to answer most conveniently.
International Numbers Use Case
Here's another example to consider. Someone who travels between Brazil and the US can use one phone number to connect with people in both locations. What they need is a Brazilian virtual phone number. They can then coordinate the destination number as their US phone number. When their Brazilian contacts dial the number, it will seem like a local Brazil number. Thanks to the power of virtual phone number technology, the call will automatically route to their US destination number. Callers will never know they are actually reaching a US number. Likewise, when contacts in the US dial the US number they will not know the line has a dual purpose.
International Virtual Numbers and Virtual Offices
International virtual numbers are an incredibly versatile tool thousands of businesses are taking advantage of throughout the world. Virtual offices are very popular in today's high-tech world. International business phone numbers are essential to running a virtual office. You can give clients one phone number to contact the virtual office, precisely for the location you're appealing to.
Why Your Business Needs to Buy an International Virtual Number
Many cost-saving features of international virtual numbers make them a very affordable solution. Businesses that have toll-free numbers in a country where they want to appear more reputable. If you travel often between states and countries, international call forwarding can help keep things simple. Giving your contacts one phone number makes it more convenient for your contacts to stay in touch with you.
Buy International Phone Numbers Today
Don't wait on expanding your business. Now is the time to take your company to the global stage and increase your customer base. Use international virtual numbers and call routing to better manage global calls and offer worldwide service! To learn more or get an international phone number, call us at 1 (888) 908 6171 or chat with us online.