In this article, we'll cover a number of aspects relating to international VoIP numbers, including how they work, the types available to businesses, and the benefits of using them to expand your business presence worldwide.
How Do International VoIP Numbers Work?
Short for 'Voice over Internet Protocol,' VoIP is a group of telecommunication technologies that facilitates voice communication over the Internet. Essentially, software known as a 'softphone' enables digital audio information to be encoded across the Internet instantly, which is then decoded by the recipient's software in real-time. Because of the development of VoIP – especially in regards to modern cloud computing – this process is instantaneous even if callers are located at opposite ends of the world.
Service providers, like Global Call Forwarding, offer international numbers that facilitate this process and allow businesses to offer 'virtual phone numbers' to their customers and clients. When dialed, a virtual phone number routes the call using VoIP to the subscriber's 'destination phone number,' a phone number that processes calls from anywhere in the world instantly. Under normal landline communication, callers may be charged long-distance fees and forced to dial outside of their country, or the call might be blocked outright. With international VoIP numbers, these restrictions are non-existent, allowing international businesses to reach any desired target market of their choice
To illustrate this as an example, suppose that a business located in New York City wanted to reach customers in the United Arab Emirates. Because of the aforementioned restrictions by UAE service providers, international VoIP numbers function as a workaround to reach customers in the UAE that would otherwise be unreachable. It is for this reason and many more that using VoIP numbers is a powerful business tool to leverage.
Types of International VoIP Numbers
As you may imagine, there are a number of different types of international VoIP numbers available from Global Call Forwarding, each with their own unique benefits.
The most common type of international VoIP numbers are Local Access Numbers. Considering that Global Call Forwarding has international numbers in over 140 countries around the world, your business can target not only the countries of your choice, but also major cities and regions with phone numbers that are identical in function and look to 'regular' phone numbers from those specific areas.
Another type of international VoIP number that businesses commonly use are Toll Free Numbers. While using toll free numbers tied to your home country/region, you should be aware that international callers are charged for the ability to reach your business, which negates the toll free aspect that makes toll free numbers so enticing. However, using international numbers that are toll free, including ITFS Numbers and UIFN Numbers, your business is conveniently able to offer toll free calling between countries for your potential customers and clients.
And for businesses that want to make an impact by using international VoIP  for their advertising campaigns, there are phone numbers available from Global Call Forwarding called 'vanity phone numbers.' These international VoIP numbers are phone numbers that feature a visually appeal set of digits that blends well with companies that use them in their advertising campaigns, i.e. billboards. By incorporating this visual element, these numbers can be remembered more easily as they inform casual observers about the nature of your business.
Now that you're aware of the different types of international VoIP phone numbers available to businesses, let's take a look at some of the most prominent benefits of using them.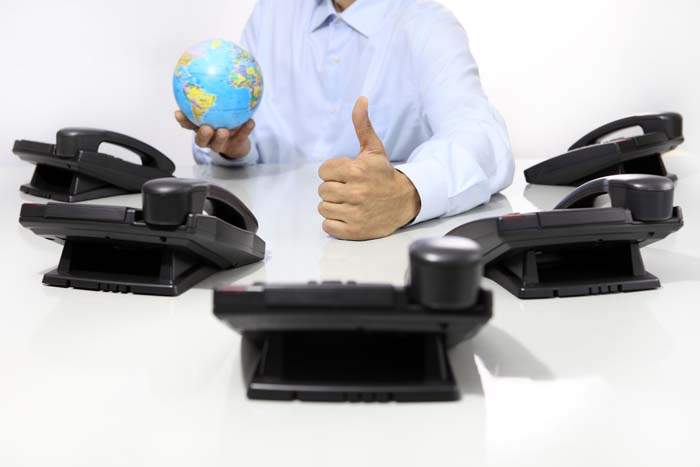 Benefits of International VoIP Numbers
Perhaps the primary benefit of using international VoIP phone numbers is the ability to expand your organization to new markets abroad in an extremely cost-effective manner. Consider the alternative where, traditionally, businesses had to leverage large amounts of capital and other resources in order to set up a branch office in a new country. This was an extremely risky maneuver, especially when foreign businesses had to lease property, hire foreign staff, invest in foreign bank accounts, adhere to local laws and guidelines, and so forth – all before earning a single profit in most cases. With international VoIP phone numbers, tech-savvy businesses can set up virtual offices to handle customer inquiries and offer lines of communications immediately to reach new target markets.
Localization is also a major benefit of using International VoIP numbers. As we mentioned before, local access numbers can be purchased in almost every locale imaginable. Because these phone numbers are available with the same country code and region/area code, they are indistinguishable from 'real' phone numbers. Instead, your business can blend in with trusted brands that locals are familiar with, which can aid your business in gaining authenticity in new target markets.
And because international VoIP numbers are built around cloud computing's latest developments, there are a number of intuitive add-ons that can augment how your business model functions. For instance, you can use call recording to ensure that your call centers abroad are following your company's protocol. Or, for example, time of day routing, which is a popular add-on that enables your business to route calls to various destination phone numbers based on the time of day that callers decide to dial your international VoIP number.