Growing a business means upgrading your systems and tech to use more efficient solutions that will help your employees do their job better.
Upgrading your business communications, in that vein, means improving the way your business communicates internally and externally. This means gaining high-quality voice, reducing downtime, and maintaining business continuity. A transition to cloud communications can ensure your phone system functions efficiently and continuously without interruption, no matter where your teams are.
Here is an in-depth guide on migrating to cloud communications, focusing on:
Why Should You Transition to the Cloud?
A recent trend within business technology is the adoption of cloud solutions such as cloud storage, cloud computing, cloud-based management systems, cloud communications, and so on.
The main reason to upgrade your legacy phone system is access to better and more secure services. But that aside, there are many reasons to transition to cloud communications—from wanting to revamp its business phone system to bringing on new features and services. You can get:
Access to advanced features and services
More reports and data
Better cloud security
Flexibility and scalability
Increased collaboration and productivity
Improved business continuity and disaster recovery
Cost-effective and user-friendly systems.
Benefits of Migrating Communications to the Cloud
But why your business should consider cloud communications depends on what you want to achieve with a cloud phone system.
Do you want more reliable service?
Do you want to expand globally in a cost-effective way?
Are you looking to scale your customer support and sales reach?
Do you want to manage local, global, and remote teams through one centralized communications platform?
A transition to cloud communications can help you do these and more. Here are the top benefits you get when you migrate to cloud communications:
High-quality voice service with multiple layers of redundancy and low downtime
Access to new and advanced call management features
Ability to work from any location and device
Support for local, global, and remote teams
Reduced risks and improved business continuity across different locations
Ability to scale your business globally with cloud phone numbers.
What to Avoid During a Cloud Communication Migration?
Even as you prepare for the switch, you may miss out on some key aspects that can impede the success of your new communication system.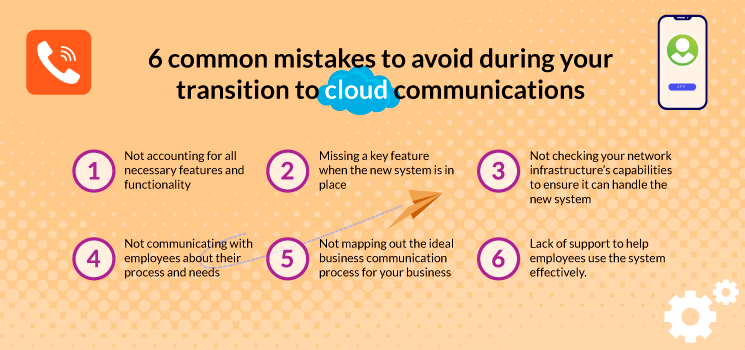 Thankfully, you can avoid and resolve these issues by communicating with your employees and cloud phone service provider. An experienced cloud phone service provider can help you avoid these issues and transition smoothly.
Related: Transforming Your Legacy Contact Center
What to Keep in Mind When Transitioning

When you decide to adopt cloud communications, you need to pay attention to 3 key elements:
1. Technology
Your phone system technology and equipment must be aligned and prepared for the transition. It is, therefore, important to review what you currently have and if you need anything else.
Tools and features — Which services and features are being used, why, and by whom? How do your teams communicate internally and externally? What valuable tools and features are missing in your existing phone solution? What business processes can benefit from new communication features?
Network — Can your existing phone network and internet service handle the increased demand of the new provider and service? Do you need a new provider who can support your plans to scale your business? What changes do you need to make to improve security, such as switching your router or firewall?
Equipment — Can existing equipment and hardware be reused, or do you need to replace them with new hardware? Does your cloud telephony provider a service that can be integrated within your existing network? For example, using a softphone for placing business calls through the computer.
2. Processes
This part of the process focused on understanding what your ideal business communication process looks like and identifying gaps to fill.

Map Out Existing Communication Processes — How does your business communicate internally? How do your local, global, and remote teams share information and collaborate? What are some ways to improve this type of communication? How do you handle customer-related inbound and outbound calls? What disaster recovery and redundancy plans do you have in place or need to have?

How to Improve These Processes — How can new features support your business communication goals and processes? What new features and additional services do you need (instant messaging, live chat, advanced routing, etc.)? How can you use cloud telephony to expand globally and improve call management?
3. People
Part of preparing your business for a transition to cloud communications is to get everyone on board, including employees, suppliers, customers, prospects, stakeholders.
First, you need to understand how your staff uses the existing communication system and what they need from the new phone system. Their feedback is crucial in the successful adoption of the new system.
Once the migration process begins, everyone will need formal training to move the process along smoothly. Everyone who uses the new system will need the training to understand how the new system and features work. Your provider should provide such onboarding training and support. It's a good idea to create guides and knowledge bases that everyone can access for information.
If there are any changes to workflow and processes (such as flexible working options or new customer support centers), make sure to communicate these effectively with policies in place.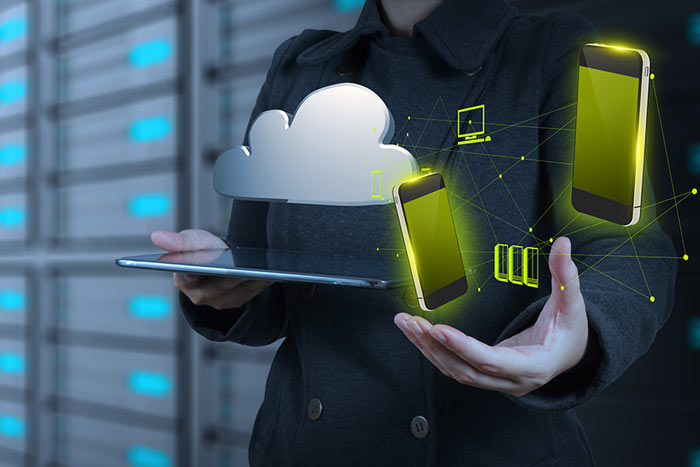 How to Transition to Cloud Communications Successfully
By preparation for your transition to the cloud, you can:
Migrate with little disruption and low downtime
Implement a solution tailored and customized to your business' requirements
Improve your workflows and processes
Provide training and support for staff, stakeholders, and customers.
Here are the 6 steps to a smooth and successful cloud communication migration:
Step 1: Visualize End Goals
First, you need to determine what you want your new business phone system to do and how much you want to spend on it. Then, you can start to look for the right provider with relevant features and a compatible service plan.
Step 2: Review the Current Situation
Next, audit your current system. What assets, capabilities, and processes are working well? What is essential to your business and teams? Get feedback from employees and others using your phone system.
Step 3: Identify Improvement Opportunities
When doing your review, identify what is lacking in your current system. Different cloud phone service providers offer different tools, features, and add-ons, but not all may be necessary for your needs. So, it is crucial to know what you need from your provider to make your business run smoothly and efficiently.
Step 4: Find the Right Cloud Phone Service Provider
Once you identify what you need, you can look for the right provider and cloud communication solution. Compare top providers, review plans and pricing, look at customer reviews and testimonials. You also want to understand the onboarding process and migration support so that you can transition smoothly without any interruptions or downtime.
Step 5: Prepare your Business
Then, you need to get everyone on the same page with training and onboarding. This change will impact different sections of your business: staff, customers, vendors, and suppliers. So, they need to prepare as well.
Step 6: Assess Network and Test
As you transition to the new cloud communication system, you want to test and make sure everything is running efficiently on your network. Your provider can help with configuration and testing.
Cloud Communications Transition with Global Call Forwarding
Migrating to the cloud is a big step, but one in the right direction. It can elevate the way your business communicates with customers and partners, and it can support your expansion plans and establish your business as a credible and reliable one.
Global Call Forwarding can help you build a cloud communication system that works for your business. We offer a wide range of call management tools and additional services so that you can focus more on your business and customers instead of your phone system.
Speak with our experts to learn more. Call us today at 1-888-908-6171 or chat with us online.