Looking for ways to upgrade and expand your business communication system while improving caller experience? Cloud communication services bring greater flexibility, scalability, and functionality to existing systems. This makes them easy to adapt and use. And, it's a cost-effective way to reinvent the way your business communicates.
What is Cloud Communication?
Cloud communication refers to the ability to communicate using internet-based tools and services. And a cloud telephony provider is a company that offers cloud-based communication services such as Voice over Internet Protocol (VoIP), video conferencing, instant messaging, and more.
Examples of cloud communication platforms include Global Call Forwarding, Skype, Google Hangouts, 3CX, and more. These platforms allow users to communicate in real-time using either text, audio, or video – all through the internet.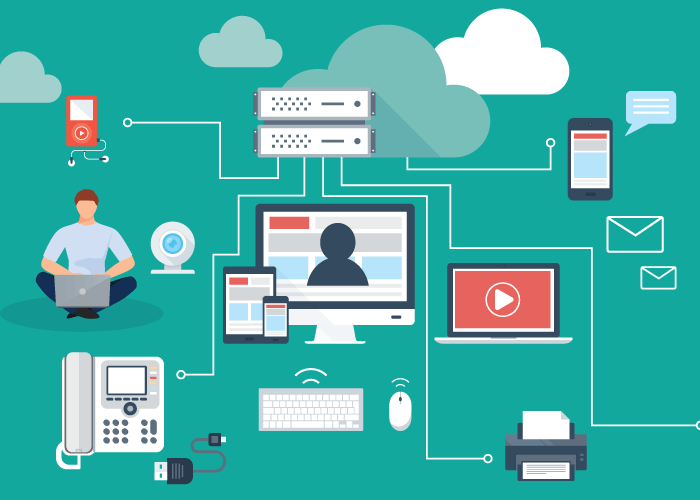 How Does it Work?
Cloud communication enables the virtual sharing of information and data between two or more parties. In most cases, data may be stored on physical servers while the service itself is hosted and managed by a cloud provider.
As mentioned above, this can be done in a number of ways. With cloud communication services, you can make and receive calls, send texts and emails, conference via video, or store data.
VoIP and Virtual Phone Numbers
One of the most common cloud communication tools is voice over IP or VoIP phone services. VoIP uses the internet (instead of traditional PSTN lines) to transmit calls from one endpoint to another. By using the internet, calls travel faster and at a higher quality, making them a preferred option for business communication.
Virtual phone numbers are often used in conjunction with a cloud-based phone system. Unlike a traditional landline phone number, you can use a virtual number with any device that has an internet connection. And you can get a variety of business phone numbers (including local, international, and toll-free numbers) from different countries worldwide.
Together, these make a versatile option for businesses that have employees working remotely or who need to be able to easily connect with customers and clients around the world. Additionally, businesses in new markets can use virtual phone numbers to create a local presence.
Benefits of Using a Cloud Provider for Business Communication
There are many benefits to using cloud communication, but some of the most notable include advanced features, increased flexibility, scalability, and cost savings. Let's take a closer look:
1. Advanced Features
Cloud communication services come with a variety of advanced features — from automatically routing calls across multiple locations to screen sharing for video conferences.
All of these features help teams communicate effectively with other employees as well as customers. Check out all the business calling features Global Call Forwarding offers.
2. Increased Flexibility
One of the biggest benefits of cloud communication is that it allows businesses to be more flexible in how they communicate. This is because there are no physical limitations on where communication takes place. With VoIP, for example, calls can be made from anywhere with an internet connection. This means that employees can work from home, on the road, or even from a different country and stay connected with colleagues.
3. Scalability
Another major benefit of cloud communication is that it's highly scalable. This means that it easily scales up or down to meet the changing needs of a business. For example, if a company is expanding and needs more employees, it can add more users to its VoIP system. On the other hand, if a business is downsizing, it can remove lines from its VoIP system to save on costs.
4. Cost Savings
Finally, cloud communication can also help businesses save money. This is because many of the tools and services used for cloud communication are subscription-based, so businesses only have to pay for what they use. Additionally, since cloud communication isn't restricted to one location, companies can avoid the costs associated with long-distance calls.
How to Upgrade Your Phone System to the Cloud?
Interested in upgrading your business communication to the cloud?
The first step in your transition to the cloud is selecting a cloud communications provider. There are many options available, so be sure to do your research to find one that best suits your needs.
For example, if you want to upgrade your business phone system, look for a VoIP provider or a video conferencing service that integrates into your existing system.
Shop around for prices and features, and pick a provider that meets your communication needs.
If you're a growing business, be sure to look for a provider that can offer scalability and support your global expansion plans.
Then, set up your new service. Most cloud providers offer number porting or data importing services. This is where you bring a service or data from your older provider to the new one.
For example, you can port your phone number or import business contacts into your new service.
This makes the transition smoother with less downtime.
Cloud Telephony with Global Call Forwarding
Ready to take your business communications to the next level? We at Global Call Forwarding can help you build out your communication stack with advanced business calling functionality.
Call us at +1 (561) 908-6171 or chat with one of our cloud telephony specialists today!