Need an automated voice response to answer incoming calls and help callers reach the right agent? A hosted IVR can help your business manage incoming calls more effectively so that your teams can provide service without any interruptions. Learn more about how this feature works and where to get it!
Understand Hosted Interactive Voice Response Solutions
Interactive voice response (IVR) systems are often offered as part of a business phone service or cloud telephony package. As such, you will use no-code IVR software to create and manage call flows through an online portal.
This cloud telephony feature is also called cloud IVR or advanced IVR.
What is Hosted IVR?
Hosted IVR is a cloud-based automated voice response system that answers and interacts with callers to route them to the right department or agent.
Cloud phone service providers offer this feature so that users can manage incoming call flows and effectively distribute inbound calls among different agents, departments, locations, and ring groups.
An example of hosted IVR:
Upon receiving an incoming call, the automated voice response answers it and interacts with the caller. It tries to find out why the caller is calling by offering a series of preset menu options, such as "Press 1 for X, Press 2 for Y."
Then, based on caller input, the hosted IVR automatically routes the caller to the requested destination. All of this takes place without the help of an operator or receptionist.
How Does an Automated Voice Response System Work?
Hosted IVR is a cloud communication solution. In other words, it is a service that works over the internet and is hosted by a provider. So, to use it, you will first need to get the service from a cloud phone provider.
Once you have access to the feature, you will log in to your phone service account and use an IVR manager or call flow designer to create your hosted IVR system.
Through this interface, you can add your custom call flows and routing rules through (commonly offered) trigger actions such as:
Add a phone menu – different options you want to provide to callers
Forward call to – phone number, ring group, voicemail
Record voice messages – instructions, navigation, company info
Add ring groups and call groups – different departments, locations, remote teams
Play an announcement – new company policy, updated hours
Route calls – time-based, location-based, caller ID-based, custom routing rules.
Move these triggers around to create a custom flow for your incoming calls.
Need an example? Watch how Global Call Forwarding customers can create call flows in our IVR manager.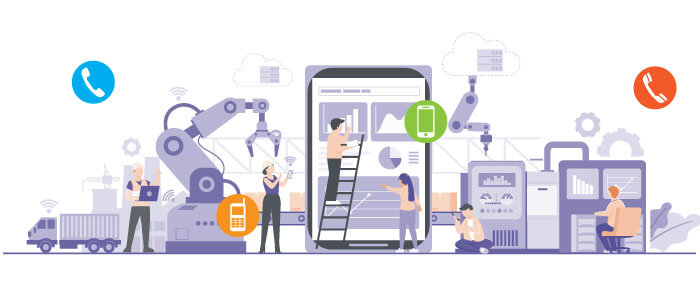 What are the Advantages of Cloud IVR?
The main benefit of using a hosted IVR service is how it helps a business offer better customer service. You can design optimized call flows that distribute calls effectively and ensure callers receive support quickly.
Here are the top reasons why businesses use IVR:
Easy to set up and manage
Customizable options with multiple triggers and actions
Automate inbound call processes
Support fluctuating call volumes
Reduce the number of missed or abandoned calls
Set up phone menus and create call flows specific to your business
Balance team workloads and increase productivity
Set up advanced routing and failover strategies
Offer after-hours support and self-service options
Reduce wait times and improve overall caller experience
How Much Does Hosted IVR Cost?
The cost of an IVR depends on a few different factors, such as:
Nature of charge: Included with your phone service vs charged separately.
Deployment: Built and managed on-premise vs hosted by a cloud provider.
Number of business lines: Multiplied by the number of business phone lines you want an IVR for.
Setup and configuration: Easy-to-design, low-code software vs complicated software that needs paid training.
Cost of voice recordings: Free recordings done on your own vs buying recordings through online audio services.
Based on how you manage your service and set it up, you can expect anything from $7.95-100/month.
An example of how much IVR costs with Global Call Forwarding:
| | | |
| --- | --- | --- |
| | | Global Call Forwarding IVR Costs |
| Nature of Charge | Included with your phone number plan; no additional charge | Starts at $7.95/month |
| Deployment | Hosted by us | Free |
| Number of business lines | Included with your phone number plan; no additional charge | Depends on the price and amount of phone numbers |
| Setup and configuration | Low-code software is easy to manage; set up on your own or request assistance for free | Free |
| Cost of voice recordings | Record on your own or as priced by professional services, including add-ons like music, fast delivery, etc. | Free OR as low as $50 per 75 words or $20 for 10 seconds |
How Do You Build an IVR System?
So, where can you get hosted IVR and how do you get set up?
First, find a cloud phone service provider if you don't already have one. Look for a provider that offers IVR as part of their feature set.
Global Call Forwarding offers hosted IVR with all of our virtual phone number plans. Get a new business phone number with us or port your existing number.
Then, you can use their IVR editor to design your IVR as needed.
Log in to your control panel to use our Call Flow Builder to build out your IVR system. Our 24/7 tech support is available to help you create an automated system that works best for your business communication needs. Test and update your call flows as required.
Advanced IVR Solutions with Cloud Calling
Get advanced cloud IVR with Global Call Forwarding and build a phone system that supports your business' call volume. Improve caller experience by efficiently distributing calls and providing service when your customers need you most.
Call us at +1 (561) 908-6171 or sign up online!