Want to create a responsive and easy-to-navigate phone system? Start with your phone menu to improve caller experience. After all, that's the first impression your business makes on a customer, and it is an opportunity to cultivate trust.
In this post, we'll look at what a phone menu is and how you can create one within your interactive voice response system (IVR).
Using a Phone Menu for Small Business
Businesses use automated voice response systems such as IVRs to provide callers with information and then route them to the appropriate department or individual. To do this effectively, the IVR must present the caller with a phone menu.
What is a Phone Menu?
A phone menu is an automated voice greeting that offers menu options to callers through their dialpad and then routes them to their desired destination. Other names include phone tree, call flow, and IVR menu.
A phone menu can have multiple options such as:
Departments (sales, customer service)
Services (leave a voicemail, get information), and so on.
And, to provide these options, you can use any of the following actions:
Play an announcement or recorded message
Set up automated and/or attended call transfers
Set up call routing strategies
Send calls to voicemailSend faxes to emails, etc.
How to Get it?
To use and customize your business' phone menu, you will need an IVR setup. Most VoIP providers offer IVR as part of their cloud telephony package.
Global Call Forwarding, for example, offers Advanced IVR along with each of our phone number plans. You can then use our Call Flow Designer (IVR Manager) to create custom call flows and phone menus.
Benefits of an IVR Menu
So, what can your business do with a customizable phone menu? Here are a few benefits of hosted IVR for any business:
Direct callers to the most appropriate departments
Manage and distribute calls effectively
Balance workload within the team and increase productivity
Manage fluctuating call volumes
Offer after-hours service with routing and voice messages
Remain accessible at all times
Improve caller experience and reduce abandoned calls
How to Set Up a Phone Menu?
Before you start setting up a phone menu, keep these things in mind:
Identify what callers need from your business when they call you
How you want to provide these services to them
If prospects and customers call for different reasons, then you will need to expand your IVR menu to assist different requests. And that will determine what you need from your phone service provider.
Now, let's go over how to set up your IVR phone menu:
1. Choose a Business Phone Number or Line
First, if you have multiple business phone lines, choose the one you want to create a phone menu for. Additionally, you can assign multiple phone numbers to the same menu by simply forwarding incoming calls to the phone number with the IVR setup.
If you don't already have a business phone number, you can get one quickly. Purchase one from a cloud telephony provider like Global Call Forwarding, or port your service to our network and add additional phone numbers.
2. Map Out Your Call Flow
It is not new information that customers can struggle with an IVR system. This is especially true with a phone menu that is poorly designed. It may include unnecessary options, too many options, and may still end up not helping the caller. Yet, IVRs can help so much. So, it is important to create an IVR that is customer-centric.
This means reimagining the customer experience when they call your business. Consider what happens when a call comes in: What do you want the caller to hear? What options do you want to offer them? Which departments and people will be included in the call flow? Are all of these essential and is there enough demand to include them? What happens if someone is unavailable? What options will you offer callers who cannot resolve their requests?
Start with a phone tree template and work your way from there. Here is an example:
1.
The caller dials the number
2.
Caller hears a welcome greeting. ▾
Caller immediately connects with a person (receptionist). ▾
All lines are busy ▾
3.
The IVR menu offers options for caller input
Caller connects with the receptionist or available agent.
Caller needs to be transferred to the right person or department
Callers questions are answered
Caller is routed to voicemail
4.
Caller chooses an option and the call is routed to the desired department or agent.
Callers questions are answered
Callers questions are answered
End of call
5.
Callers questions are answered
End of call
End of call
6.
End of call
For more ideas, check out our call flow templates.
3. Create Menu Options
Once you have everything mapped out, start creating the menu options within an IVR manager.
Global Call Forwarding customers can drag and drop different triggers and actions according to your needs. You can also create ring groups with essential phone numbers and email addresses. And you can record or upload voice messages for different stages of the call flow.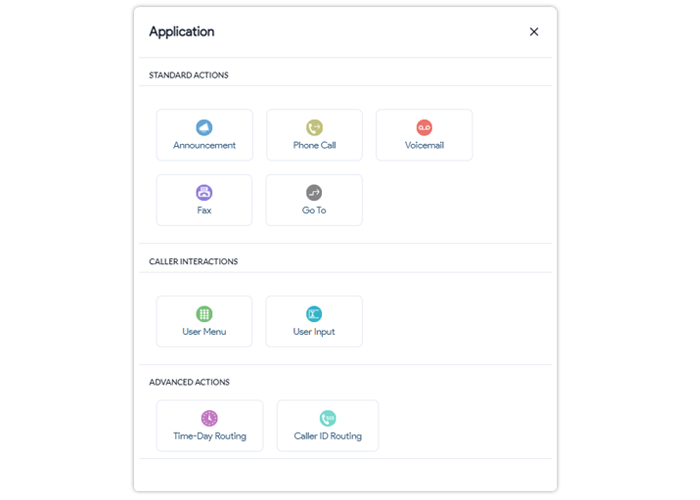 4. Set Routing and Forwarding Rules
With the menu options in place, you can decide how you want to route incoming calls. This depends on how your business operates and where your teams are located.
Here are a few popular routing strategies to consider:
Time-based – route calls to specific offices, lines, or employees based on the time of the call.
Location-based (caller ID routing) – route calls based on the caller's location or caller ID.
Simultaneous ringing – route and ring calls on each device within a ring group.
Sequential forwarding – ring calls one after the other on devices within a ring group (provided the previous doesn't answer).
With these custom rules, you can set up additional 24/7 service with Business hours and after-hours routing or a Follow-the-sun support model.
Still don't know what the right routing strategy is for your business? Chat with our telecom experts. We can help you set up a call flow and IVR menu that works best for your business needs.
5. Test Your Phone Menu
Finally, test your menu to ensure everything works according to your plan. In fact, even after your phone menu is live, you may want to collect feedback from callers to understand how they interact with your IVR.
Getting IVR Support with Global Call Forwarding
Since our plans come with IVR, we've built an intuitive and easy-to-use call flow designer where users can customize and manage their call flows and menus. You can access this within your Control Panel and use our guides to build a phone menu that meets your customers' needs. And if you need additional help, our tech support team is available 24/7!
Want to set up an advanced IVR system? Purchase a phone number or speak with one of our experts! Call us at +1 (561) 908-6171 or chat with us online.