Hosted IVR solutions help businesses automate call processes and manage their phone system effectively. In fact, it offers many benefits to any business – regardless of what industry your company falls under. And it is entirely customizable to your individual communication needs. As such, there are many reasons companies look into getting a hosted IVR. Let's take a look.
Hosted IVR for Every Business
Whether you're running a small business or a large corporation, hosted IVR helps improve the efficiency of your communication system. IVR is a highly adaptable solution that is perfect for managing call flows and high call volumes.
Streamline Your Business Phone System
1. Easy to Set Up and Use
2. Manage Your IVR From Anywhere
3. Use Hosted IVR to Reduce Business Costs
4. Balance Your Team's Workload and Increase Productivity
Customize Business Voice Messaging
5. Customize to Match Your Business Model
6. Strengthen Your Brand Identity
7. Cater to All of Your Audience Segments with Multi-level IVR
Optimize Call Management
8. Automate Call Processes & Offer Self Service Options
9. Address Fluctuating Call Volumes & Avoid Missed Calls
10. Increase First Call Resolution Rates
Improve Brand Reliability and Trust
11. Remain Accessible at All Time
12. Improve Caller Experience
Recapping the Basics of Hosted IVR
Before we get into all the reasons to use a hosted IVR, let's recap the basics of this tool.
Hosted IVR, or Interactive Voice Response, is a cloud-based communication tool for effective call distribution.
Other names for this tool include advanced IVR, cloud IVR, or auto-attendant. When customers call your business, an IVR automatically answers them and assists callers through interactive menu options.
Callers respond to these options either verbally or using their keypad. Based on their input, the caller is then delivered to their desired destination. This ensures that each caller reaches the appropriate agent or department.
Since this is a hosted feature, your business does not have to worry about maintaining or updating IVR software. That is taken care of by your provider. You simply design the call flows you need in an easy-to-use IVR editor or call flow designer accessible from your online portal.
12 Reasons to Use Hosted IVR
Now that we've covered the basics, let's dive deeper into the 12 reasons your business should use a hosted IVR solution.
Streamline Your Business Phone System
1. Easy to Set Up and Use
Cloud IVRs do not require a complicated setup, since you don't need bulky hardware or additional software. To access this communication tool, you'll need a trusted IVR provider, a network connection, and an internet-enabled device.
Then, simply log into your provider's online portal and start designing efficient call flows. Additionally, you can modify your hosted IVR at any point, and these changes apply immediately. This flexible solution makes it easy to address your business' evolving needs.
2. Manage Your IVR From Anywhere
Since IVR systems come with most virtual phone services, you get a single, centralized call control platform to easily control your phone system. And this is accessible from any device, making it possible to manage your system from any location and at any time. So if you manage remote or international teams, advanced IVRs can connect and support all of your staff – even at the same time.
3. Use Hosted IVR to Reduce Business Costs
Advanced IVR systems help companies reduce overhead costs by eliminating the need for additional personnel. Since a cloud IVR automatically answers and routes calls, receptionists are no longer a business necessity. And with self-service options and efficient call flows, you can operate with an essential team of agents.
An IVR system also helps lower your business' average handling times (AHT) – requiring less labor per call. In many cases, a cloud-based IVR handles caller requests by itself, bypassing human representatives altogether. According to an IVR study, one financial institution saved around $100 million annually with IVR compared to the cost of handling calls with just live agents.
Not only does this tool deliver significant cost savings, but it is also highly affordable on its own. Virtual IVR rates are typically cheaper than any on-premise call management setups– as it requires no maintenance or extra equipment.
Ultimately, the cost of an IVR system depends on which provider you choose. Most providers grant users access to hosted IVR features with business phone number plans, SIP trunks, and so on. So, it's important to research providers that fit both your communication and budget needs.
4. Optimize Your Team's Workload and Increase Productivity
Given that IVR systems efficiently manage and distribute calls, it frees up agents to focus on complex cases that need a human touch. You can set up call groups and other call distribution methods to optimize your employee's workload. This way, work is divided equally among teams, and no one on your team experiences burnout. (We'll dive into call groups more below.)
Since callers reach the most qualified agent for their issue, your team can handle queries quickly and proficiently. Thus, decreasing average handling time (AHT) in the process. And with skill-based routing strategies, agents receive cases matching their specific skill set – allowing them to perform better and feel more confident.
Customize Business Voice Messaging
5. Customize to Match Your Business Model
Whether in the marketing industry or healthcare field, hosted IVR works for every business model. This is because these systems are completely customizable to your specific communication needs.
Many advanced IVRs include custom phone tree designers and call flow builders. These editors give you more control over how callers move through your system.
Additionally, a cloud IVR enables you to configure routing and forwarding strategies that are tailored to your framework. These tools allow businesses to optimize the call process, efficiently distribute calls to specific teams, and improve the caller's experience.
Here's a snapshot of IVR's top routing capabilities:
Time of Day – routes calls to another destination based on time
Holiday – route or forward inbound calls during holidays or an entire holiday season
Caller ID – route and prioritize calls based on the caller ID
Location – route to a nearby office based on the caller's phone number and area code
On top of that, IVRs offer customizable greetings, voicemails, and other voice messaging. Using this feature, your business can promote new products, inform callers about any business continuity issues due to disasters, and much more.
6. Strengthen Your Brand Identity
Anytime and any place you communicate with customers, it reflects your brand's identity. So, your IVR gives your business another opportunity to create a strong, professional, and consistent image for your business.
With hosted IVR's custom greetings, voicemails, and prompts, you can create messaging that reflects your business' personality. This brings life to your IVR system and helps strengthen your brand's identity – improving the connection between customers and your brand.
7. Cater to All of Your Audience Segments with Multi-level IVR
Using a multi-level IVR setup, you can appeal to multiple audience segments. A multi-level IVR presents callers with a first set of menu options and then moves them to the next set of prompts based on their responses. This is very useful for businesses trying to address a range of caller needs.
For example:
If you're in the healthcare industry, your business might get calls from patients, pharmacists, suppliers, and so on. A multi-level healthcare IVR allows you to format menu options to manage each segment's requests and provide an all-inclusive service.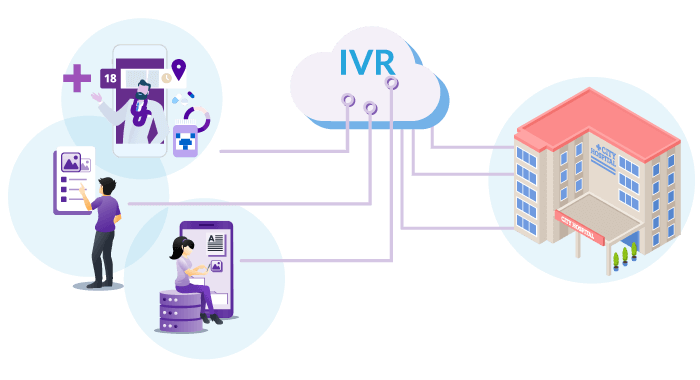 Optimize Call Management
8. Automate Call Processes & Offer Self Service Options
With a cloud-based IVR, you can automate tedious processes like answering and transferring calls. Automating phone system processes saves time and money for your business. It also cuts out time-consuming, repetitive tasks for your agents. So, they can work on more complicated tasks or customer requests.
Additionally, it reliably transfers calls every time. This means callers no longer waste time jumping from department to department to find the right agent. Instead, the IVR seamlessly and consistently forwards calls to the appropriate destination every time – increasing customer satisfaction and employee productivity.
An intelligent, automated system like an advanced IVR often supports self-service abilities. This allows customers to complete simple tasks or access basic information – without speaking with an agent. Self-service options reduce hold times, call volumes, and your team's workload.
So, what type of self-service options should you include in your IVR? Here are some ideas:
Answers to Frequently Asked Questions (FAQs)
Company information like hours of operation
Troubleshooting instructions for common problems
Bill pay or basic customer account management
Simple upgrade or renewal purchases
9. Address Fluctuating Call Volumes & Avoid Missed Calls
Designed to manage fluctuating call volumes, hosted IVRs help businesses reduce call queues and wait times for callers. It's able to handle multiple calls at once, effectively organizing, prioritizing, and distributing them. And since it accurately routes callers, transfer errors also go down – saving time for both customers and agents.
Consider establishing call groups (or ring groups) that trigger when callers select a specific menu option. The system then rings your preset group of lines, either simultaneously or sequentially. This cloud IVR capability helps businesses effectively distribute calls and eliminate the percentage of unanswered calls.
You can also utilize callback capabilities and set up failover options like Find Me Follow Me and Failover Forwarding. So, if your teams get swamped, you can manage a volume surge by redirecting calls to backup destinations. Similarly, if your teams are working on low capacity, callers can leave a voicemail or use self-service options. This way, you can also reduce the number of missed calls and you no longer have to worry about missing important business calls or potential sales. And the best part is that this works for both a high and normal call volume.
10. Increase First Call Resolution Rates
IVR systems accurately direct callers to the right representative or department every time. This means caller requests are solved quickly and efficiently. As such, there's no need for callers to keep calling for the same issue. This eliminates repeat callers and significantly increases your business' first call resolution rates – saving your business time and money.
Improve Brand Reliability and Trust
11. Remain Accessible at All Times
Since hosted IVR is an automated system, it answers calls, takes messages, and assists callers even after regular business hours. In other words, you manage incoming calls at any time. This ensures that customers receive consistent, reliable service – especially if they're located in a different time zone.
Self-service capabilities and routing strategies – like Time of Day or location-based routing – also help your business remain accessible. With these techniques, you can tell IVR to send after-hours calls to different destinations. This enables your business to provide 24/7 global customer service using a Follow the Sun model. And callers get the support they need at the time most convenient to them.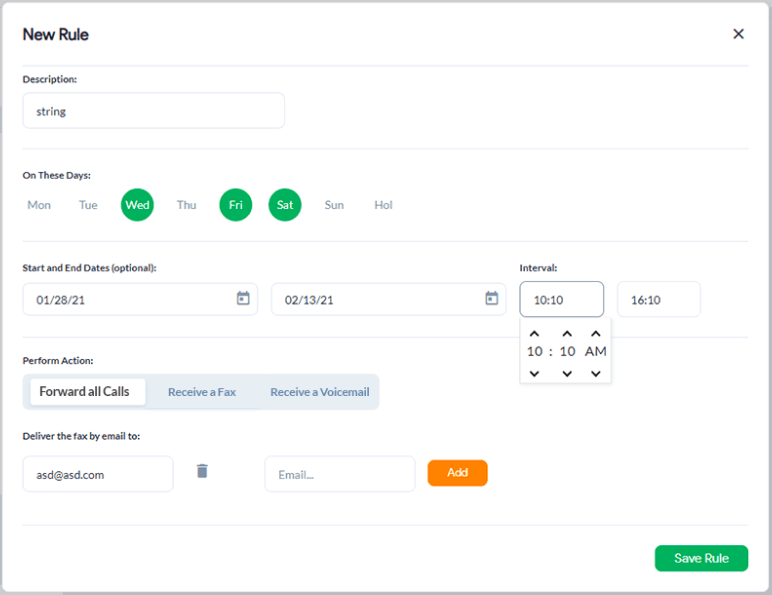 12. Improve Caller Experience
Cloud-based IVRs quickly answer all your incoming calls and professionally greet all your customers – giving them a great first impression. They accurately and seamlessly guide callers through your system, so callers don't waste time repeating their requests. Instead, IVRs help by reducing the customers' time and effort on the phone.
Your IVR system's main design should prioritize the caller's experience and remove any roadblocks they might encounter. With all the features hosted IVRs offer, your business can enhance the caller's experience by:
Lowering wait times
Reducing call abandonment rates
Solving their issues quickly
Providing consistent and reliable service
Offering 24/7 follow the sun customer support
Eliminating ignored or missed calls
Decreasing customer effort
When you deliver a quality experience to your customers, you further the chances of retaining current customers and increasing customer lifetime value (CLV). By doing so, you drive growth – making it easier to stand out from the competition and scale your business.
Manage Calls More Effectively with Hosted IVR
After everything that's been discussed, it's easy to see how a hosted IVR system helps businesses manage calls more effectively. It allows you to gain greater control over how calls travel through your system and how they are distributed. So, the overall functionality of your business phone network increases. And as it offers many customizable capabilities, an IVR streamlines the efforts of both your reps and customers – leading to a more effective, well-organized service.
As you can see, hosted IVR delivers many benefits for businesses looking to improve their phone system's functionality. And with a trusted provider like Global Call Forwarding, you can start building a better phone system today.
Get Advanced IVR with any virtual phone number plan from Global Call Forwarding. Sign up online or speak with our customer service representatives today at +1 (561) 908-6171.