When a customer calls your business, they expect to be helped right away. Without a basic phone number, a consistent answering system, an organized routing plan, and more, you could lose potential sales and repeat customers. Using our cloud communication tools, your company will have the speed, mobility, and flexibility to improve caller experience.
How to Create a Positive Caller Experience with Cloud Communication
Callers quickly abandon businesses or publish bad customer reviews when they have a bad customer service interaction. But, a well-designed caller experience produces increased consumer lifetime value (CLV), repeat clientele, and referrals. With cloud communication tools, your company can easily and reliably receive calls from anywhere in the world. Once a call comes in, you are in full control of how it is managed — this can make or break a caller's experience.
Here are some ways to improve caller experience with our cloud communication tools:
1. Provide an Easy Contact Method
The first step in providing great service is being easy to contact. Consumers generally will switch to a different brand or service if they cannot find a simple and affordable way to call you. This is where toll-free numbers come in handy. Our toll-free numbers offer a free call to consumers in selected countries. You can expand your network with our international toll-free numbers to connect with your global customers. This option forwards long-distance incoming calls to your business' location and stays free for callers.
2. Stay Consistent
When a client calls in, you want to pick it up within the first three rings. Callers are more likely to hang up or feel frustrated if a call rings too long. Our interactive voice response system (IVR) makes consistency easy by automatically answering inbound calls, even if your company has to manage a high call volume.
After IVR answers, it is capable of completing common tasks and transferring callers to the right department or employee.
Simply put, a cloud IVR can improve caller experience by:
reducing your employees' workload
cutting down on average handling time (AHTs)
eliminating ignored or missed calls
delivering a consistent cloud communication service.
Plus, this call management feature comes included with our virtual number plans. This cloud communication tool guarantees that each inbound call will be answered in a consistent time frame and manner.
3. Be Professional and Friendly
A positive and professional greeting not only tells your consumer they called the right business but also that you're happy to hear from them. Your opening message establishes the tone for the rest of the call. Voicemail messages are equally important as they leave a lasting impression and sometimes notify callers of the next steps.
Custom messaging such as on-hold messages, music, and sale promotions can drive sales and lower call abandonment rates. Our customized phone greeting feature makes it easy to set up opening messages and voicemails, using cloud IVR from our online control panel. You can upload any personalized recording as a greeting or voicemail.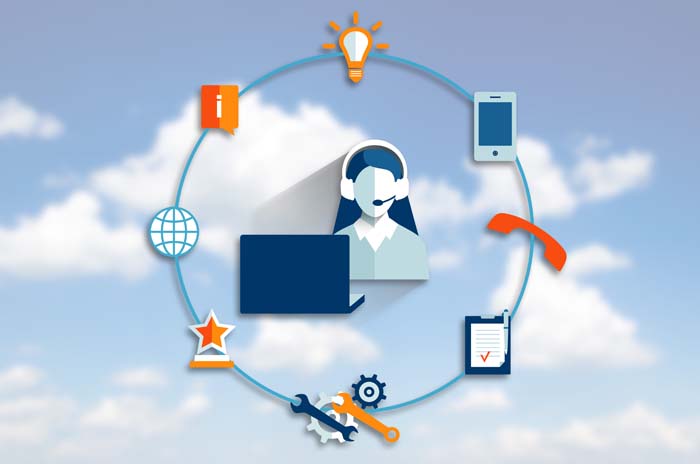 4. Manage the Flow of your Inbound Calls
After your opening messages, what happens to the call? A well-thought-out call flow can improve the caller's experience by letting you control where and how a call is routed to enhance customer experience.
Our call flow designer allows you to design how you manage and route incoming calls. With this tool, you can visualize how calls move through your system.
Here are some advanced call routing options we offer for any business model:
Geographical Routing
Geo-routing allows you to direct inbound calls to the nearest call center based on the caller's location. This cloud routing tool helps establish a reliable and accessible caller experience by connecting consumers with a representative in their time zone and preferred language.
Round Robin Routing
This routing service distributes incoming calls evenly using your preset order of agents to determine the next rep in line and transfers the call to them. Round Robin strategy can improve caller experience, especially for high call volumes, by reducing hold times.
Follow the Sun Routing
With follow-the-sun routing, your company can provide 24/7 international customer support without depending on a singular support department. Additionally, your agents aren't overwhelmed by midnight shifts, improving their customer interactions.
Time of Day Routing
Time-based routing diverts inbound calls to a different predetermined destination based on the time of day, such as past business hours or during a holiday. This can improve customer experience by automatically forwarding calls for the most convenient handling.
Sequential Forwarding
Our sequential ringing feature guarantees that every call is addressed. With this strategy, you can add multiple numbers to your sequence and program calls to go down the list or voicemail if they never connect. Having a backup system ensures a smooth caller experience and avoids any frustration from dropped calls.
5. Regularly Train and Give Feedback to your Support Team
You can consistently deliver a positive and successful caller interaction by proactively improving service interactions. Cloud call recording gives you the opportunity to listen back to previous calls. With this cloud communication tool, you can provide your staff members with feedback and personalize training. This allows you to fine-tune your customer service interactions and identify any room for improvement.
Bringing Cloud Communications to your Business
Cloud communications are the future of business communication. With the variety of advanced tools and features, you can not only improve the way your teams interact with customers but also improve office productivity.
Learn more about all our cloud telephony solutions. Call us at 1 (888) 908-6171 or chat with our representatives online today!