It is easier than ever for consumers to switch to different services or rival products. Attracting new clients is also becoming increasingly expensive for businesses. To counter these trends, businesses have adopted a customer delight strategy. Here, we'll walk through the importance of customer delight and how you can leverage it to improve customer relations.
Advancing your Business through Customer Delight
Delighting your customers is becoming necessary in successful business models. It can influence a client's choice to stay with your brand or replace you with a competitor. A happy consumer base can increase sales, generate organic publicity, refer your business to others, and much more. This lasting positive impression can sustain your business and guide it towards continued success.
What is Customer Delight?
Simply put, customer delight is exceeding a consumer's expectations — when a client has a beyond positive experience with the brand, products, support services, etc. When your business surprises or delights a user, you establish a bond and increase the likelihood of consumer loyalty. This is an ongoing process, which no one employee or department handles. Whether you're in marketing, customer service, IT, or production — you're all equally responsible for sustaining a company that delights clients.
Customer Satisfaction vs. Customer Delight
At first glance, customer satisfaction and customer delight are the same things. Customer satisfaction is a stepping stone to delight.
So, what's the difference between customer satisfaction and customer delight? While consumer satisfaction just meets their experience, customer delight aims to exceed.
Let's break down these two concepts further.
Customer Satisfaction – A satisfied client is someone who received average or decent service. The encounter didn't blow their mind, but it will do. It's easier for a satisfied user to switch to rival providers or products. This is also referred to as customer abandonment or churn rate. Satisfaction reduces the likelihood of customer retention as it creates a vulnerable state in the consumer's journey.
Customer Delight – A delighted client is someone who received an above-average experience. The consumer's entire encounter with the brand positively exceeded their expectations. This type of service leaves a lasting, favorable impression on the user and increases the likelihood of consumer loyalty. Overall, it contributes to the customer's lifetime value and the company's long-term success.
Calculating Success
It's important to measure the success of your customer delight strategy to make sure it's working. Start by creating an index or baseline of current consumer attitude toward your brand. Create your business' baseline by asking for feedback or sending out client surveys. Once you've established a baseline, you can measure progress through a couple of different methods, including:
Customer Lifetime Value
Retention Rate
Net Promoter Score
Churn Rate
Customer Effort Score, and more.
You can also ask for additional feedback or conduct follow-up surveys. This way, you can determine areas of your strategy that are working or need improvement.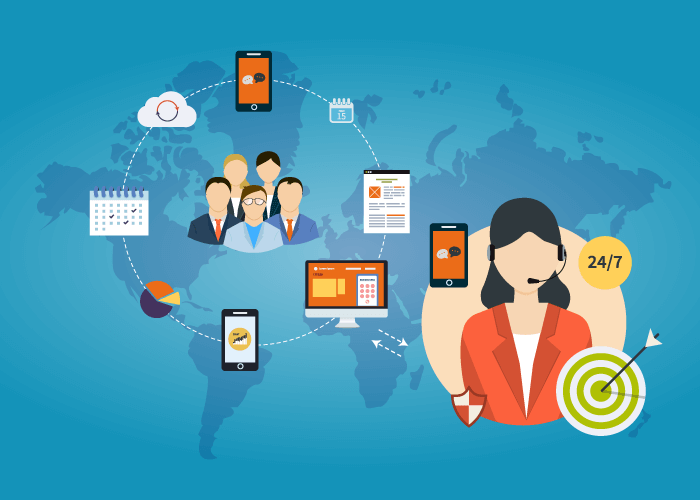 5 Ways Delight Improves Your Business
We've already discussed how exceeding customer expectations breeds consumer loyalty. But, what other benefits does this tactic have for your business? Take a look below.
1. Stand Out from the Competition
By creating a personalized and unparalleled customer-first strategy, you separate your business from rival companies. Aiming for delight instead of consumer satisfaction can influence clients to stay with you or switch to your brand.
2. Sustained Growth
An above-average experience attracts clients to your business, products, or services. Striving for customer delight strengthens the possibility of customer retention and loyalty. This process of both attracting and retaining consumers leads to sustained growth and long-term company success.
3. Organic Publicity
A delighted customer is more likely to produce organic publicity for your brand. This happens naturally through consumer word-of-mouth marketing, recommendations, reviews, and more. Delight creates unofficial advocates and promoters for your company.
4. Protects Brand Reputation
Exceeding a customer's expectations can protect your business' reputation. In the same way, it can generate positive publicity, it also discourages consumers from writing bad reviews or criticizing you publicly. Even a social media blow can negatively influence your reputation and sales. Strategic customer delight works to prevent negative press. Delighted clients might even defend any negative comments against your company.
5. Cost-Effective
Delighting consumers is actually more cost-effective than customer satisfaction. Retaining clients through customer delight is far more lucrative than attracting new ones. According to Harvard Business Review, acquiring new customers costs anywhere from 5 to 25 times more than retaining current clients. Exceeding customer expectations additionally contributes to increased sales and user spending. In another study by Bain & Company, increasing consumer retention rates by 5 percent caused profits to increase by 25 to 95 percent.
How to Delight Customers?
A successful customer delight strategy doesn't happen overnight. It is an all-encompassing and ongoing process that takes time to develop. If you're just getting started with exceeding client expectations, take a look at these popular customer-first strategies:
Collect Consumer Data
Market research is an important part of exceeding customer expectations. You have to know your audience to deliver the best experience possible. Market data enables you to focus and target client needs, wishes, and interests. It also provides insight into possible improvements in your service or products. You can collect consumer data through:
Active listening and paying attention
Identifying pain points
Customer segmentation
Surveys and testimonials
Personalize the Customer's Experience
Using the data you collected, you can tailor a consumer's experience to their individual needs and wants. A customized experience comes as a result of one-of-a-kind interactions and consumer-first strategies. You can even use personalization software to design customer-focused web content and personalized emails for each client. Such personalized touches connect your client to your brand and help steer them towards delight and retention.
Empower Your Team
Above-average service begins with customer-facing employees. Proper foundational training helps employees recognize opportunities and deliver an unparalleled customer experience. Additionally, encourage your support team to take ownership of their work and give them the freedom to make decisions. This will lead to a boost in productivity and quicker decision-making – which will all lead to successful interactions.
Up Your Customer Service Game
Strengthen your customer support by being accessible to all your consumers. Make it as easy and painless as possible by providing follow-the-sun customer service. With the right tools such as our cloud communication tools, your business can be globally available with no added fees for your clients.
The Bottom Line
If your customer has a problem, fix it quickly and painlessly. Delivering a smooth service experience is more likely to improve customer loyalty and delight. Once you establish an effective service, you can start adding the little touches to seal the deal. Don't strive for the bare minimum; keep evolving and progressing the customer's experience.
Learn more about how Global Call Forwarding's communication features can help your business generate delight. Reach out to us today to learn more — Call us at 1 (561) 908-6171 or chat with us online!