Customer feedback is crucial in understanding the value your business offers its customers and how customers are using your products and services. Customers who don't find value or growth will find a new service. But taking time to listen to their concerns or struggles and taking action will increase customer loyalty and retention. As you prepare your voice of the customer VoC research program, here are 9 best practices and 9 common mistakes to keep in mind.
Building an Effective Voice of the Customer Program
To create a voice of the customer (VoC) research program, there are a few key things to take into consideration:
What is the research for
Who will you interview
What customer segments and audiences to cover
How will this feedback be collected and stored
Who will be involved in this process
How will the data be analyzed
What next steps will your business take
By answering these questions, you can start building a focused research program with a clear idea of what you want to find and how you will handle data.
How to do VoC Research
There are a few different ways your research teams can go about collecting customer feedback. However, your goals and resources available will help you decide how to conduct customer research.
For instance, if your business interacts with customers primarily via phone conversations, then you would choose phone interviews for the research. On the other hand, if you want to collect feedback about a new service feature or product update, then you can insert a micro survey in the dashboard or send it in emails or push notifications.
Check out our detailed guide to voice of the customer methodologies to find the right methods for your VoC program.
VoC Research: 9 Best Practices
What practices should a research and feedback collection team implement when conducting voice of the customer research? Here we list 9 VoC best practices so you can get the most out of your research efforts.
1. Outline How the Program Will Run
First, design an effective voice of the customer research program. Determine what type of feedback and research you want to collect. How will you (or your research team) collect this research (methodologies)? What tools and resources will you use? Where will all the data be stored and analyzed? What do you hope to do with this information and feedback? What are the end goals?
Answering these questions will help prepare your teams. And when the time comes, your teams will be equipped to communicate with customers, understand their needs and pain points, collect and study data, and find ways to improve the customer experience.
2. Collect Feedback & Insights Across All Communication Channels
If your business communicates with customers on different channels, then you will want to collect feedback from all those channels. This means not only doing phone and email surveys but also chat and social media, if applicable.
Basically, any platform or channel you engage with customers and prospects on is a valuable platform for collecting voice of the customer research. You can decide the form and length of your survey or questionnaire based on the channel. Create short surveys and embed them in the email or chat window or attach links to longer surveys that may need more time.
You can increase the number of responses you receive by collecting feedback from all communication channels and also get varied responses and perspectives.
3. Collaborate with Other Teams & Share Reports
Depending on the purpose and goal of a research project, all relevant departments should have a say in how feedback should be collected and studied. Identify key leaders and players from each department. Get their support via perspectives and suggestions. Invest in the right communication tools to collaborate effectively with these teams. Once research is collected, share insights and reports with these leaders and departments.
4. Personalize VoC Requests
Think of every interaction with your customer as a way of delivering value. Therefore, when conducting VoC research and collecting feedback, treat your customer as a partner. Demonstrate that the purpose of this survey or phone interview is to understand how you can serve them better. Ask relevant questions; customers will not answer questions that have nothing to do with them or how they use your product.
5. Seek Feedback at the Right Touchpoints
This practice depends on how you stage your interviews and surveys and what data you want to gather. For example, do you want to know how your product is doing overall? Or, do you want to understand how specific processes are working? Hopefully, you want both.
But timing your requests for feedback is crucial. Doing so gives customers the opportunity to let you know about their frustrations or struggles and also let you know how a new feature or service is working out. Good moments for feedback can include:
After the customer has onboarded
As a follow-up to new product features or add-on services
After the customer has completed a big task or achieved a goal
As a response to customer behavior such as low levels of activity
After the customer reaches out for customer or tech support.
6. Respond to Customer Feedback
Don't ignore feedback once you've collected it. Respond to the feedback by offering solutions or changing processes. Let your customers know that your business is aware of their concerns and working on a solution. Don't leave them hanging.
7. Study Data & Act on Feedback
Don't stop at collecting data and sharing it with other departments. Study and analyze the data. Then, together, work on creating action plans based on the feedback provided to make processes simpler and improve customer experience. This is the whole purpose of conducting voice of the customer research.
8. Consider the Voice of the Employee
Don't forget about your employees. They are a big part of customer interactions and can provide valuable insights and perspectives. They may notice trends in customer queries, struggles, achievements, or pain points. And they can help you identify areas of improvement within internal policy and processes. In other words, they can direct your attention to areas that impede their ability to deliver good customer experience and service.
9. Track & Measure ROI
Finally, look at the results. All this work will be for nothing if you don't get results that match your business goals. If your main goal is improving customer experience, you will also improve business ROI. This is because both work hand-in-hand: the better the customer experience, the longer the customer stays with your business and continues to purchase your products and services. Track your efforts and measure ROI to ensure your efforts and goals are aligned.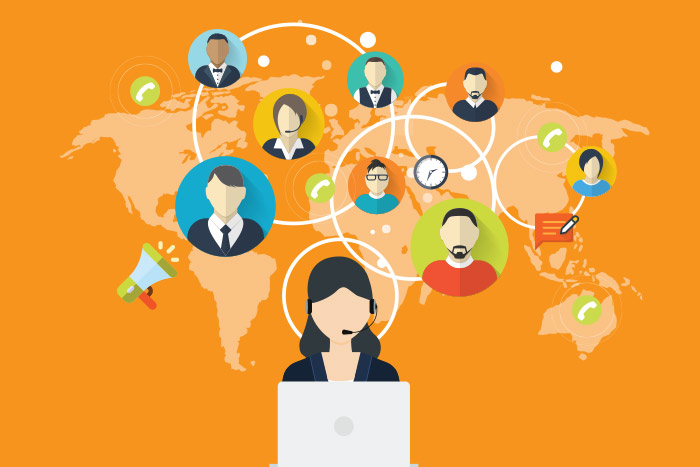 VoC Research: 9 Common Mistakes
Poorly designed VoC programs can greatly harm your research efforts and may even negatively affect your relationship with these customers. Here are 9 common mistakes to avoid when conducting voice of the customer research.
1. Being Unprepared
Not knowing what you need to do or how to do it is the biggest hurdle your research team can face. Do the research and talk to your leaders. Come up with realistic goals (more on that below) and a game plan that everyone approves of. Prepare a list of questions for inclusion in the survey or phone interview. And research the customer and their business to ensure your questions are relevant to their experience. In other words, don't talk to them without knowing what you are looking for or what the end goal is.
2. Not Researching Customers Before Connecting with Them
If you prepare generic questions which may or may not be relevant to each customer, you run the risk of not getting accurate or helpful responses. This is because customers who don't find your questions relevant to their experience will not know how to answer them. And if there is nothing for them to gain, they will not want to waste time.
Create questions that are customer-focused and not business-focused. Conduct market research to uncover their problems and potential pain points. What can your business do to solve a particular issue?
3. Setting Vague or Unrealistic Goals
This mistake may have pricey results. If the goals set are not clear enough or achievable, your team may end up wasting time and resources in this voice of the customer program. Additionally, in certain situations, goals may need to be adjusted or re-evaluated. Take time to do this and make a case for it based on insights gathered.
4. Asking the Wrong Questions
Not asking the right or relevant questions will cause a lot of wasted time. For one, customers may not provide valuable insights. And two, you may miss out on getting to the main point. Keep your VoC research goal in mind and draft questions accordingly. When you conduct interviews, you may come across other angles and perspectives to include in future questions; make a note of these. Ask follow-up questions and focus on "how" and "why" questions. These will help you dig deeper into their goals and how they use your product to achieve those goals.
5. Failure to Secure Support
Research is not easy; it takes time and demands resources. This means stakeholders need to buy in to your program and goals. The whole point of VoC research is to identify ways to make your company and its products more customer-friendly. The more satisfied customers are, the more your business will grow.
As such, VoC research can highlight changes that may affect the company culture and values. Therefore, if your VoC program does not have adequate support, the results may not be taken seriously. And these insights may get buried in other more urgent projects. Ensure your team and leaders understand the value of the research you will undertake before you begin.
6. Not Collaborating with Other Teams
Work closely with other teams before, during, and after the research project. Their perspective can help you devise better questions and valuable results. This means taking the time to sit down and talk to your marketing, sales, and customer service teams. You may even meet with product managers and development teams to get their take on the product and its purpose, and what future developments are possible.
Without working and collaborating with other members, you may miss out on key perspectives that can drive your research. For instance, if you do not speak with your sales or customer service teams, you may not learn of common customer problems that your research can help solve.
7. Not Using Automation When Available
Research is not easy; it takes time and needs resources. However, without the right resources and support, it can prove to be more expensive and less effective. Think: customer automation tools, lead qualification tools, data analytics tools, and so on.
Streamline your processes. Create separate workflows for different types of audiences and segments. Use efficient tools and resources that make it easy for your team to identify customers and leads and to collect and study the data.
Related: 6 Ways to Automate Customer Service in 2021
8. Not Sharing Insights & Feedback
While there is a tendency to ignore similar and low-level feedback, make it a point to keep sharing insights and feedback with your teams and leaders. Even a low-level issue can become a larger issue if it occurs consistently. Something that may seem like a small issue might be the root cause of a larger issue. The point is, sharing your insights with others may help you see things differently. And will also help leaders and managers learn more about their customers.
9. Failure to Act on Feedback
Finally, not acting on feedback defeats the whole purpose of conducting voice of the customer research. Whatever the feedback, work on ways to make the customer experience better. Customers should know that your business cares and is working on making their lives and jobs easier.
Why Voice of the Customer is Important
VoC research helps your business pay attention to the customer's voice and feedback. At the end of the day, if your product or service does not cater to customer needs, they have no loyalty to your brand. Considering how competitive the market is, customers will find new services. Don't lose out on valuable customers. You may even be able to use these insights in creating and updating customer journey maps that will, in turn, show you ways to bring more customers on board.
Your business will see huge returns from working with customers and learning from their feedback. And gradually, your customers will become brand advocates and help your business grow.