Customer service is an important matter for any successful business and first impressions make a big impact on the retention of potential customers. A proper custom phone greeting gives your business a friendly, inviting personality that can be the difference between a sale and a missed opportunity.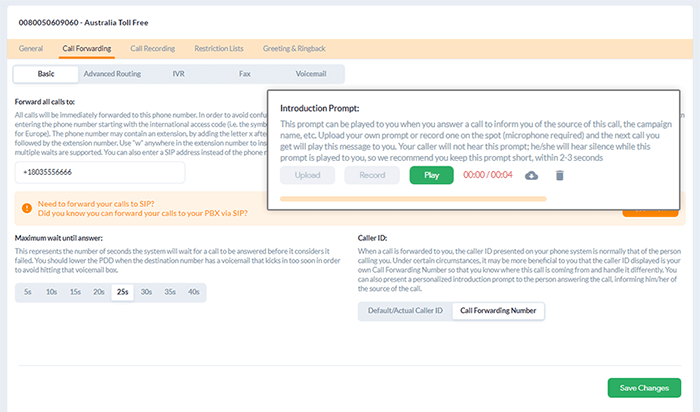 What are Custom Phone Greetings?
A customized phone greeting is a message that callers hear when they call your business. When the caller calls your business phone number, the greeting will be played first and then the incoming call will connect to your business.
Whether your number is local or toll-free, you can record any customized message to formally greet incoming callers. A simple and straightforward example gives your business' name and reassures them that the call will be answered shortly:
'Thank you for calling Innovative Solutions, please stay on the line while we connect your call to the first available representative.'
How to Set up a Customized Phone Greeting:
Customized greetings can easily be set up through our online control panel. Simply record a welcome message for your business and upload it to our system. Plus, the changes take place right away. There is no extra charge for this feature.
What are the Benefits of a Professional Greeting?
Using a custom greeting over the phone gives you an edge over competitors that may only have a standard ringtone. Larger, more successful companies often use customized greetings or IVR to route incoming calls to their proper departments such as 'Press 1 for Sales, Press 2 for Technical Support, and so on'. Customers will be much more receptive to a professional and courteous greeting that sets the tone for the rest of the call.