As a business, one of your primary goals is to make people comfortable with your products and services, staff, and company. And part of creating that environment of comfort and reliability is making it easy for them to connect with you.
This is why it is crucial to effectively manage incoming calls. A caller waiting in line for an hour or lost within an automated menu will lead to a disgruntled and unsatisfied customer. And your business cannot afford that.
You can avoid this by preparing for it. How? Create custom and efficient call flows to help callers move down the call flow process and arrive at the right destination.
Understanding Your Business' Call Flow
Taking time to understand your business' call flow can help you manage incoming calls more smoothly and improve caller experience. But how?
First, let's start with: What is a call flow?
A call flow is a map or diagram of how incoming calls will be managed once they enter your business phone system. In other words, a call flow details what happens when a customer or prospect calls your business and how they move down the call process to the right person for assistance.
This process or flow varies based on what options a business wants to offer its callers. For example, are people calling only for customer support, or are they looking for more departments? Do you have multiple offices to route calls to? Do you need to route phone calls based on the caller's location?
A call flow can help you map out the most effective way calls should move within the system so that your callers have the best experience.
What is the Purpose of a Call Flow?
The main purpose of designing a call flow is to manage incoming calls effectively by helping callers reach the right individual or department and get assistance quickly.
Customers calling a business do not want to be waiting in a call queue for a long time, and they definitely do not want to be bounced around from one department to another to resolve an issue. They want quick service with accurate information. It is your responsibility, as a business, to have the right tools in place to give them this uninterrupted and reliable service.
Mapping out your call flows will help you create an efficient call management system that works for both your business and your customers.
What Does a Call Flow Contain?
A call flow contains a variety of actions and interactions that decide how a call is handled. A call flow builder (cloud telephony feature) will let you control these actions and triggers so that you can create custom call flows for different business numbers and lines. Most call flows contain the following actions and interactions:
Announcements
Automated and attended call transfers
IVR menus
Advanced routing features
Send calls to voicemail
Send faxes to emails, etc.
You can use these different call flow features and triggers to design call flows that let your business offer reliable customer service, no matter where your teams or customers are located.
Related: 9 Benefits of Advanced Call Routing
What Steps are Included in a Call Flow?
When you start to design a call flow, you need to consider the following steps to determine how calls will move within your phone system:
Different phone numbers and lines involved
What happens when the line connects? Will callers hear an announcement or welcome message or an IVR menu with input options for different departments and scenarios?
What will the caller be required to do after the welcome message or IVR message?
Which options will be made available to the caller? Examples: speak with an employee, verify identity, activate/renew a service, leave a voicemail, etc.
Do you need any advanced routing systems in place? Geo-routing, time-based routing, round robin call routing, etc.
What departments will be included in the call flow? And what happens if the caller needs a department not listed or if they enter the wrong number?
What should happen if one of the options or triggers fails? Example: What if the desired team is busy and no one answers the phone for 5 minutes?
Here's an example of steps included in a call flow: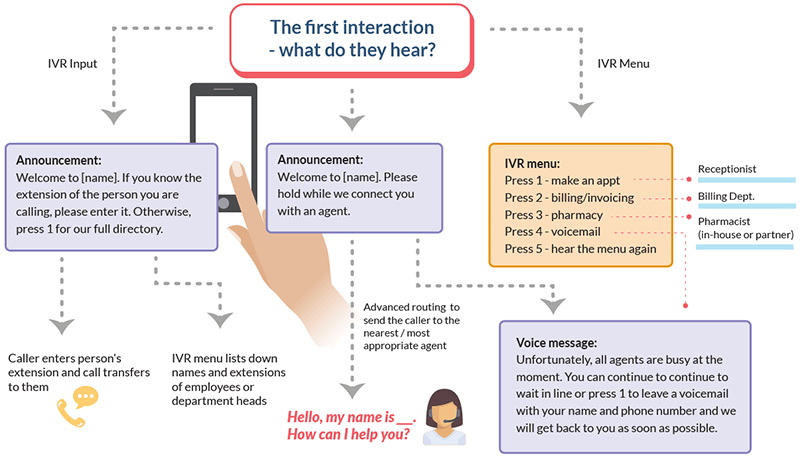 Not sure where to start? Check out these call flow templates before you start mapping your own call flows.
Building Call Flows to enhance Caller Experience
Use the Global Call Forwarding call flow designer and IVR manager to create custom call flows for your virtual phone system. We provide this feature for free with our cloud phone number plans. Browse through our features or speak with our experts to learn more! Call us at +1 (561) 908-6171 or chat with us online.