Phone number masking is a popular cloud communication feature being used by companies around the world for various reasons. In this post, we will go through different examples of number masking in use. In other words, how are companies using this service, and how do they benefit from it?
But first, we need to understand what number masking is and how it works.
Let's dive in.
What is Number Masking?
Number masking, also known as call masking, is a VoIP feature that allows you to hide or "mask" your phone number. You can choose to completely hide the number from displaying on caller IDs or replace it with a different number, which is called caller ID override.
How Does a Number Masking Solution Work?
Once subscribed to a cloud phone service provider, you can set up call masking within their features. This will let you hide or display another phone number in place of your original or personal number. Then, when you call someone, they will see your masked number and won't be privy to the actual number.
You can set up phone number masking in a few ways:
Connecting our phone numbers to your PBX system
Changing your outbound caller ID through the GCF control panel or account dashboard
Changing your caller ID through the softphone app
You can get a call masking service from a cloud phone number provider like Global Call Forwarding that has the capability to hide or display specific phone numbers.
If you have a phone number plan with Global Call Forwarding, you can update your caller ID and use call masking in all three ways mentioned above.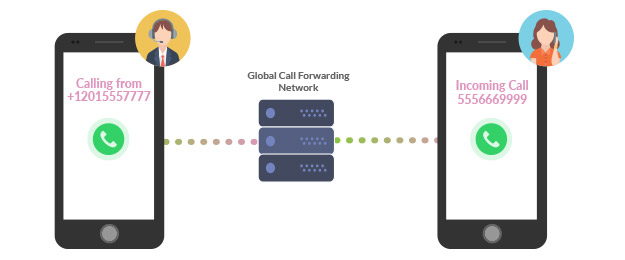 Note: FCC rules prohibit anyone from using phone number masking with the intent to defraud, cause harm or wrongly obtain anything of value. We reserve the right to cooperate with legal authorities and/or injured third parties in the investigation of any suspected crime or civil wrong.
Who Uses Masked Numbers? Use Cases
Why use a masked number? From individuals to businesses, many different users would want to mask their number and avoid displaying their original phone number. Here are some use cases of number masking:
1. Remote Teams
Number masking comes in handy when your employees work remotely and need to make customer calls from their own phones. By masking their phone number, they can protect their personal information and make calls from the business number instead. This way, they appear professional and maintain credibility when calling customers.
2. Global Reach
Like with remote teams, global teams can use call masking when placing calls to customers in different regions and countries. Here, instead of hiding the number, they can show a local phone number that your business owns for a particular region or country. For example, an employee in the US calling a customer in Mexico can override the caller ID to display a local Mexico phone number instead of their personal US number. Customers are more likely to answer when they see calls coming from a local caller ID.
3. Vendor-Buyer Interactions
When managing vendor and buyer interactions — such as with a delivery service or online marketplace — it is essential to track leads and maintain excellent customer service. And part of this is facilitating vendor-buyer relationships in a comfortable and secure manner.
Masking the phone numbers of your vendors and customers ensures their privacy and protection. They can contact each other during the time of the order and not outside of that. This makes sure no one is bothered on their personal line outside of the business interaction.
You can use number masking to manage vendor-buyer interactions and driver-customer communication. Some common examples for where number masking proves helpful:
Ride sharing apps like Uber, Lyft
Delivery services like Doordash, Uber Eats, FedEX
Online marketplaces like Etsy, Amazon
Pet sitting like Rover, Spruce
Other services like TaskRabbit, ChoreRelief
Number Masking Solution from Global Call Forwarding
You can get phone number masking with our Outbound Calling software. Simply add this service to your existing phone plan or purchase a phone plan with us.
Check our pricing page for more details, or talk to an expert today!