With the wide adoption of cloud computing and technology, companies have enjoyed greater versatility and efficiency by incorporating the cloud into their functionality.
In this article, we will take a look at:
Definition of Cloud Telephony
What is cloud telephony? Cloud telephony is a cloud-based phone system that works through your internet connection.
It is a type of unified communications as a service UCaaS that brings all your business communication needs in one place. It lets businesses move their phone service to the cloud with the help of cloud PBX to make the process seamless while providing high-quality voice service.
Other names for cloud telephony include cloud calling, cloud communications, and cloud phone systems. A cloud telephony system consists of:
VoIP phone service — to transmit calls with high quality
Cloud or virtual phone numbers — from various countries globally
Softphones — to convert any device into a business phone
Outbound calling — to make outgoing calls with specific caller IDs
When you choose cloud telephony for your business, you can say goodbye to poor call quality and latency issues, as well as logistical problems such as long-distance fees, service network blockages, network restrictions, and more.
Related: Cloud Communication Stats: 2023
How Does it Work?
Cloud telephony uses VoIP to transmit calls via the internet. It is not attached to one specific location, making it easy for users to make and receive calls from any location and through any device. By doing so, your business can expand beyond its immediate geographic boundaries and enter new markets cost-effectively.
But what does this look like within your business? You can integrate cloud telephony within your existing system. This means you do not have to purchase new equipment or hardware. In fact, you can even use a softphone on your computer or tablet instead of using desk phones.
The best part about using a cloud phone system is that you can control the service from any location through an online control panel. Here, you will have access to all features and full control over your phone numbers. You can add new numbers or users, make changes, add new rules, and more.
Example of Using Cloud Communications for Business
Suppose you run a business located in the US but want to expand your operations to Singapore. Traditionally, you would decide to set up a local office in Singapore. This could take weeks of preparation: filling out paperwork, hiring local agents to handle licensing and legal matters, investing capital in the country, leasing property, hiring staff, and more.
Alternatively, you can buy Singapore virtual phone numbers with an outbound calling service. This lets you call local customers and businesses with a local caller ID, even when calling from the US. And when you are ready to set up a local office, you can easily expand your cloud telephony system to cover the Singapore office as well. Or, you can operate solely on digital channels.
Benefits of Using a Cloud Telephony Service
What is cloud-based telephony used for? Different types of businesses—SMBs, startups, large enterprises, and individuals —benefit from when using cloud telephony for their business phone service:
Here are 5 reasons why your business should get a cloud telephony service:
Quick and Easy Implementation
Taking Your Business to the Cloud
Expand Globally in a Cost-Effective Way
Access to Advanced Call Management Features
Flexibility for Your Business

1. Quick and Easy Implementation
Since cloud phone systems don't need additional on-site hardware, you can get it running pretty quickly without technical support or installation. Your cloud telephony provider will take care of most of the implementation, leaving your employees to continue working without any downtime.
2. Taking Your Business to the Cloud
We've seen a rise in cloud-based apps and software such as project management systems, HR software, CMS, CRMs, phone service, and more. These apps and solutions let us conduct business from any location and device—a boon during the pandemic as most people had to quickly switch to working from home.
And so, your business will miss out if it does not adopt cloud-based business solutions. It is also important to note that cloud-based solutions are often more reliable and secure, making them a good fit for businesses.
3. Expand Globally in a Cost-Effective Way
Cloud communications allow your small-to-medium-sized business to grow globally. You do not have to be physically present in a country to sell products and offer customer service. Simply buy a local or toll free number for that country specifically and route calls to your office located elsewhere. You can do the same with other countries and regions within your expansion plan. Scale your business at your own pace with flexible and advanced phone solutions.
4. Access to Advanced Call Management Features
What makes a cloud communication system worth it is the array of features, services, and add-ons you get to use. Different providers will offer you different feature sets. When choosing a provider, it helps to determine what you need from your cloud telephony system.
For instance: Do you need to automate call routing? Do you need to record all or some calls for customer research purposes? Do you need to override your caller ID when calling internationally?
Here are the top features and services you can get:
Cloud phone numbers (local and toll free numbers)
International call forwarding
Cloud IVR
Advanced call routing (follow the sun routing and geo-routing)
Outbound calling
Cloud contact center solutions
SIP trunking
Call recording
Call masking
View a list of features offered by Global Call Forwarding.
5. Flexibility for Your Business
Switching to the cloud opens up a lot of avenues for a business. Traditionally, entering a new market meant opening a brick-and-mortar store or local office. However, depending on your business model, you might find it cost-effective to run everything virtually. That is, instead of developing a physical presence, you can manage operations from your headquarters, located in another country. And cloud telephony makes it possible to do this.
You can sell your products and services online and ship them internationally. And for customer service, you can direct calls from this new market to your headquarters or a remote agent. This reduces the need to create an expensive and resource-intensive branch office to interact with customers.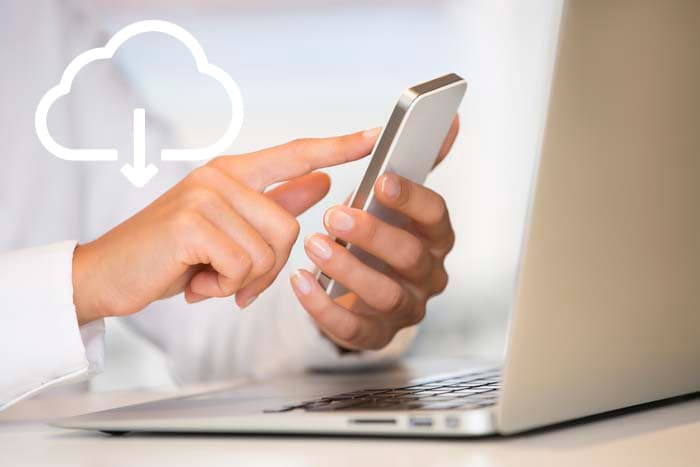 How to Choose a Cloud Telephony Provider?
Choosing a global telephony provider for your business' cloud communications can be tricky. There are many providers out there claiming to offer high-quality service for low rates. But you need to find one that you can rely on and works within your budget.
Here are 7 tips to consider when choosing a cloud telephony provider:
Proven Reliability and Reputation
Service Quality and Certifications
Cost of the Service
Features and Integrations
Contract Lock-In and Migration Support
Customer Support and Account Management
Customer Reviews and Testimonials
1. Proven Reliability and Reputation
The first thing you want to know about your provider is their reliability. Consider these:
How long have they been doing business?
What are customers saying about their service?
What certifications and awards do they have?
Are their employees experts in the industry?
Do they have a proven track record of providing high-quality service?
Dig deep with your research and compare providers to see which one is more reliable.
2. Service Quality and Certifications
High uptime, low downtime, and excellent voice quality are required for any successful cloud phone system. Your cloud phone service provider should provide redundancy and failover forwarding so that you can maintain business continuity, even during a crisis.
Also, look closely at their service level agreement (SLA). This should outline their service objectives, exceptions and exclusions, remediation policies, and so on. To get the most out of your service, you want to choose a provider that promises 99.99% uptime with multiple layers of redundancy.
You may also want to look at their security and industry compliance. Ideally, your new provider will have some of these certifications in place:
HIPAA Compliance: For healthcare service providers.
ISO/IEC 20071: Global standard for security threat responses.
PCI Compliance: Handle credit card payments securely.
SOC 2 Compliance: Incident response plans to protect privacy and data.
Transport Layer Security (TLS) and Secure Real-time Transport Protocol (SRTP): Enterprise-grade security in every call.
3. Cost of the Service
Next, you want to understand what your service entails and what is included in your bill. In other words, what exactly are you paying for? You want to pick a provider who has transparent pricing with no hidden fees. Look for pricing specifics like:
Type of pricing: Per month / per user per month / per line per month
Number of users on the plan
Monthly vs annual pricing and discounts
Technology and equipment requirements
Flexibility and scalability: Is it easy to change or adjust your plan?
Costs for inbound and outbound calls: For different number types
Additional per minute rate
Cost of additional features, add-ons, and integrations
Other fees: installation or setup fees, mandatory taxes, service fees, cancellation fees, etc.
We offer full transparency on our pricing page, so you know what is and isn't included in your phone service plan.

4. Features and Integrations
The main reason for choosing a new provider is to have a better business communication system. And so, it is essential that this new provider offers your features and add-ons that help you achieve your goals. Review their features and integrations to see if they make a good fit for your needs.
5. Contract Lock-In and Migration Support
If, for whatever reason, this provider does not satisfy your needs, you do not want to be locked into a long-term contract and struggle to cancel or face any complications when migrating to cloud communications. Review the contract carefully for lock-in clauses and the cancellation policy.
6. Customer Reviews and Testimonials
Customer testimonials and reviews are a great place to gauge how customers like you use this provider's service and what, if any, problems exist. You can also see how the provider responds to bad reviews and what they do to resolve an issue.
Want to know how our customers use our service? Check out our customer testimonials.
Customer Support and Account Management
Since your phone service is crucial to the successful running of your business, you should be able to get assistance quickly, in case something goes wrong. So, you need to evaluate your provider's customer support:
Is it fast and responsive?
Do they offer 24/7 support?
Are they available on live chat, email, call?
Do they respond to trouble tickets within 24 hours?
Will you have a dedicated account manager to manage your account?
You can test their customer support during the free trial process or ask about what options they offer beforehand.
Switch to Cloud Telephony with Global Call Forwarding
As you can see, cloud telephony is the future of business communication as remote working becomes more common and companies are looking to expand globally. With a cloud phone system, you can expand and scale while keeping costs low and managing your teams through one central system.
Want to know more about the cloud telephony solution offered at Global Call Forwarding? Book a demo today or chat with our representatives online!