Challenge
This medical research company was under a contract with one of the legacy telecommunications companies. The main problem was the long provisioning time for new numbers which would take months, in some cases.
In addition, they were paying exorbitant monthly fees for their Global Inbound Service.
They wanted to see a presentation of the various toll-free service features, analytics, and reports we offer through our web interface. And, if we were the right fit, eventually port their toll-free numbers to our network.
Solutions
Before moving forward with our service, the customer wanted to do a reference check and speak with at least three of our existing customers to discuss the platform and their usage.
We've been in business since 1996 and have thousands of satisfied long-term clients across a myriad of industries, including healthcare, travel, insurance, financial services, and software. So, we worked closely with their Network Engineers and connected them with some of our long-term clients.
They also requested a demo of our web interface to see our reports and features first-hand.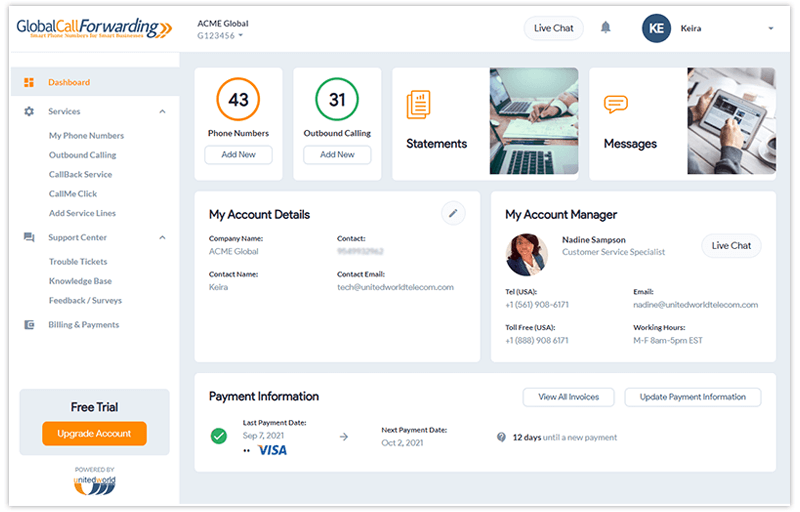 That aside, they needed to set us up as a vendor in their system and pay by invoice. Since we offer flexible payment options, including pay-upon-receipt of invoice (PUR), we were able to accommodate their request.
With positive feedback from our other customers and a detailed product demo, this customer decided to go ahead with our service.
Results
The customers started setting up numbers in several "hard-to-get" countries and forwarding the calls to SIP. Then, they ported existing numbers to our network and brought over more EU numbers.
Some of their cost-savings since they switched to Global Call Forwarding:
87% decrease in monthly invoice total
81% decrease in Netherlands toll-free cost
61% decrease in Brazil toll-free cost
85% decrease in Germany toll-free cost
The customer has been with us for almost 3 years now and they have phone numbers from more than 40 countries. Besides fast provisioning and cost savings, the customer has also benefited from dedicated one-on-one account management and more detailed reporting options in the self-service web portal.
See how our health care customer uses our service:
Note: Further information and references available upon request.