What is Holiday Call Routing?
Holiday routing is an advanced call routing feature that lets users (a business) route or forward incoming calls during a particular holiday or holiday season with certain rules.
With this feature, you can choose how you want to route calls on a holiday or during a certain period of time. By doing so, you can take care of customer calls that come in when your team is out of the office.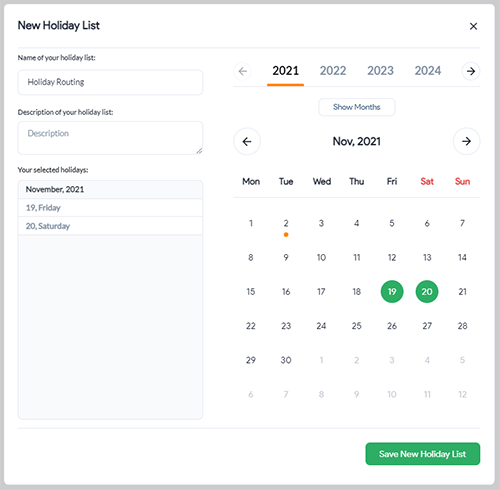 How Does Call Routing for Holidays Work?
Different call routing providers offer different ways to establish holiday routing. With Global Call Forwarding, you simply create a holiday list for your company and then set rules for how calls will route during those periods.
All of this can be easily set up and managed through our easy-to-use online control panel.
How Can Your Business Use Holiday Routing?
You can create a holiday list and set specific rules to go into effect during those periods of time. For example, when customers and prospects call during a holiday and your teams are unavailable, you can send these callers to:
Personal phone or a number within your reach
Another team working remotely or globally
Voicemail to leave a message with information
An IVR system with prerecorded messages where callers can get information and troubleshooting help. For instance, the IVR can direct callers to your online support center where they can find answers to common questions.
This way, your customers and prospects can get some help even when your main teams are unavailable. And you can maintain business continuity without losing valuable customers.
Here's an example of holiday call routing:
Your business has offices in different regions of the world. As such, you will have to route calls from one office to another during national and regional holidays to maintain business continuity and offer uninterrupted customer service. During the holidays, you can route calls from one location to another or send callers to voicemail. This way, employees can rest assured that their customers and prospects are taken care of when they are on holiday.
You can do the same when an employee goes on vacation for a couple of days. Their calls and customers can be forwarded to another representative for that period.
Benefits of Holiday Call Routing Schedules
With holiday routing for phone calls, your business can:
Access to holiday routing features such as holiday calendar, holiday schedules, custom greetings, and cloud IVR.
Offer 24/7 customer support even during holidays
Leverage outsourcing services when your headquarters is out-of-office
Use remote or global teams to manage customer service during national holidays
Reduce numbers of missed calls and opportunities during the holiday season
Prepare for maintenance and upgrades by setting up failover mechanisms such as routing calls to another location or number