Whether you're taking calls from customers, clients, or employees, an effective communication system is essential to every business. Find Me Follow Me call forwarding helps you stay connected when you're on the go. That's why this routing strategy is offered as a common Voice over Internet Protocol (VoIP) feature.
Understanding the Find Me Follow Me Phone Service
Find Me Follow Me is also referred to as call hunting, call routing, or call forwarding. However, this service is not the same as a basic call routing system. Instead, Find Me Follow Me allows you to set up forwarding rules that meet your needs.
This feature keeps you connected to incoming calls by routing them to your desired destinations and devices. Staying in touch with callers has never been easier or more flexible than with Find Me Follow Me. And since it is a cloud-based service, you don't need any additional, expensive hardware!
What is Find Me Follow Me?
Find Me Follow Me is actually two different VoIP forwarding strategies that are commonly used together.

The "Find Me" strategy automatically routes inbound calls to a specified destination. This gives you the ability to receive calls at any location whether you're in the office, at home, or traveling.
"Follow Me" forwards calls to designated phones, ringing calls simultaneously or sequentially. This service makes you available across several devices.
When these strategies are used together, your incoming calls route to a predetermined list of alternate locations, numbers, and devices.
You then have the option to ring these numbers or devices one after the other or all at once. This feature will continue down the list until the call is answered. If the call goes unanswered on all devices, you can decide what happens to the call next.
Here's an example of Find Me Follow Me:
A call comes into your desired destination – your desk phone. The call rings for 30 seconds and goes unanswered. The call is then routed to your mobile phone and home phone until the call is answered. Find Me Follow Me will ring your devices sequentially or simultaneously.
Sequentially: It first rings your mobile phone and after 30 seconds, it rings your home phone.
Simultaneously: It rings both your mobile phone and your home phone at the same time.
If all devices go unanswered, calls are routed to voicemail or your backup team.
How Can Find Me Follow Me Help Your Business?
Find Me Follow Me ensures that you never miss an important call and increases your availability with callers.
Once you set up this feature, Find Me Follow Me automatically sends incoming calls to your predetermined list. So, the calls "find" you whether you're bouncing between locations, working from home, or going out to lunch. This is also extremely helpful if your schedule is constantly changing or if you travel for work.
11 Benefits of Using the Find Me Follow Me Service
Most VoIP providers agree that Find Me Follow Me is a powerful tool for business communication systems. This call management feature not only offers a flexible way to stay connected, but many other benefits as well. Some of these benefits include:
Receive incoming calls from any location and on any device
Optimize your availability
Customize to fit your system
Reduce the need for additional hardware
Decrease call wait times
Reduce the number of missed calls
Keep your personal numbers private
Improve caller experience
Advertise only one, primary number for your company
Boost your team's productivity
Easily scale your business
Who Benefits From Using Find Me Follow Me Call Forwarding?
Now that we know the specific benefits that come along with the Find Me Follow Me service, let's discuss its use cases. Here are a few examples of those who benefit most from using this routing strategy:
Customer Service and Sales Teams
Find Me Follow Me call forwarding enables your support team to deliver a responsive and consistent service. The feature helps agents maximize their availability. Additionally, your sales team will never miss out on a lucrative sales opportunity. Using Find Me Follow Me, both support reps and sales agents can deliver quick response times and improve the caller's overall experience.
Remote Workers
If your company needs an easy way to forward calls from your workplace PBX to an employee's personal phone, Find Me Follow Me is the perfect solution. The virtual service not only allows you to route calls to other devices, but also to any location. This is a seamless and efficient way to connect customers to your remote team.
Business Owners
Small business owners and solopreneurs are constantly pulled in multiple directions — whether you're attending meetings, checking in with employees, or networking. Find Me Follow Me will ensure that important calls always reach you.
Healthcare Providers
Doctors and healthcare professionals are always on the move. So, they need a healthcare communication solution that keeps them connected even when not at their desks. Find Me Follow Me allows patients with emergencies and urgent questions to quickly reach their healthcare providers.
How to Set Up Find Me Follow Me
Most VoIP providers include the Find Me Follow Me service with their cloud phone plans. Here's how to set up Find Me Follow Me with Global Call Forwarding:
1. Log in to your Control Panel.
2. Choose a phone service line and click on Settings.
3. Select Call Forwarding from the horizontal menu and click IVR.
4. Click the orange Manage IVR Application button.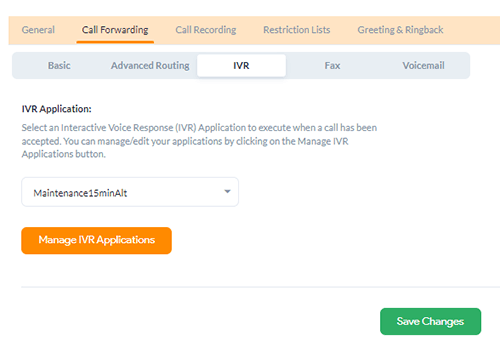 5. Select Phones from the menu on the right-hand side and click Add a new phone.
Here, you can add the number where you want your calls to first arrive.
6. Click the green Save Changes button.
7. Select Add a new phone again.
In the Call Destination window, choose your ringing method. Add as many numbers or devices as you want by clicking the orange Add button.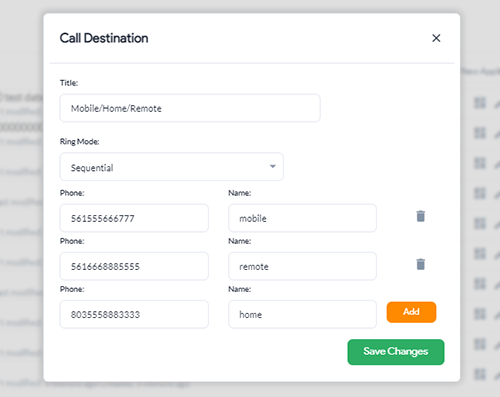 8. Hit Save Changes.
9. Then, select Create New Application in the IVR Manager window.
10. Choose Phone Call from the list of actions.
Here, add a name and select the desired number calls should come to first (see step 5). Note: Skip the prompt section.
11. Customize the Max. Wait time between transfers.
12. Click the arrow in the Failed bar and choose Phone Call again.
Add a name and skip the prompt section again.
13. In Destination, select the phone group you created for backup devices.
14. Click the blue Close button and hit Save Application at the top.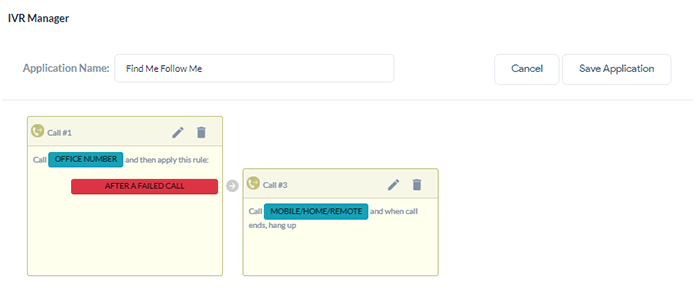 Get Advanced Routing!
To learn more about Find Me Follow Me from Global Call Forwarding? Speak with our representatives today or connect with your dedicated account manager today! Call us at +1 (561) 908-6171 or chat with us online.