As the name implies, call detail records (CDRs) register all details of incoming and outgoing calls on your system. Whether you're operating on a VoIP system, wireless phone, or PSTN, calls get logged in a CDR. You can use this feature for billing purposes, call tracking, evaluating success, and more.
Call Detail Records For Your Business
Call records (also known as call logs) contain detailed information logs about your phone network and users. This data can help inform areas of improvement for your business and help build a more effective service. This article will explore the benefits call detail records offer your business and how to use them.
What are Call Records?
Call detail records are data logs that document all telecommunication exchanges occurring on your network. More specifically, call records provide information on how and when the phone system was used. In other words, they log all billable phone activity on your network.
Most service providers typically upload CDRs to online portals or send them with your formal monthly bills. Usually, anyone on your phone network with administrative capabilities can access the records. The reports are never deleted and remain accessible forever.
What Information Do CDRs Include?
Your call detail records contain a wide variety of metadata to help you understand how employees and customers use your system. The reports are generally sorted by users or phone numbers and look like an itemized list. The information included in your call logs vary from service to service.
So, what kind of data could your call records include? Here are some examples:
Date and time
Call duration (minutes)
Caller ID
Location of call origination and destination
Destination number or number dialed
Completion status or reason for call termination
Type of call (toll-free, local, etc.)
Cost per call and total charge
Features used (SMS forwarding, call recording, etc.)
Call journey (extensions, IVR, etc.)
Additionally, CDRs might contain data related to your VoIP network, like IP address or port number. It is also important to note that call detail records do not include the contents of phone calls or text messages.

How is the Data Collected?
Software programs begin collecting data the moment you make or receive a call. Each call made on your network passes through a mediation layer which processes and converts call data into a specific format. When the data is properly formatted, billing systems and OSS applications can import the CDR to create your final bill.
When they enter the network, incoming calls are assigned a caller identifier (ID). The caller ID stays with the call throughout its entire journey, making call tracking possible.
Just remember, the data included in your call detail records depends on the type of software that collects the information and the provider you use.
6 Benefits of Call Detail Records
Call records enable your business to monitor all activity on your network and adjust your service accordingly. With this level of information, you can craft a more effective and successful business service. Here are the top 6 benefits of using call detail records in your company:
Better call management
Boost employee performance
Optimize campaigns for success
Identify quality leads and new target markets
Improve caller experience
Measure ROI of business calls and marketing campaigns.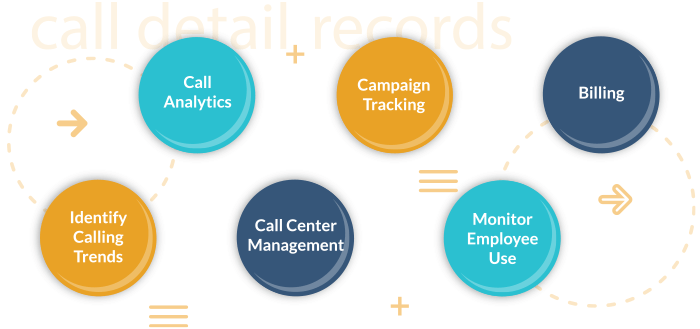 How Can Businesses Use Call Logs?
Although businesses primarily use call records for billing purposes, your company can use these reports in many different ways. Let's take a look:
Monitor Employee Use – Businesses and team managers can use call detail records to evaluate employee performance. The data reflects the number of inbound and outbound calls, call duration, and more. So, you can see if employees are hitting their objectives or need more training.
Call Analytics – Using call records, you can quickly analyze call data to learn more about your customer's needs. The data informs you on customer calling behavior, pain points, preferences, and more. With that in mind, you can enhance the customer's experience and drive sales.
Identify Calling Trends and Patterns – CDRs give you the ability to identify patterns and variants on your network. Identify the peak time for incoming calls or which countries generate the most calls. With this information, your business can create a more effective service.
Campaign Tracking – When you assign a unique number to each of your marketing campaigns, you can use the records to track call metrics and evaluate a campaign's success. You can see which campaigns generate more calls and, therefore, more customers.
Call Center Management – Call logs contain tons of beneficial information for call center managers. It provides you with basic record-keeping but also allows you to track call volume fluctuations, call duration, and more. This information helps boost the functionality and effectiveness of your call center.
Billing – Your business can use the reports to calculate how many minutes you're using and adjust your budget accordingly.
How to Access Call Detail Records
Here's a step-by-step process on how to access your CDRs with Global Call Forwarding:
Log in to your Control Panel.
Go to the My Phone Numbers tab on the left-side menu
Choose a phone service line and click on Service Plan.
Click on Activity in the orange bar.
Then, choose what kind of calls you want to look at: Answered, All, or Missed.
Visit our Knowledge Base for further instructions on viewing or downloading your Call Detail Records!
Start Using Call Records to Improve Your Business
Call detail records come included with any Global Call Forwarding phone number plan. They are easily accessible through our online control panel. To learn more, speak with our sales team or your dedicated account manager at (561) 908-6171 or chat with us online!