Wouldn't it be nice to know where most of your prospects are located? Or, what marketing and social channels they use frequently? Call analytics is one way to gather this information based on your inbound call reports. With this information, you can streamline your marketing efforts to ensure your brand reaches your ideal customers wherever they are looking and shopping.
Here's a quick overview of how call analytics work, what data your business can hope to collect, and how you can use that information to improve sales.
How Can Call Analytics and Reports Benefit Your Business?
Call analytics uses call reporting and tracking to help marketing and sales teams identify revenue opportunities and optimize their marketing efforts. When you track and analyze where your business calls come from, you can identify how customers and prospects find your brand and what prompts them to interact with it — whether calling to inquire about a product or make a purchase.
To get call analytics, you will need to subscribe to a cloud-based phone service provider that offers call records and call tracking software.
What is Call Analytics?
Call analytics is the measurement, analysis, and reporting of voice and phone call data. It refers to call reports containing data that you can use to analyze marketing strategies.
Marketing and sales teams within a company can use call analytics to understand customer behaviors and preferences, and optimize marketing and sales campaigns accordingly.
Most cloud-based phone service providers will offer you call analytics and reports along with their service. If you are a Global Call Forwarding customer, you can view and download call detail records (CDRs) in your control panel under Billing & Payments > Invoices. You can then use this information to streamline marketing and sales.
What Data Can You Collect with Analytics?
To understand customer preferences, prioritize campaigns, and optimize your business' messaging, you need the right data. Call reports and analytics are only as valuable as the data you collect through them. With most call reports, you can collect the following data:
Caller's phone number
Day and time of the call
Duration of the call
Geographic location the caller called from (caller's location)
Original number the caller called (call forwarding number)
Device the caller used to engage with your marketing campaign (mobile, landline)
If the call was answered or missed
If the call went to voicemail
Whether the caller is a new or repeat caller
Marketing channel that led to the call (landing page, social media platform, billboard, etc.)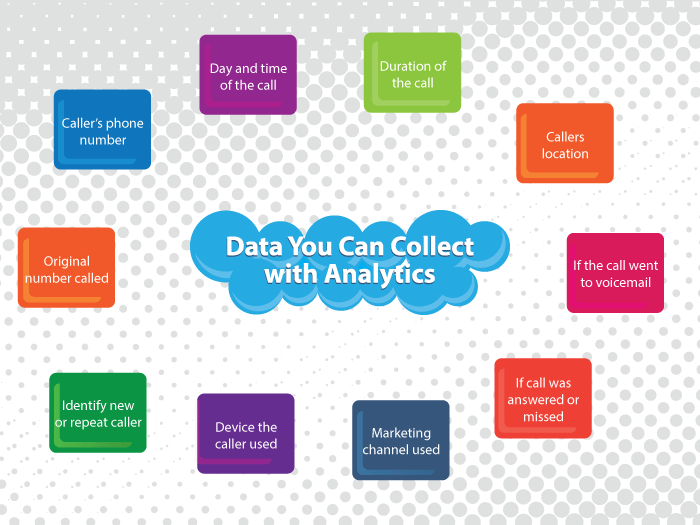 In some advanced services, you may even have access to:
Channel, campaign, ad group, keyword, and webpage that drove the call
How long the caller waited on hold
If the caller abandoned the call
The call's lead score, on a scale of 1 to 10, based on the conversation
If the call resulted in a sale or appointment
If a CX issue occurred on the call
Your business may not need to collect all this data. So, before you invest in a call analytics solution, it is a good idea to determine what you need this solution to do and what goals you plan to accomplish with the data you collect.
Which Industries Use Call Analytics Solutions?
Any industry that uses inbound voice calls to gain new customers and retain existing customers can use call analytics and reports. These calls could be customers calling to inquire about a product or service or customers requiring assistance with a product or service. And so companies in the following B2B and B2C industries can benefit from a call analytics solutions:
Automotive
Business services
Ecommerce and retail
Education
Financial services (banks, online banks, insurance, mortgage, investment)
Home services
Lead generation and marketing services
Real estate
Technology and telecom
Travel and hospitality, and the likes.
Even if your business does not fall under these categories, you may want to look into the benefits of tracking where your calls come from and how you can use that information to improve targeting and marketing.
Call Analytics Features
There are a few different ways to gather call analytics data — reports, recordings, transcripts, and so on. Here are the top call analytics features where most of your call data and customer information resides.
Advanced Reporting and Call Detail Records
Call records are a crucial feature of call analytics and call tracking. This is where you can gather quick details about the calls coming in, such as the caller's phone number, caller's location, what number they dialed, duration of the call, date and time of the call, and so on.
As mentioned above, advanced reporting will give you more details about your caller and lead. You can view which channels and marketing campaigns are bringing you the most leads. For instance, you can determine if your website is attracting more business or your social media campaigns. This data can then inform your next marketing and sales strategy to improve your conversion rate.
Call Recording
A call recording software lets you record incoming and outgoing calls and store the records for up to 6 years. This way, you can listen to conversations and gain insights into customer behaviors. For example:
What are most customers looking for when they come to your business?
What are some common customer complaints?
How did customers find out about your product or service?
What are customers expecting from your teams?
Your agents can also qualify leads by going back in and replaying the conversation and preparing customized follow-up questions and tactics that will help nurture the customer.
Another benefit of recording calls is the ability to analyze them later for quality assurance. How are your agents and reps representing your company on these calls? What can they do to increase conversions? What patterns and tactics work and which ones fail?
Call Transcripts
An alternative to call recording — and at times, a complementary solution — is using automated call transcripts. Most providers will offer you both call recordings and transcripts so you can choose to listen in or simply read and scan through the transcripts.
With call transcripts, you can get a visual idea of what is happening within your business calls. Additionally, you might even be able to search for specific keywords or keyphrases through these transcripts to focus on specific issues.
Call transcripts paired with recordings, that capture tone and inflection, can help managers get comprehensive visibility of what happens within customer calls.
Related: Call Monitoring: What Is It and How Does It Work?
Lead Scoring and Qualification
Some advanced call reporting tools will also let you track the quality of your leads and where your best leads are coming from with automatic lead scoring. This is a relatively new technology that would allow you to quickly view priority leads.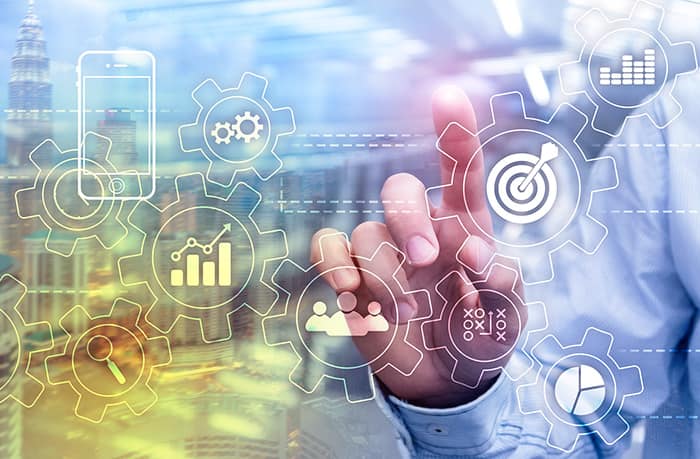 What Can You Do With Call Analytics?
Your business can use call analytics and detail records for a variety of reasons. But the main benefits include:
Understanding customer behavior and preferences
Gaining insights into customer pain points and complaints
Optimizing brand messaging and creating targeted marketing campaigns
Improving overall marketing and sales effectiveness
Training new employees and enhancing quality assurance
Increasing profitability and saving time
Let's look at these benefits in more detail.
Using Call Analytics for Call Tracking
You can track incoming calls by using different phone numbers for various campaigns and channels. With call forwarding, you can then have calls made to these numbers forwarded to your main office or customer service line.
Call detail records will list the number the caller dialed to connect to your business as the calls come in. This type of international call tracking will let you know which region, country, or campaign drove that call.
You can use local and international phone numbers to track local and international calls and key global call metrics. This will help you identify which countries and marketing campaigns are bringing you the most customers.
Improve Marketers and Sales Campaigns
Call analytics features such as call recording and call transcripts can help you understand what patterns, tactics, and messaging helped convert an interested prospect into a customer. You can also understand what customer pain points are shared within your target audience and what they expect from your business.
You can use this information to optimize marketing messaging and create effective drip campaigns that will help drive conversions.
Train Employees and Improve Quality Assurance
You can use analytics to evaluate how your employees and agents are performing on business calls. Furthermore, you can use it to train new employees by identified tactics that are successful. You can also look at reports and recordings to improve quality assurance so that your agents represent your brand in the right way.
Identify Profitability and Saving Time
With all the above tools, you can use call analytics and reports to identify good leads and lucrative marketing opportunities. This will help you drive more promising and qualified leads to your business as opposed to weaker leads. Use call analytics to save time chasing the wrong leads and improve profits by focusing on high-quality leads.
Using Call Records to Improve Caller Experience
Call analytics and reports can help your business enhance caller experience when a customer or prospect reaches out to your business. And it can also bring your business more relevant and qualified leads. If you do not have a call analytics solution in place, it is easy to get started.
Global Call Forwarding offers call detail records for each phone number and line you use with us. You can easily access this data from your control panel. Want to learn more? Speak with your account manager. Not a Global Call Forwarding customer? Sign up today or chat with our representatives to learn more!