---
Financial Services That Can Benefit from IVR
First, who can take advantage of this office automation tool? Any financial service company that relies on a high incoming call volume can use IVR to distribute calls and help callers complete simple tasks without an agent's help. Here are some businesses that should consider including IVR in their office communication system: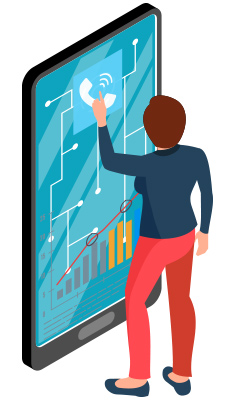 Banking services
Family investment
Wealth management
Foreign exchange services
Credit card networking
Investment services
Insurance services
Venture capital
Private equity, and more
Whether interested individuals are calling to learn about your products and services or existing customers need support, this automated service can filter calls and organize them so that your team is more prepared to help callers.
Ways Your Business Can Use Interactive Voice Response
Setting up the ideal IVR system for your finance company is easy. It all depends on how you want to set up and personalize your IVR system. From directing callers to voicemail to initiating payment processes, here are some tasks the IVR can handle:
Welcoming callers
Assisting callers when reps are unavailable
Collect information beforehand for the agent
Transfer calls to appropriate departments
Offer information about products and services
Help them make payments
Schedule meetings
Verify/authenticate account information
Provide account balance information
Provide payment history
Activate credit/debit cards
Register complaints
Provide customer service
Cloud-based phone service providers like Global Call Forwarding allow you to customize the automated system in a way that suits your business needs. Whether you are a start-up or large corporation, IVR can help streamline your calls and reduce the amount of time agents spend on mundane tasks. Agents are, therefore, freed to focus on more complex tasks.