How Do IVR Systems Work?
IVR systems work alongside your virtual phone system and are designed to handle and control large call volumes. They can distribute callers to the right department and, in some cases, even help the customer resolve their task. They start by greeting the caller and providing information about the company. Then they provide a set of options that the caller responds to by typing a key on their keypad. Based on the caller input, the automated system moves the caller to another set of menu options or to the department they need. The sole purpose of such an automated system is to make sure that calls are routed correctly to the right department. Doing so increases efficiency, time spent on calls, and improves first call resolution.
Inbound and Outbound IVR
There are two kinds of interactive voice response systems—Inbound IVR and Outbound IVR—that can be integrated into your office phone setup. Let's briefly look at what each system is capable of achieving.
Inbound IVR
Inbound IVR interacts with incoming calls. When customers and contacts call your business, the automated system will help them resolve their concerns. IVRs can reduce the number of unanswered or missed calls during peak hours. With a recorded voicemail, you can connect with the callers as soon as the rush dies down or via email and instant messaging.
Businesses can use interactive voice response to:
Greet customers
Ask them to leave voicemails
Help callers make payments
Verify account information and activate services
Transfer callers to the right department or agent
Collect caller information
Refill prescriptions
Check flight schedules
Check weather updates
IVR order forms for sales orders, etc.
You can have a one-level IVR or multi-level IVR. A multi-level IVR offers numerous menu stages based on caller input. For example, the first level could be language selection: "Press 1 for English, Press 2 for Hindi," while the next level may focus more on the topic of inquiry: "Press 1 to make a payment; Press 2 to hear your account balance; Press 3 to register a complaint; Press 4 to speak with a representative; Press 5 to hear all the options again," and so on. Depending on the various actions you want callers to be able to perform on-call, you can determine whether you need a simple one-level IVR or a more complex one.
Outbound IVR
Outbound IVR, on the other hand, is a system used for
outbound calls
. Calls are made to prospects and returning customers with pre-recorded messages, asking them to complete a task or for sharing important updates. Outbound IVR basically automates outbound calling. Businesses can use IVR to:
Remind customers of renewals, payments, appointments.
Help them make payments.
Collect customer information.
Gather feedback through surveys.
Provide company updates.
Offer trip or product updates.
Refill prescriptions.
Make follow-up appointments, etc.
Depending on what your business' call volume is like, you can decide if you need inbound or outbound IVR or both.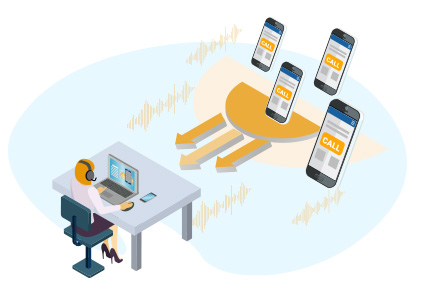 Additional Communication Features
Global Call Forwarding offers a variety of communication tools and features that can further enhance the way you communicate with your customers. Here are some valuable features we offer:
Customized Greetings: This is the first layer of contact between you and your clients. A customized greeting is a personalized message callers will hear while they are being connected to you. This message can be customized to provide your business' information such as its hours or promotions, etc. For example: "Thank you for calling [business name]. Please stay on the line while we connect you to our representative." You can also use your IVR to further communication at this point. For example: "Thank you for calling [business name]. Press 1 for English. Press 2 for French."
Call Recording: Record business calls and store them for up to 6 years as MP3 files. Most businesses across various industries are choosing to record calls with consent. These recordings can be reviewed later when a need arises. For example, to conduct performance analysis or to protect against personal or business liability. Similarly, financial service companies are required to record calls for compliance purposes.
Call Forwarding: Forward incoming calls to any number or device as needed. You can also have calls forward to certain offices during specific times of the day. Or route calls from different countries to specific locations with Geographic Call Routing. The point is to make callers speak with someone who is prepared to help them either by being available during after-hours or by having specific skills such as cultural and language needs. Furthermore, based on caller input, the IVR may also be able to forward callers to the right office or phone line.
Outbound Calling: This is a service ideal for businesses with a large outgoing call volume. An outbound calling software supports outbound calling and enables the use of custom caller IDs. This means that you can override your caller ID to display one of the countries you are calling, making your international call a local call.
IVR for Business
IVR systems are mainly used by companies that have a high incoming call rate. That is, most of their calls are made by existing and interested customers and contacts. An IVR system will help callers find the right department or agent and further solidify your company's professional image.
Businesses in the following industries can benefit from an automated voice system:
Credit card networking
Foreign exchange services
Insurance services
Web development
Inhouse marketing and sales teams
Technology
IT and Data services
Software and Tech companies
Tech support teams
E-Commerce
Online stores
Service-based online companies
Retail orders
Clinics, hospitals
Dental practices
Care centers
Therapy and rehabilitation
Insurance and claim management
Pharmaceutical services
Online and virtual patient care
Hotels, resorts
Telecommunications
Call centers
Customer support
Appointment setting services
Advantages of Using IVR and its Impact on Call Center KPIs Performance
Having an IVR system can greatly improve your business communication system and lead to better relations with customers and clients. Here are some advantages of an IVR system:
Custom Phone Trees

You can customize your phone tree, that is the map that callers will follow, with your phone service provider. This way, you have more control over what callers will hear and what they get to do.

Cost Reduction

IVR enables cost reduction by bringing down the number of agents needed to answer calls. Compare the cost of an IVR system to the average cost of an employee and the number of calls they handle. Companies are able to save by hiring only necessary staff.

Offer After-Hours Customer Support

Since the IVR can answer calls and take messages 24/7, it can be used for after-hours customer support. You can also use call forwarding tools like Time of Day Routing to forward calls to different offices or numbers during specific times of the day.

Better Caller Experience

IVR creates a professional and organized calling experience that helps callers get assistance from the appropriate department or service. This reduces wait times and increases efficiency which leads to a better caller experience.

Handle High Call Volumes

IVR can offload calls that would otherwise go to an employee. And so for businesses and call centers that have a high incoming call volume, IVR can streamline processes.

Reduce Customer Effort

Customer Effort measures how easy it was for their issue to be resolved. IVR, if executed properly, can reduce the number of steps that lead to an issue being resolved. And with the Customer Effort Score becoming an increasingly important KPI, this is a step in the right direction.

Increased First Call Resolution

First call resolution refers to resolving a customer's query or concern on the first call in. IVR can help by directing the caller to the appropriate department and at times, help the caller complete the action without the help of an agent. Additionally, the IVR can pull information about the caller's issue, so that the agent is better informed when they accept the call. The point is to enable them to quickly resolve the issue so that the caller doesn't need to contact them again.
Improve Caller Experience: Build Stronger Customer Relations
Increase credibility and professionalism with an IVR system that helps you create better caller experiences. Customers that are cared for and have their concerns resolved quickly show their appreciation by returning for more business. This helps you improve your customer retention rates as well. If you're ready to add IVR to your office phone system, sign up on our homepage. Still wondering if IVR is the right tool for your business? Talk to an expert at Global Call Forwarding today.