---
Travel and Tourism Companies that Can Use IVR
Any travel and tourism agency that is looking to establish themselves as a professional business and that wants to improve caller experience can use an IVR system to do so. Some of these services include: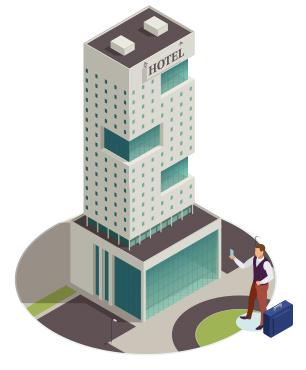 Travel agents and agencies
Online travel agencies (OTAs)
Tourism companies: guides and tours
Hotels, timeshares, resorts
Transport services: air, road, rail, water services
Ecotourism-focused business
Educational tourism services
Medical tourism
Business travel services
Cruises
Tourist information
Nature, recreational, and theme parks
With such an automated system, callers can get the assistance they need quickly without having to be on hold for long periods to talk to an agent.
Consider IVR for Your Travel or Tourism Business
IVR is mostly used to handle inbound calls efficiently and increase first call resolution rates — that is, callers' issues are resolved on the first call itself. With this service, you can quickly redirect calls depending on language or location preferences. Furthermore, the system also identifies what department is needed and directs the call to the appropriate agent instead of having the call bounced around. Some ways your company can use an IVR system include:
Greeting callers
Providing basic company information
Providing information in different languages
Redirecting calls based on location
Transferring calls to the right department
Highlighting new promotions
Helping callers when agents are busy
Processing payments and renewals
Registering complaints
Collecting feedback
Providing after-hours customer service.
Most virtual phone service providers, like Global Call Forwarding, will offer you a customizable system. Here you can design the system as you want to better serve your customers. The purpose of such a system is to vastly improve how callers interact with your business and increase customer satisfaction rates.